Subaru of Las Vegas celebrates opening of new location
December 15, 2017 - 8:01 am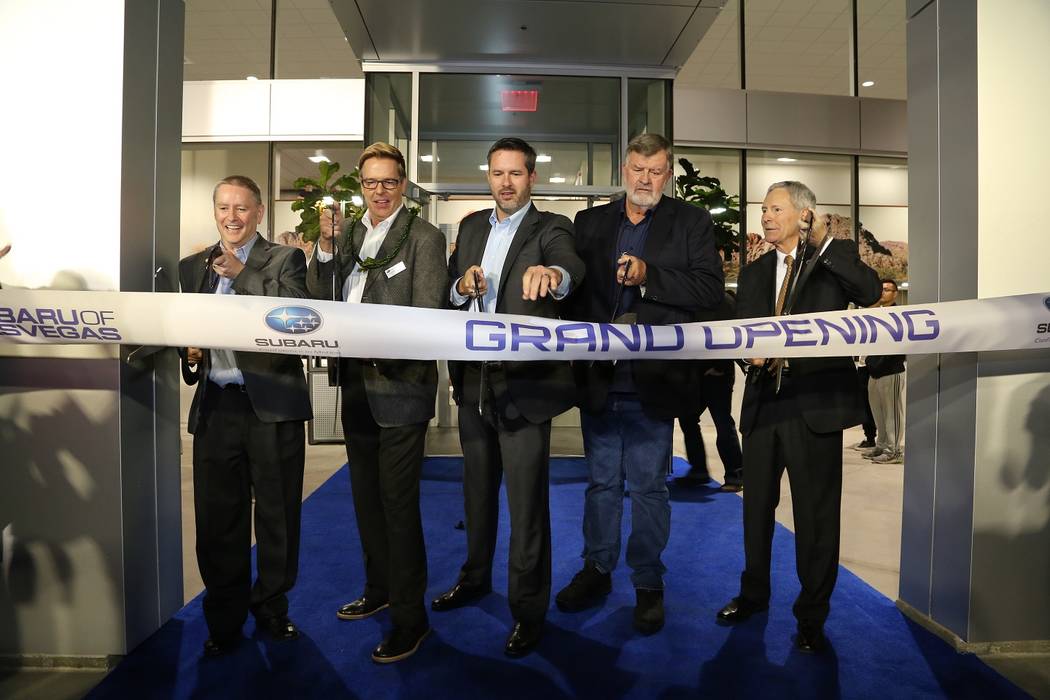 Findlay Automotive Group has made a habit of building impressive new automobile dealerships in five states, and the recent grand opening of the Subaru of Las Vegas store drew a host of compliments. Subaru of Las Vegas General Manager Burton Hughes was very happy with the outcome of the event.
Now housed at its new location at 6455 Roy Horn Way in the southwest part of town, near Rainbow Boulevard and the 215 Beltway, Subaru of Las Vegas consists of 65,000 square feet on 8 acres just east of Findlay Chevrolet.
Needless to say, the Subaru brand has a long way since joining the Findlay Automotive Group on Fremont Street in 1971.
The grand opening drew a who's who of the car business, including Tom Doll, president and chief operating officer of Subaru of America. Doll flew to Las Vegas after attending the L.A. Auto Show where Subaru unveiled its all-new Ascent, Subaru's first sport utility vehicle with third-row seating. The Ascent will go on sale in the summer of 2018.
Findlay Automotive Group CFO Tyler Corder said the new Subaru of Las Vegas store has taken the dealership to a new level.
"We're extremely proud of this new facility," Corder said. "Subaru is on a roll and has set sales records for eight consecutive years. The growth of the brand has been phenomenal, and this new dealership reflects that growth. This facility gives our customers and our employees a world-class experience that mirrors the excellence of the Subaru brand."
A popular attraction at the new dealership is "the living wall," featuring dozens of green, artistically arranged plants mounted on two walls that are bathed in grow lights. The living wall underscores Subaru's commitment to the environment and lends a beautiful, oxygen-rich environment while customers relax in the customer lounge.
Over the years, Subaru of Las Vegas has been a strong supporter of many local nonprofits, including Red Rock Search and Rescue, and a large contingent of the group attended the grand opening.
"We are an all-volunteer team of more than 200 members, and we're going on our fourth year of working with Subaru," said Donald Moore, commander of the team. "We average 65 missions and 25,000 volunteer hours per year. Subaru of Las Vegas has been a major benefactor for our group which allows us to have the proper insurances and maintain our facilities—allowing us to continue to search for missing loved ones, missing children and Alzheimer's patients. We also assist in teaching first aid to the public as well as helping local government agencies when they need assistance with search and rescue.
"This dealership is awesome and we look forward to working with Subaru of Las Vegas. We congratulate them on their new facility."
Several other local and national charity partners were present to celebrate the grand opening and the launch of the 10th annual Subaru Share the Love Event, which began Nov. 16 and runs through Jan. 2. Charity partners include Safe Nest, Nevada Society for the Prevention of Cruelty to Animals, the Animal Foundation and Meals on Wheels America (Catholic Charities). Representing the National Park Foundation was the local staff of the Lake Mead National Park Service.