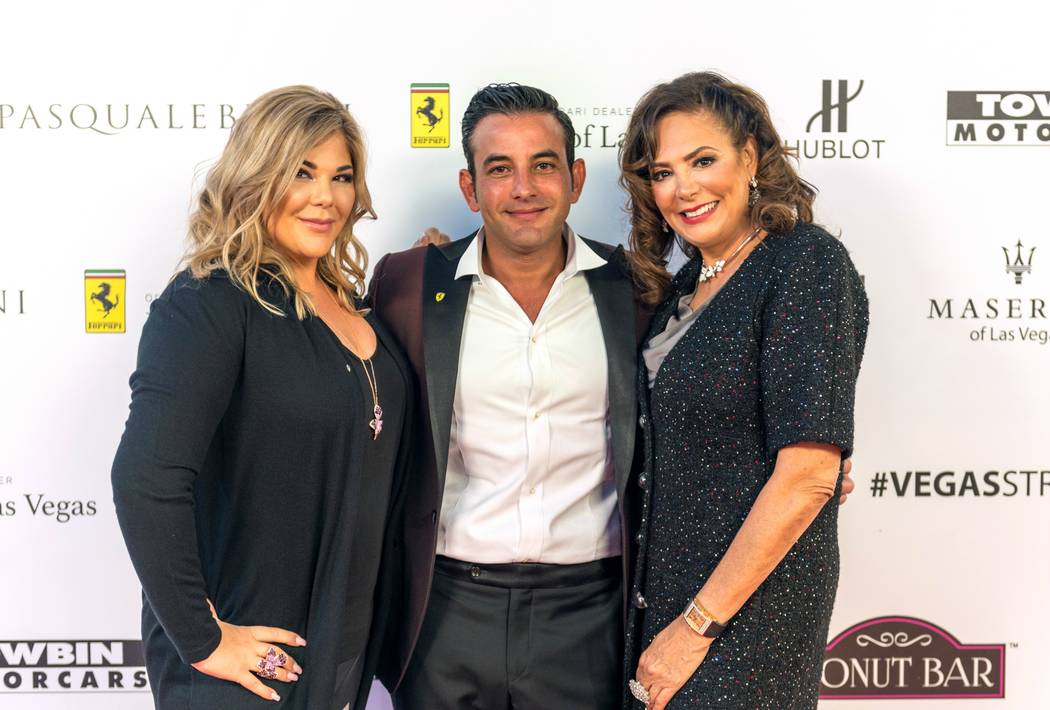 Towbin Motorcars hosted a grand opening party Oct. 12 to celebrate its new Ferrari Maserati of Las Vegas showroom, now open at 5540 W. Sahara Ave.
Carolynn Towbin, chairman and dealer principal of Towbin Automotive Enterprises, and Jesika Towbin-Mansour, managing partner of Towbin Motorcars, welcomed a crowd of clients and friends to the celebration and touched on highlights of the 10,000-square-foot dealership, which joins Towbin Motorcars' existing 45,000-square-foot showroom. Towbin Motorcars, with the addition of Ferrari Maserati of Las Vegas, is the biggest ultra-luxury and exotic automobile complex in Nevada. Towbin and Towbin-Mansour are the first sole female owners of a Ferrari and Maserati showroom in North America.
Other notable guests included Rony Mansour, general manager of Towbin Motorcars and Ferrari Maserati of Las Vegas; Tamara Grove, marketing manager of Ferrari; Mike Gilio, area sales manager for finance of Ferrari; Christine McCullough with Maserati Capital; Alexandra DeCicco, regional marketing manager of Maserati; Kurt Kenner, regional vice president of Maserati; Jeff Richardson with Comerica Bank; and Boyd Martin, owner of Boyd Martin Construction.
Towbin Motorcars acquired the former Penske Wynn Ferrari Maserati dealership, located at the Wynn Las Vegas, in late 2015 and added the automobiles to its existing world-class portfolio, which includes Rolls-Royce, Bentley and Aston Martin. The new showroom highlights state-of-the-art technology and contemporary design to embrace the world-renowned reputation of its automobiles. Ferrari Maserati of Las Vegas offers a view of the luxury automobiles on display, situated just a few feet away from Sahara Avenue.
Ferrari Maserati of Las Vegas was designed by Italy's Fortebis Group in conjunction with local architecture firm Ware Malcomb Phoenix and houses luxurious furnishings and fixtures imported directly from Europe. The structural engineers for the project included CTS Consulting Structural Engineers and MPE engineers Peterson &Associates Inc.
The landscape architect was Studio DPA and civil engineer Lochsa Engineering. The showroom was constructed by Boyd Martin Construction under the leadership of construction manager Cresa Phoenix. Towbin is the only licensed Ferrari and Maserati dealership in Nevada.
More information may be found by visiting www.ferrarimaseratioflasvegas.com or calling 702-659-6600.