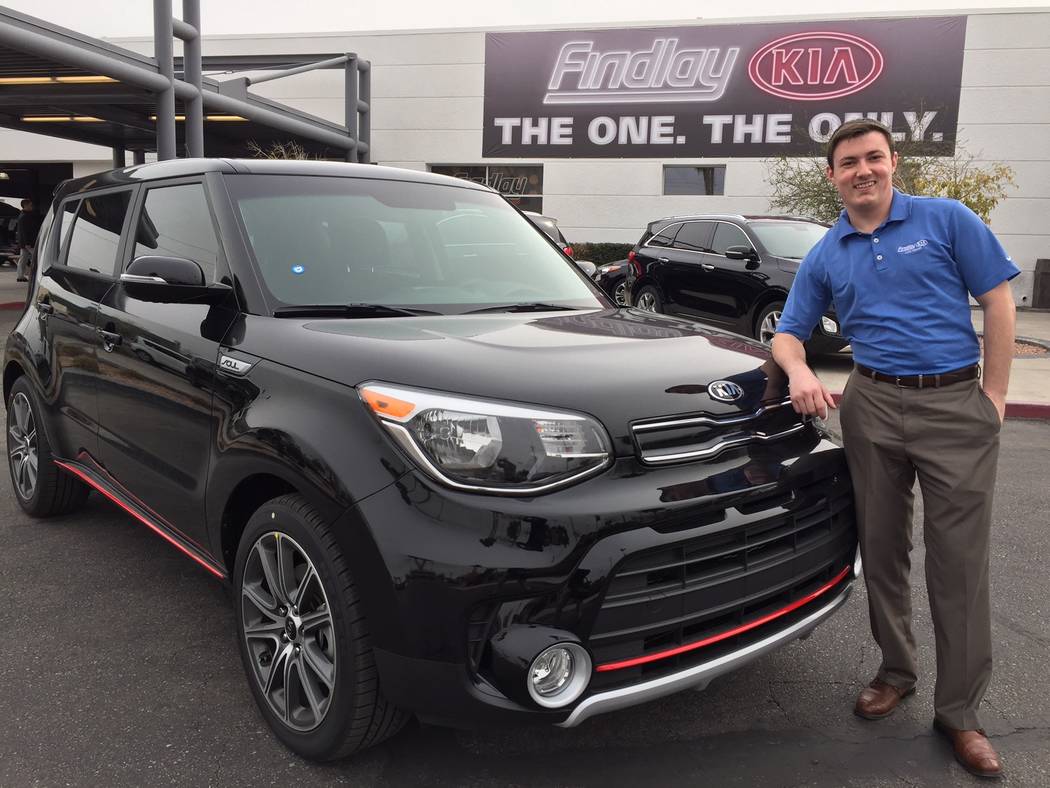 The 2017 Kia Soul is all new in more ways than one, especially when considering the power plant that is underneath the hood.
Now included in the Exclaim model is the turbocharged 1.6-liter, 201-horsepower, four-cylinder with a seven-speed, dual-clutch Sportmatic transmission.
The Exclaim model brings out the youthful approach in the automotive business combining performance with a gas mileage rating of 28 mpg combined city and highway.
Available at Findlay Kia at 5325 W. Sahara Ave., the Exclaim has a strong amenity package that includes a 7-inch touch screen with Android Auto and Apple CarPlay, which enable the driver to tie together elements such as music, maps, text messages and a contact list.
The vehicle also has available options such as heated front and rear seats, heated steering wheel, remote start, rear cross traffic alert, blind-spot detection and panoramic sun roof.
According to sales and leasing consultant Scott Bier, the excitement for the turbo Exclaim was instantaneous as soon as the public learned of Kia's latest creation.
"Kia listened to its customers when it was determined that buyers wanted a more sporty model," said Bier, a native Las Vegan. "Kia hit a home run with the Exclaim and the interest level shot up dramatically."
While Kia was busy doing its homework, the first models sold before they arrived at the dealership, according to Bier. Even better is that automotive publications including Car and Driver gave the Exclaim a top-10 Best Trucks and SUV award for 2017.
"Car and Driver is one of the most-respected automotive publications in the world," Bier added, "so when it hails a model like it did the Exclaim that speaks volumes."
In addition, Kia kicked the Exclaim power plant into high gear making the new Exclaim a full two seconds faster than its predecessor during a 0-60 mph run.
Bier said the buyer profile has been very broad.
"The Exclaim is being purchased by a large group of people ranging from the younger to the older generations," said Bier. "Young people especially like the appeal of the exterior of the Exclaim along with the sportiness it provides.
"You cannot beat the five-year, 60,000-mile standard warranty along with the 10-year, 100,000-mile power train warranty that comes with every Kia vehicle.
Findlay Kia is headed by General Manager Byron Klemaske. The dealership is part of Findlay Automotive Group that was founded by the late Pete Findlay in 1961. Findlay's son, Cliff, now oversees 28 dealerships in Nevada, Utah, Arizona, Oregon and Idaho.
Further information may be found by calling 702-252-8900 or by visiting www.findlaykia.com.