SPIRITS SPOTLIGHT
Pennsylvania-based full-scale and farm-to-bottle distillery Boardroom Spirits is making the brandy- and vodka-imbibing experience a little healthier.
B (beet) and C (carrot) are distilled from 100 percent beets and carrots, respectively, in the style of a brandy, but as brandies are defined as fruit distillates, B and C are in a category of their own.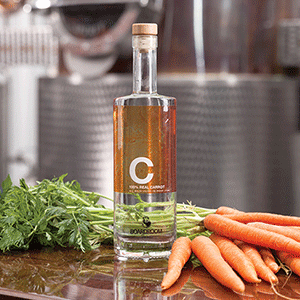 The earthy, fragrant and funky spirit B is beloved by beet lovers, bartenders and chefs, and The Beverage Tasting Institute rewarded B a stellar 93 points for an "exceptional" rating and gold medal.
It takes about 12 1/2 pounds of carrots to create one 375-ml bottle of C. Much like all of Boardroom Spirits' products, C is gluten free and contains no artificial flavors, colors, added sugars or preservatives.
Boardroom Spirits also produces a line of naturally flavored vodkas, FRESH, including FRESH cranberry, citrus and ginger vodkas. The vodkas use only real ingredients clearly listed on the labels to create naturally flavored and colored vodkas.
How's that for your daily dose of fruits and vegetables? Members of The American Distilling Institute, Boardroom Spirits offers tours, tastings and bottling parties at its Lansdale, Pennsylvania, headquarters and promotes responsible drinking.
More: BoadroomSpirits.com