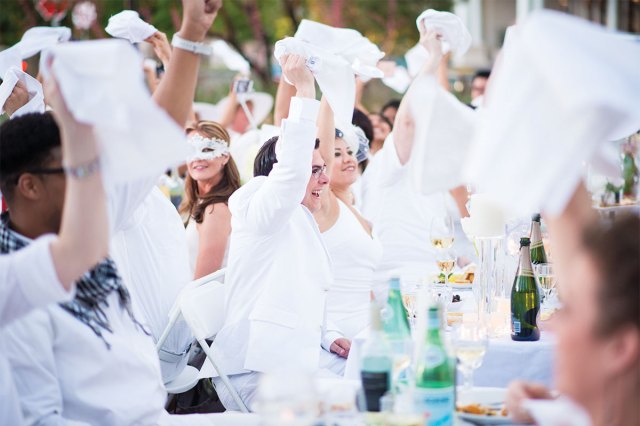 It's been more than a year — April 17, 2016, to be exact — since Le Diner en Blanc (The Dinner in White) popped up for the first time in Las Vegas at The Park with more than 1,000 people dressed in white dining outdoors with white tablecloths, napkins, dinnerware, centerpieces, and chairs just off the Strip. Le Diner en Blanc, originated in Paris, France, three decades ago to celebrate friendship, elegance and gallantry, returns to a secret location revealed minutes before its start next Sunday. Here are tips to ensure that the experience is tres chic
Registration is at LasVegas.DinerEnBlanc.com/register.
Once confirmed, each guest's participation is mandatory come rain or shine.
Dress code: Elegant and white only and stylish and tasteful originality is encouraged.
Table setting: All white.
To ensure that the location is kept secret until last minute, guests meet at an assigned departure location and are escorted by a volunteer.
Guests must leave with all their belongings, leftovers and litter.
Guests must bring a table, two white chairs, and a white tablecloth.
Guests must bring a picnic basket of food, stemware and white dinnerware. A catered picnic basket option picked up onsite is available online during registration.
Beer and hard liquor are prohibited per Clark County regulations. Guests wishing to enjoy wine and/or champagne must reserve online through Le Diner en Blanc's e-store. Guests are welcome to bring non-alcoholic beverages.
More: LasVegas.DinerEnBlanc.com
Other notable dates
Now through Oct. 22: Chinese Golden Week celebration at Hakkasan at MGM Grand
Oct. 4: It's National Taco Day — you're welcome
Oct. 6: Love & Vine at The Aquatic Club at The Palazzo from 7 to 10 p.m.
Oct. 7: Donut Mania grand reopening in Henderson from 11 a.m. to 2 p.m.
Oct. 8: Guest chef and "Top Chef" cheftestant Shirley Chung hosts at Carnevino at The Palazzo
UPDATE:
Le Diner en Blanc is canceled
MGM Resorts International has canceled Le Diner en Blanc due to last Sunday's tragedy at the Route 91 Harvest Country Music Festival: "Le Diner en Blanc is about community and enjoying the city where we live. We listened to ours when coming to this difficult decision. We hope that with the postponed date, we can take the time to heal, mourn and come back stronger than ever ready to celebrate this amazing city in 2018."