5 ways to save money during peak travel season
November 21, 2014 - 10:17 am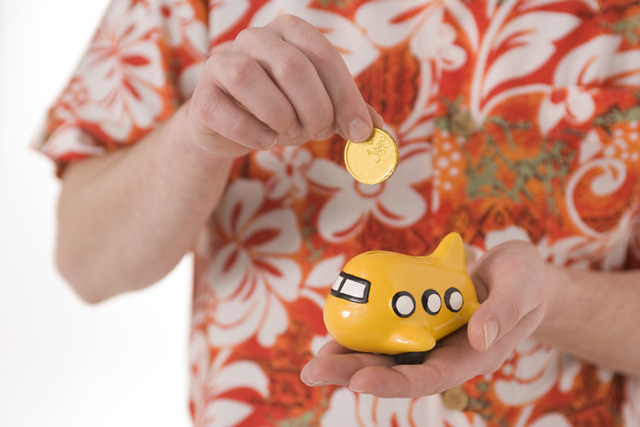 The holiday season has some of the busiest travel days of the year – typically the five days surrounding Thanksgiving and the 17 days around Christmas and New Year's. Because of the sheer volume of travelers, airfares, hotel rates, car rental rates and other travel expenses are at a premium during these periods, as they know they can charge more because the demand is there to meet it.
Even worse, tried-and-true savings strategies like having a flexible schedule or traveling light simply aren't realistic for holiday travel. Work schedules and vacation days often dictate when a traveler flies, and unlike a normal vacation, holidays are fixed dates that leave little wiggle room in travel plans
With the last year showing improved consumer confidence and solid economic growth in the U.S., Americans are more likely to travel this year and should therefore expect to pay a slightly higher price to get out of town.
Luckily, rising prices and packed flights can be worked around. We collected these expert tips to find prices in your budget — even on peak travel days.
5 Strategies to Save on Holiday Season Airfare
Gas prices have fallen steeply, leading to big savings for airlines. But airlines won't necessarily be passing savings on to customers, at least not during the travel season, as the promise of a steady stream of travelers means there is less need to offer discounts to snag business. In fact, airlines actually raised base fares across the board by $4 in mid-October.
"The economy is doing well, which means that there are fewer seats available for sale, so the prices of tickets have to be higher to compensate," said Daraius Dubash, co-founder and CEO of Million Mile Secrets.
1. Shop low-demand flights for lower prices.
Thomas Spagnola, senior vice president at CheapOair recommends that travelers be on the lookout for flights that might be in lower demand.
"Without question it can mean a tremendous amount of savings if a customer is able to take advantage of the flights where the airline needs more seats to fill," Spagnola said.
Spagnola suggests looking for flights for the middle of the week (Tuesday through Thursday), red-eye flights, connecting flights to avoid the convenience premium.
2. Book on Mondays or Tuesday mornings.
Mondays and Tuesday mornings are the best times to shop for a flight according to Spagnola, as this is just "after the airlines have processed demand for flights over the weekend," when most travelers are booking flights.
3. Consider a low-cost carrier (LLC).
LLCs like Spirit Airlines, Frontier Airlines and Allegiant Air often offer cheaper airfare than other airlines. Just don't forget to factor in fees and compare prices — these lower prices can also come with added fees for baggage, seat reservations and even carry-on luggage. Be sure to compare the full price, including extra fees, against conventional airlines to ensure you're paying the lowest price.
4. Avoid expensive business routes.
"Leisure markets are a lot cheaper than business markets" when it comes to airfare, Spagnola said.
Data from CheapOair of the least and most expensive domestic routes for comparable flight lengths proves this point. The most expensive routes are more likely to be to major business hubs like New York City and Washington, D.C., while leisure routes to or from vacation spots like Las Vegas and Florida were among the cheapest.
350 miles or less: Cheapest routes are Los Angeles to Las Vegas and Fort Lauderdale to Orlando, while the most expensive are New York City to Boston and Washington, D.C. to New York City.
350 to 700 miles: San Francisco to Seattle and Denver to Salt Lake City were among the cheaper routes, while the more expensive were Miami to Atlanta and Chicago to Nashville.
700 to 1200 miles: Phoenix to Cleveland and Fort Lauderdale to New York City were the least expensive in this range, while routes from Dallas to Denver and Chicago to New York City were the costliest.
1200 miles and up: The cheapest routes in this range have repeats from the shorter flights, with lowest prices found on routes Las Vegas to Orlando and Los Angeles to Fort Lauderdale. The most expensive were New York City to Los Angeles, Seattle to Boston, and Washington D.C. to San Francisco.
5. Fly from a smaller airport.
If you are flying from one major city to another, "flying from nearby airports for these flights can have a dramatic price difference," according to Spagnola. Look for smaller municipal airports near your destination for savings. Just double check a map to make sure the airport is a reasonably close drive to your final destination.
Hit the Road for Big Savings on Holiday Travel
Airfare just won't be in everyone's budget this holiday season. If you're paying for more than two travelers, have a destination within 500 driving miles, or simply can't afford an airplane ticket, taking an alternate form of transportation could definitely be a more economical choice this holiday season.
Travel by Car
With low gas prices, driving will offer big savings this year. The national average price of gas is the lowest it's been since 2011, hovering around $3 per gallon. The cost of gas is expected to stay down or even drop further through the holiday season, with oil prices projected to remain low through 2015.
If you typically fly for the holidays, 2014 might the year to drive instead. The cost per person is especially low if you are traveling with family, as you'll pay by the carload rather than by the ticket as you would for a flight.
Take a Train
While Amtrak prices are not cheap, they do offer a better deal than flights during the holiday season, so long as time isn't of the essence.
"Consider the train," said Eileen Gunn, founder of family travel site FamiliesGo! "Amtrak's prices are more transparent and less elastic so you have less of a holiday markup." She also recommends looking at early morning or evening travel, as these off hours can carry cheaper pricing.
Catch a Bus
While a bus ticket will see the same price increases on peak holiday travel as other amenities, even with markups travelers can probably keep round-trip costs under $100 per person.
Coach bus lines like Megabus and BoltBus have been helping to make this form of travel both cost-effective and convenient for travelers. Megabus often touts "fares as low as $1″ and free WiFi onboard, and BoltBus offers a rewards program for frequent travelers as well as bigger seats and WiFi. Other bus companies to try include Lux Bus America, Vamoose, Tripper Bus, Greyhound and RedCoach.
The major drawback is that bus routes are much more limited than airline routes and might not travel to your desired destination. Comparing prices between bus lines is also trickier, but the steep savings are worth it.
Save on Lodging by Renting a Home
Elizabeth Avery, founder and CEO of Solo Trekker 4 U, said that renting a home or apartment might be cheaper than a hotel stay. "This is the ideal time to consider apartment and house swaps or rentals while many residents are themselves looking to visit family or see new destinations."
There are few things you can do to get good deals on home rentals, according to Emily MacDougall of VacationHomeRentals.com, which is owned by TripAdvisor. MacDougall recommends inquiring on multiple rentals at once, to ensure you get the dates you want.
You can also negotiate with property owners, though it's important to be courteous and polite. MacDougall suggests an approach along the lines of, "I would love to spend the holiday with my family at your home, but it's a little more than we were hoping to spend." Stays longer than a weekend can also give you a better leverage to negotiate a better rate.
You can even rent out your own home or apartment to offset your lodging costs. To find home rentals or rent your home, try Airbnb, HomeAway, VacationHomeRentals.com or HomeExchange.com.
Related Stories:
–4 banking trends to expect in the next decade
–How to spot the best credit union or bank in your city
–Are supermarket loyalty programs worth your privacy?