7 surprising ways money affects your love life
September 14, 2016 - 11:04 pm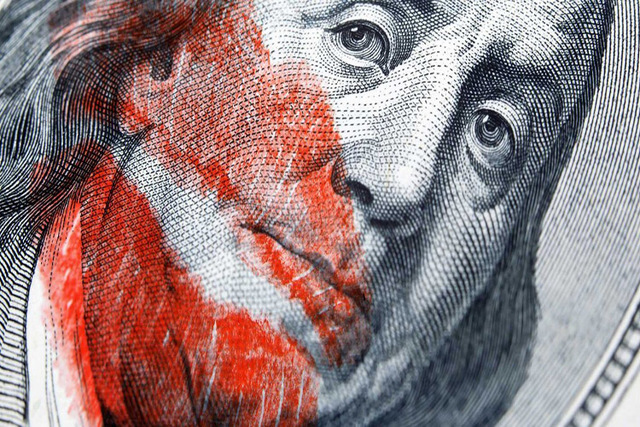 People like to think love stands above all materialistic concerns, like money. Unfortunately, love doesn't always conquer all — in fact, money is often the culprit of some relationship disasters.
But it's not all bad news. Depending on how you manage and discuss your finances, money can serve you well in creating a happy love life, found the TD Bank Love and Money 2016 survey, which asked 1,902 respondents who are in relationships a variety of questions regarding their views on money and love. The main finding? Money can impact your love life in some unexpected ways — and even when you're single.
"In this day and age, money is being discussed very early on in relationships," said Ryan Bailey head of consumer deposits, payments and personal lending at TD Bank. "Sometimes, even before the first date."
From paying for your date to racking up credit card debt, here are seven surprising ways money can affect your love life.
1. Your student debt won't scare off potential prospects.
Maybe it's because more than 40 million Americans carry roughly $1.2 trillion in student loan debt, but this type of debt likely won't discourage people from dating you.
For the vast majority of respondents in the TD Bank survey, student debt did not deter them from dating an indebted person. Sixty-nine percent of the respondents said student loan debt has no impact on their willingness to date versus 26 percent who said they're less likely to date someone with student debt.
It's surprising that something as burdensome as student loan debt doesn't matter much to people when choosing a partner. After all, some student loan debt amounts are tens of thousands of dollars and could take years to pay off, limiting the amount of money a couple has available for discretionary purposes.
2. But your credit card debt might make you less desirable.
Another surprising discovery: the impact of credit card debt on dating. Where only 26 percent of respondents said student debt would be a turnoff when it comes to dating, 44 percent said credit card debt would make them less likely to date a person. Since student loan debt tends to be greater than credit card debt, it seems the amount of debt isn't necessarily as important as the type of debt when it comes to finding a partner.
One possible reason credit card debt is seen as more of a turnoff could be its social stigma. When you have significant credit card debt, a potential partner might assume you're in credit card debt because of your irresponsible spending habits. But if you have student loan debt, a significant other might view you as a smart investor.
"Education seems like a worthy investment to most people," said April Masini, relationship expert and founder of relationship advice forum AskApril.com. "But credit card purchases seem to be more arbitrary."
3. Paying for your date could make you happier.
If you're looking to make yourself happier, try paying for your date. A full 60 percent of "happy" respondents said they pay for their date when using a digital dating service such as Tinder, OKCupid or Match.com. In comparison, only 16 percent of "happy" respondents said their date pays for them.
One might think it would be the other way around — more "happy" people in relationships would say their dates pay for them or at least split the check.
"Paying for a date makes some people feel taken advantage of — and it makes other people feel really good about themselves," said Masini. "To take care of someone and show them a good time boosts self-esteem … Whenever you feel like you did the right thing, you feel good about yourself. And something as small as paying for a date's dinner can make you feel good about yourself."
4. Talking about money early and more often could lead to a happier relationship.
Good communication is one of the hallmarks of a successful relationship. So although discussing finances might lead to some arguments between you and your partner, talking about money can also promote happiness in your relationship. In fact, nearly 80 percent of the survey respondents who talk about money at least once a week said they are happy.
"Despite their age, younger generations are talking earlier and more frequently with their partners about money," said Bailey. "And the results show they are happier in their relationships than any other generation."
Building up a dialogue about money requires you to get an early start on the conversation. If you don't, you could end up like the 42 percent of "unhappy" respondents who said their biggest money mistake was "waiting too long" to talk about money in a relationship. And, a notable percentage (21 percent) of "happy" respondents also said their biggest money mistake was delaying the talk about finances with their partner.
Discussing money is important to a relationship because you're not just sharing financial details — you're "sharing personal feelings, goals and intimacies," said Masini. "These are the building blocks for relationships. Inversely, not sharing these things eats away at a relationship."
Sharing common goals can help align couples, and discussing money is a useful way to find out more about your significant other and bringing interests together, she added.
Knowing and talking about money could help you earlier on than you think. According to the Singles in America Survey from Match.com, financial know-how could be your key to dating success. The survey found that 41 percent of women and 29 percent of men want a partner to know something about the economy, while 33 percent of women and 21 percent of men value a partner with business knowledge. So give money talk a chance on your next date because it could pay off.
5. Lying about money probably won't get you dumped.
Considering how central trust is to a healthy relationship, it's a bit surprising that lying about money isn't that big of a deal — at least, not to most of the respondents in the TD Bank Love and Money survey.
Only 1 in 10 respondents said they'd consider breaking up if they uncovered their partner's financial secret. And the vast majority of "happy" respondents, 90 percent, said they wouldn't think about breaking up even if they discovered a financial secret.
You might think lying about money would be a bigger deal breaker. But remember: Respondents were answering a hypothetical question about lying. "Until it actually happens to them, financial infidelity simply seems like something two people can get through," said Masini.
"The reality of financial infidelity is a lot more devastating than it seems like it would be," she continued. "There are going to be some major bumps that not only have to do with why this secret financing was made, but why it wasn't a joint decision. Chances are, the reason it's not a joint decision is because it's not something that you both agree on."
6. If you own a home, your partner will see you as more financially independent.
If you really want to prove your financial independence to your partner, the best way could be to buy a home. Not only do 51 percent of respondents believe homeownership signifies their own financial independence, but nearly half (46 percent) said it indicated their partner's independence.
Although owning a home is a major financial milestone, it's hardly the only one. Owing minimal credit card debt is another milestone, but it's a distant second with only 27 percent of respondents saying that it's the biggest indicator of their partner's financial stability. Meanwhile, 8 percent said "no longer live with parents," 7 percent said "student loans are paid off" and 2 percent said "no longer live with a roommate" are the biggest signs of their partner's independence.
"Homeownership is often seen as a goal as well as an asset and a hedge against the future," said Masini. Far more than just being a mortgage loan and a house, owning a home provides livelihood and an ideal setting for raising a family, she added. But perhaps the most important aspect of homeownership is the happiness derived from being protected from future uncertainty.
7. Having money to go on vacations could be key to a happy relationship.
Homeownership might signify financial independence, but taking vacations could make you a happy couple. Just consider the fact that 64 percent of "happy" respondents said they go on vacation at least once a year compared to a mere 6 percent who go every other year.
Taking vacations together is an activity that might get overlooked as a valuable investment. It's important to have money to buy a home and raise a family, but don't ignore the significance of taking time off to make memories together, try new things and just enjoy each other's company.
Plus, planning a vacation is like saving to buy a house or budgeting for groceries in that working as a team on money management brings couples closer together, said Bailey.
"Vacations are important to mental health for individuals, couples and families," said Masini. "And budgeting and prioritizing vacation finances will absolutely create happiness in relationships."
From GoBankingRates.com: 7 Surprising Ways Money Affects Your Love Life
RELATED
My wife kept her $90K student loan debt a secret
7 money habits that secretly annoy your spouse