Airport walking path program lets fliers take fitness in stride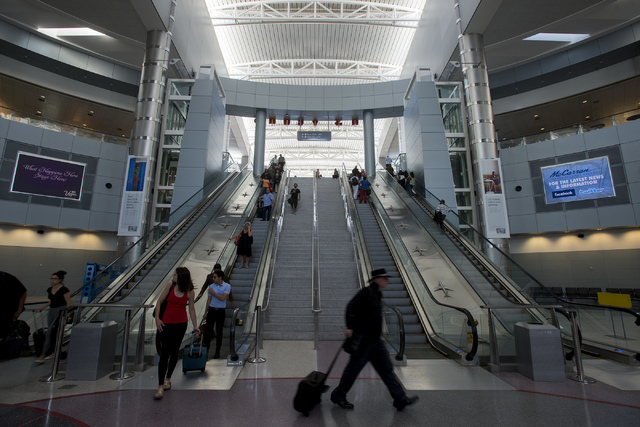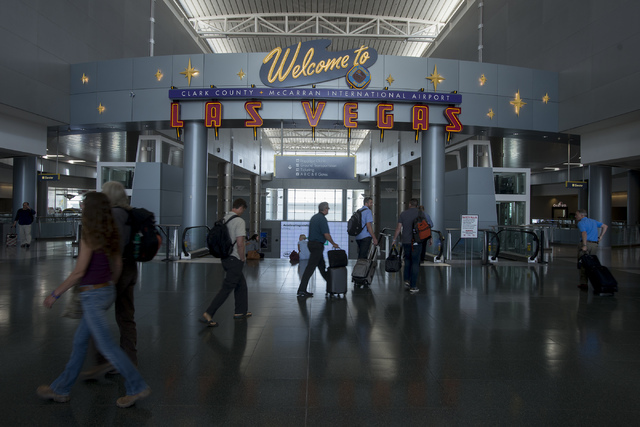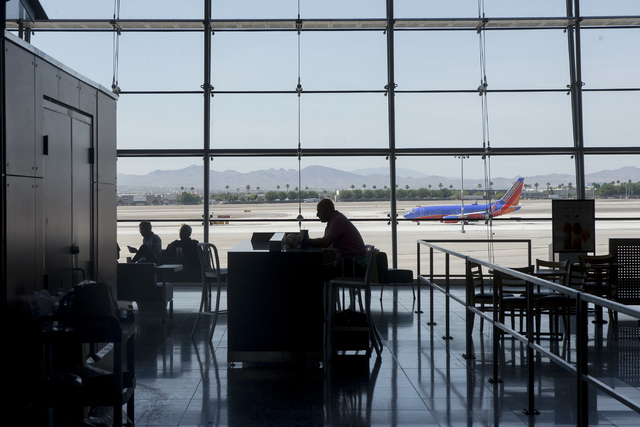 Decals reading "Come walk with us" decorate the corridors of McCarran International Airport, beckoning travelers to join them on another journey.
The Las Vegas airport, which sees about 45 million passengers a year, collaborated with the American College of Sports Medicine to start Fly Fit, a walking program spurred by the surgeon general's Step it Up! initiative, which looks to make walking for health benefits a national priority.
At the airport, travelers can choose connecting paths ranging from a quarter mile to a half mile, before or after passing through security checks.
McCarran spokeswoman Christine Crews said the American College of Sports Medicine approached the airport about six months ago to implement the walking program. The paths were made official last week, with decals displayed along the airport to let travelers know about them.
"It's a passive suggestion," she said. "It was our way of getting onboard with these national efforts to make the opportunities available" for travelers, or anyone visiting the airport, she said.
On Tuesday, friends Katy Bragg and Zoe Wright from England sat waiting for their friends at the top of the stairs near the D gates.
Bragg, 29, said she thought the walking program is a good way to get people to exercise.
"People don't necessarily like to go to the gym," she said. "Doing some walking is better than doing nothing."
Wright, 29, said phone applications and electronics that track of the number of steps people take or the amount of exercise makes the walking program more appealing. It can help people reach their goal, she said.
"Everyone's interested in how many steps they've done; I think it makes you feel better," she said.
Both friends agreed they would have given the walking program a try if they had known about it.
Crews said the paths can benefit some of the 16,000 employees at the airport, too.
"I think people do better when they have a measurable goal, so we've helped them with that outcome," she said.
At information counters, brochures detail the color-coded paths around the airport. Crews said the paths are short because travelers prefer to stay near their gates so they don't miss their flights.
Tim Earley , 61, sat resting at a table after getting off his flight. The North Carolina resident, who came to Las Vegas for the annual WasteExpo, said he thought the walking program was a good way to prevent blood clots after long flights.
"You walk around, you can reach your goal," he said simply. He pointed to his Apple watch, which he said kept track of the number of steps he takes a day.
He said people who travel often might have difficulty finding a safe place to exercise. Being able to do some walking in the airport is a safe convenience.
His advice to seasoned travelers?
"You better get some exercise," he said.
Contact Melissa Gomez at mgomez@reviewjournal.com or at 702-383-0278. Follow her on Twitter @melissagomez004