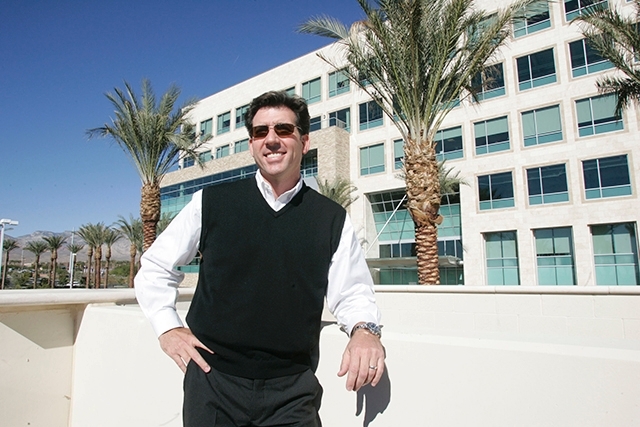 There's a new commercial broker in town.
API Global, based in Los Gatos, Calif., has added a local affiliate to its international roster of more than 50 locations. API has partnered with Gatski Commercial Real Estate Services of Las Vegas to help companies find local commercial space.
The agreement gives Gatski a worldwide reach: API Global has affiliates in Asia, South America, Europe, Africa and the Middle East. It represents Fortune 500 companies including Delta Air Lines, Cisco Systems, Google, General Motors, Merck & Co. and Coca-Cola.
Gatski CEO Frank Gatski said he signed on with API Global because he sees indications that multinational companies are more interested in looking at locations in the Las Vegas market.
"Companies and businesses want to locate or relocate here due to lower occupancy costs, good tax rates for the state, better tax structure and a very proactive business environment — and that's going to help bring new business to Las Vegas," he said.
The 12-year-old API Global also handles construction management and capital funding.
Gatski Commercial is a 20-year-old firm that represents 8 million square feet of local commercial space.
■ Real estate in Nevada doesn't do average. It seems the market's always in the middle of a nation-leading expansion, or an epic bust. But a recent report from Bankrate.com shows the Silver State close to the middle of the pack in one indicator. It ranked 35th for its average cost to close a mortgage. The total cost, at $2,402, was up 6 percent from a year ago. Origination fees accounted for most of the gain; they were up 8 percent to $1,730. Third-party fees gained 1 percent, rising to $672.
Hawaii led the nation for closing costs, at an average of $2,919. California ranked No. 4, at $2,639. Wisconsin had the lowest closing charges, at $2,119.
The analysis used a $200,000 mortgage with 20 percent down.
■ The Fed's monetary policies landed in the news again Aug. 5, when the head of the Federal Reserve Bank of Dallas questioned how much longer the agency's quantitative easing, which has pumped money into stock markets and helped keep interest rates low, would go on. Jitters over the end of quantitative easing helped send interest rates up a percentage point in May and June, to an average of around 4.5 percent. That big bump had real estate observers fretting over the market: With higher borrowing costs, would sales slump?
Well, an Aug. 5 report from Mortgage Marvel says it's unlikely sales would suffer much. The analysis shows the increase to rates of 4.5 percent tacked $35 a month onto a $100,000 loan, and $70 onto a $200,000 loan. Homebuyers borrowing $300,000 saw a $105 monthly gain in interest charges. That's manageable for most buyers, Mortgage Marvel Chief Financial Officer Rick Allen said. If it's not doable, a buyer could reduce his loan amount by just 7 percent to cancel out the effect of the higher rate, Allen added.
Allen said he encourages borrowers and brokers to do a little research before they assume rising interest rates have priced them out of the market.
■ The Southern Nevada Home Builders Association has moved into the Riley Building, at 4175 S. Riley St., near West Flamingo Road and Durango Drive. The group plans an Aug. 21 open house from 5 p.m. to 7 p.m. to show off its new headquarters.
■ William Skupa and Gino Vincent of MINT Property Group represented Westwood Storage in its $880,000 sale of a 133-unit self-storage property at 2990 Westwood Drive. The 26,248-square-foot project was built in 1974.
■ Colliers International brokers completed several recent deals.
Dan Doherty , Chris Lane and Jerry Doty represented landlord Roberts Ranch Venture in the renewal of a 62-month lease to SGA Holdings. The lease, on 39,000 square feet of space at 4340 N. Lamb Blvd. in the Craig Distribution Center II, was valued at $752,700.
Pat Marsh, Scott Gragson , and Robert Torres represented FNBN Kapex LLC in its sale of 5.9 acres in Las Vegas to Sand Harbor Holdings. Gary Burgher of Pro Commercial Real Estate represented Sand Harbor Holdings in the $525,000 deal.
City National Bank sold an 8.97-acre piece of land at Tropical Parkway and Shatz Street in North Las Vegas to Elkfast LLC for $367,000. Mike Stuart represented the seller, while Brian Riffel represented the buyer.
Contact reporter Jennifer Robison at jrobison@reviewjournal.com or 702-380-4512. Follow @J_Robison1 on Twitter.