MSG says progress for London Sphere on track
Updated March 13, 2023 - 5:32 pm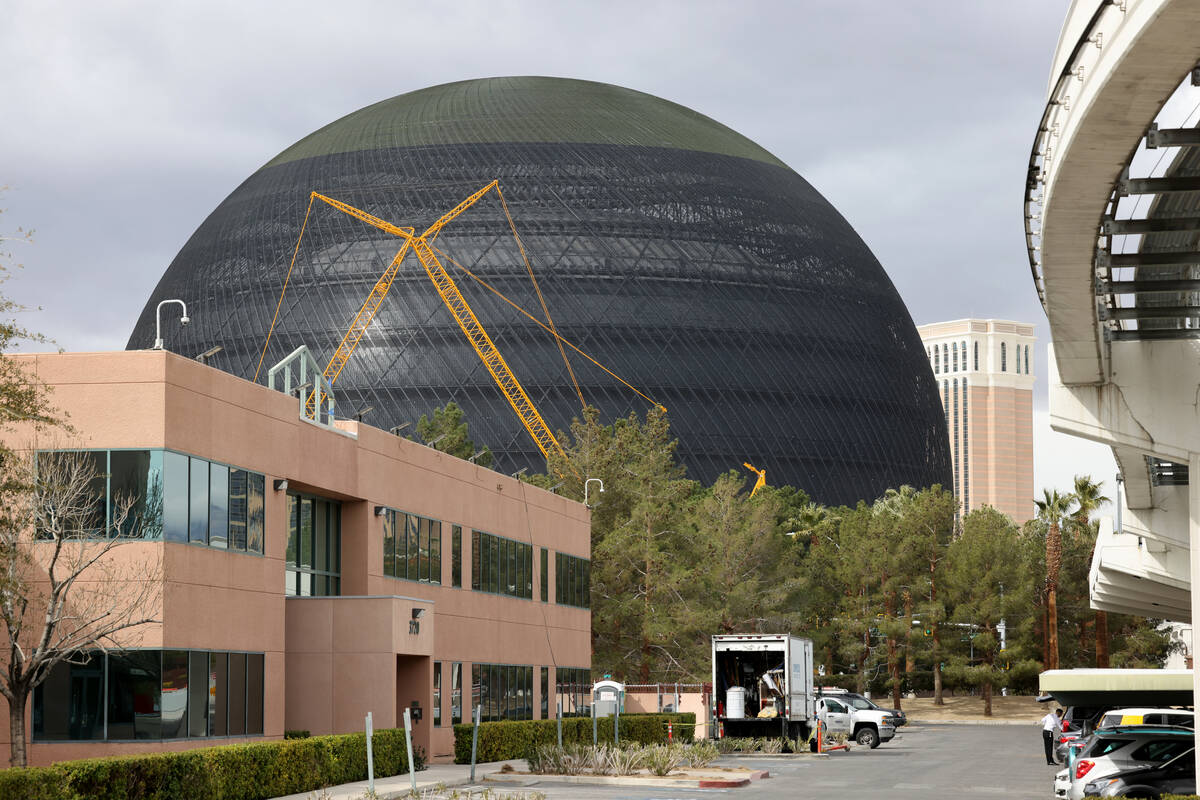 The MSG Sphere at The Venetian is about six months away from opening, and anticipation for the new $2.2 billion, 17,500-seat performance venue has been growing since the project was first announced in February 2018.
While the development road of the Sphere has been rocky, it seems to be going much smoother than its sibling in London, where the second Sphere is being constructed by Madison Square Garden Entertainment Corp.
The Las Vegas project has been hampered by cost overruns and internal turmoil that have left some top executives jobless. Lucas Watson, president of MSG Sphere, left the company in mid-February less than a month after he told a Vegas Chamber audience during the Preview Las Vegas event how spectacular the sound and visuals will be.
While there were no major construction delays during the pandemic, there has been some scurrying for materials resulting from supply chain issues. But that could be said for virtually every major construction project.
Eight time zones away in London, costs will undoubtedly be on the minds of MSG officials. And, in theory, construction there should go smoother because of the experience the company gained developing our Sphere.
But residents in areas surrounding the London Sphere aren't quite as enthusiastic about its presence as we have been for the Las Vegas Sphere.
London media have reported there is a hold on planning efforts. They say residents are worried about one of the Sphere's revenue-generation tactics — selling advertising on the massive exterior screens.
There is no end to the stimulating visuals of Las Vegas, and massive video screens have become a part of our landscape. That's not the case in Stratford, the neighborhood where the London Sphere is proposed.
A slightly taller version of the building — 394 feet versus 366 feet in Las Vegas — is planned in a former parking area for Queen Elizabeth Olympic Park in East London, home of the 2012 Olympic Games.
Mixed reactions
The reaction I've received about the Sphere at The Venetian has been extremely positive. Except for some nagging lack of information about things like who will perform at the venue, concert ticket prices and what films will be screened there, the anticipation for the opening is strong.
There may be more excitement for the Sphere's opening than there was for Allegiant Stadium. That's probably natural, as Las Vegas is the Entertainment Capital of the World, and its residents have embraced new entertainment concepts as they are introduced.
It's a different story in London, which is no slouch with its entertainment scene.
Here's an excerpt from an archived protest letter sent to the government entity handling the planning process during an open comment period. The name of the person writing it was redacted by the agency:
"I object in full to both planning applications, which downplay the fact the site is in a residential area with housing on three sides. Extreme light pollution and noise, particularly at night, will cause severe harm to residents' health and well-being. E.g. it will be fully lit at 7 a.m. September through March, when the sun rises well after during large parts of October through February. People who work nights will also be badly affected. The advertising is not in keeping with the local area and will be damaging to it; Stratford is not Piccadilly Circus.
"Claims the main venue will only occasionally be at full capacity are not guaranteed and even half capacity will still cause major impacts. … Noise, congestion, air pollution and parking problems from hundreds of extra private cars, taxis and Ubers on residential streets. Newham already has the worst air pollution in the U.K. The area already has high levels of crime and anti-social behaviour; these will increase with this influx of visitors. The MET police have also expressed concerns about the venue."
Whether the London Sphere is built may not be of much concern to Las Vegans. And while it may be nice for Las Vegas to have the only Sphere venue of its kind in the world, it has been MSG Chairman and CEO James Dolan's ambition to build more Spheres and take entertainment to a new level worldwide.
This story has been updated.
Contact Richard N. Velotta at rvelotta@reviewjournal.com or 702-477-3893. Follow @RickVelotta on Twitter.