MSG Sphere aims for fall opening, but secrecy remains
Updated February 9, 2023 - 6:20 pm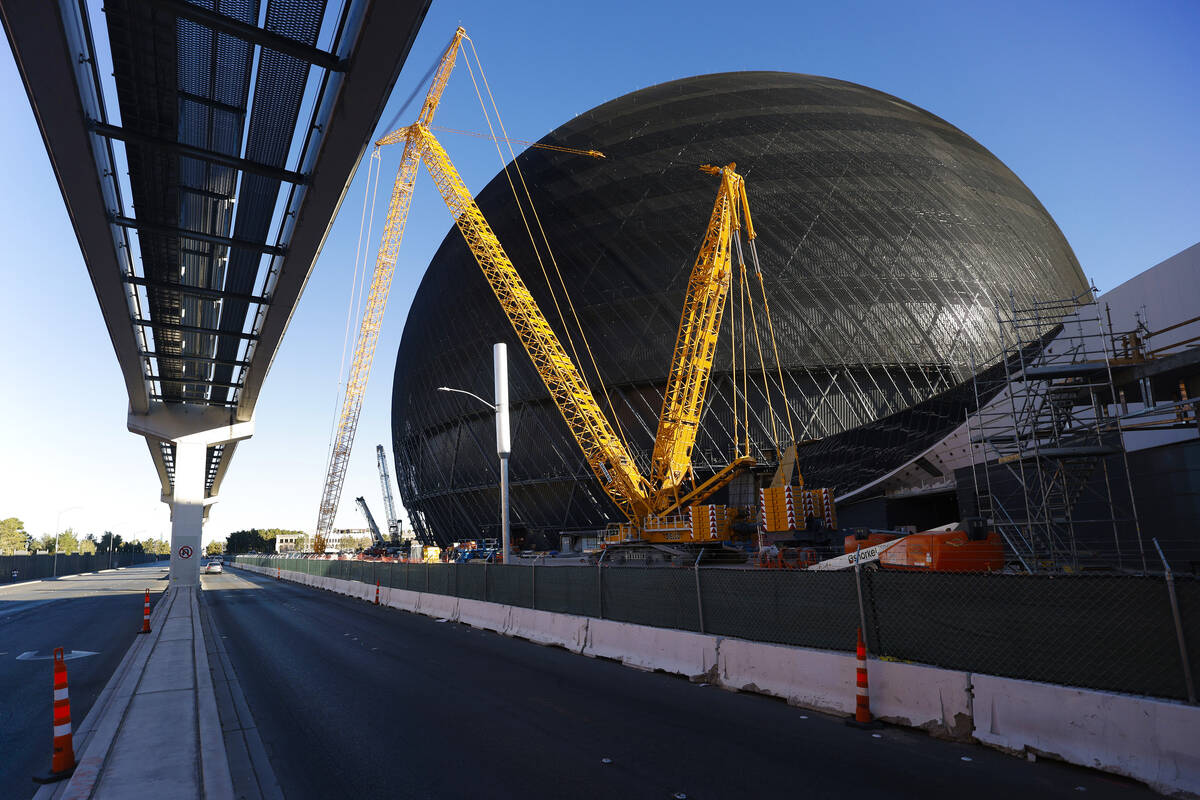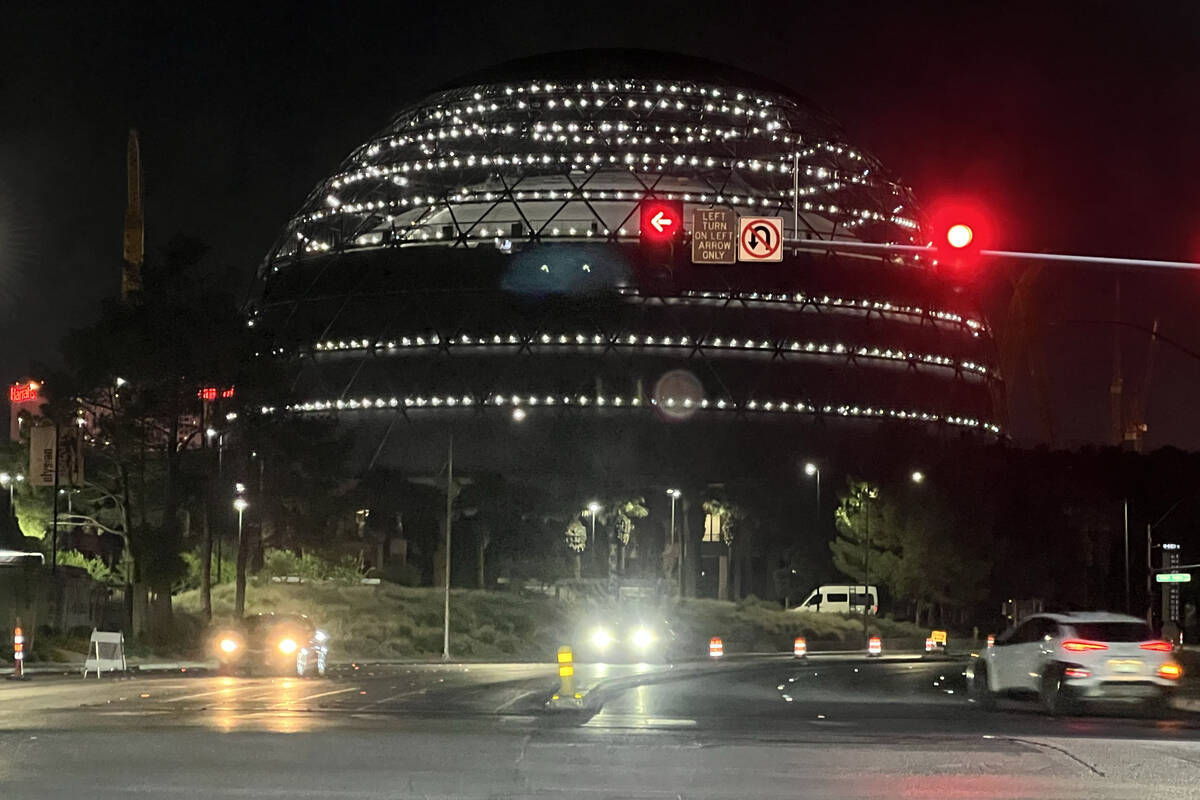 The MSG Sphere at The Venetian will open its doors in September and offer the first of up to six residency headliners as well as the first original immersive film content, executives said Thursday.
But Madison Square Garden Entertainment Corp. Executive Vice President and Chief Financial Officer David Byrnes stopped short of saying which entertainer would open the $2.2 billion entertainment venue east of The Venetian.
He also did not reveal the subject of its first film attraction during the company's second-quarter earnings call.
"We're in active discussions regarding a wide variety of event types, including music residencies and expect to have our first residency help us open the venue in September," Byrnes said. "I'd also add that we're targeting between four and six residency headliners every year and that could obviously vary depending on the length of the residency."
It's been widely reported and speculated that rock band U2 would be first to take the stage there.
Tapping Hollywood and advertisers
As for the immersive film production that would run multiple times daily, Byrnes would only add that a Hollywood director is working on the project.
"We've talked about original attractions as being another key component of our plan to really drive the high utilization at the Sphere, and we continue to expect to run these originals multiple times a day, year-round," Byrnes said. "We believe Vegas is the perfect market for these attractions given the 40-plus million tourists that visit Vegas annually. In the coming weeks, we'll be announcing our first original attraction from a leading Hollywood director, which we expect to debut also around the time that we open the venue."
Hollywood filmmakers are working close to home at the company's Big Dome studio facility in Burbank, California.
For months, MSG officials have said the Sphere would open "in late 2023," so pinpointing September was something new.
A September opening means the venue would be available for Las Vegas' biggest trade shows and special events such as November's Formula One Las Vegas Grand Prix, which will have the Sphere along its 3.8-mile street circuit.
"We also see an opportunity with major market events like Formula One, which is doing a multiple-day takeover in November for their inaugural Las Vegas Grand Prix," Byrnes said.
He noted that the Sphere anticipates a number of sponsorship tiers "from lucrative founding partnerships to official partners all the way to transactional campaigns" when it comes to advertising and facility sponsors.
"We'll also have 23 VIP suites and additional premium hospitality areas throughout the venue," Byrnes said. "Just in terms of the progress we're making on that front, in November we hosted 150 potential Las Vegas suites and VIP partners for a first-look event. During CES in January, we hosted site tours on each of the days during CES for representatives from some of the world's leading brands. … We feel very good about the opportunity we have to translate those conversations into partnerships."
Under construction
But there's still plenty of work to be done on the construction side.
Byrnes said by the end of February, the 580,000-square-foot exosphere LED screens will be completely installed, describing it as "a significant project milestone." Screen tests were already taking place on a portion of the Sphere last month.
Inside, crews are working on the 160,000-square-foot wraparound display plane, the highest-resolution LED screen in the world, and the suites and hospitality areas.
"Attending an event at MSG Sphere will be unlike anything anywhere in the world, and we expect it to become a must-visit destination for the global audience that visits Las Vegas," Byrnes said.
He told investors that the company has spent $2 billion on the venue already and expenses are expected to escalate as the opening date draws near. But he assured investors that its finances are in place for completion.
The company is in the process of spinning off its traditional live entertainment business, with a separate company centered on the Sphere. The process, initially disclosed in a Securities and Exchange Commission filing in January, is expected to be completed by the end of March.
Tao sale explored
The company also is continuing to explore the possible sale of its subsidiary Tao Group Hospitality, a global entertainment, dining and nightlife firm with substantial holdings in Las Vegas.
Since acquiring Tao in 2017, the entertainment firm has grown to more than 70 locations in 20 markets and MSG executives believe now is the time to explore a potential sale. Yet, the company cautioned there's no assurance a transaction will happen.
With a successful rebound in live entertainment, especially during the holiday season, and sports in play at Madison Square Garden, the company reported net income of $67.6 million, $1.95 a share, on revenue of $642.2 million for the quarter ending Dec. 31. That compared with net income of $2.3 million, 7 cents a share, on revenue of $516.4 million for the same period in 2021.
Shares, traded on the New York Stock Exchange, rose 11.68 percent, $6.23, to end Thursday at $59.58 per share on volume twice the daily average.
Contact Richard N. Velotta at rvelotta@reviewjournal.com or 702-477-3893. Follow @RickVelotta on Twitter.