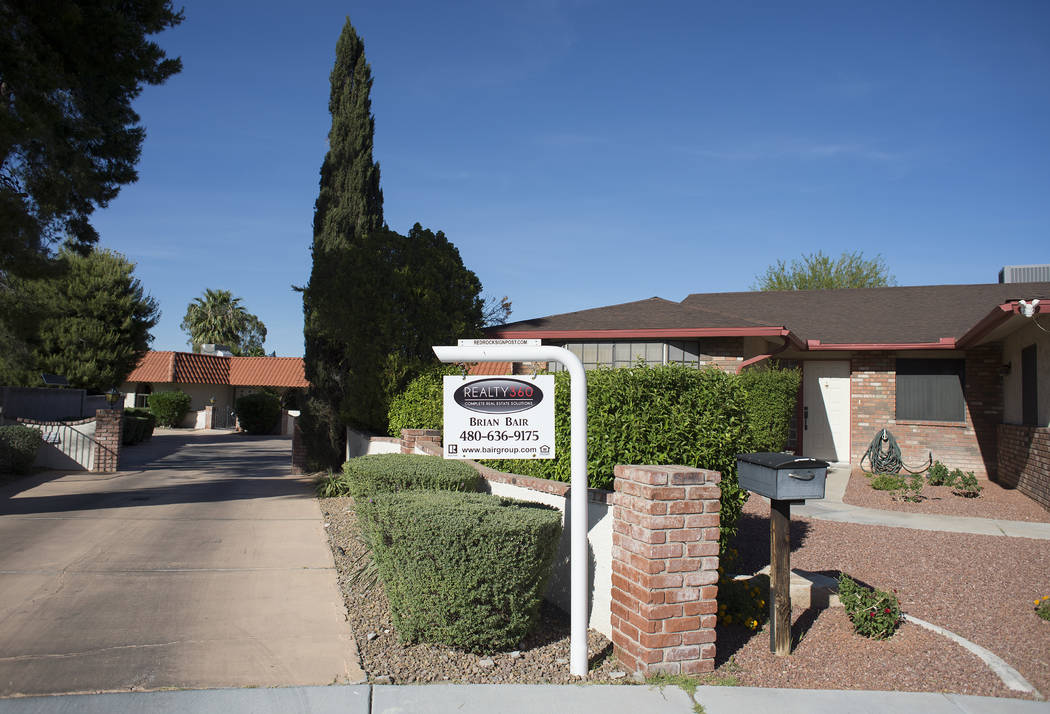 Like any industry, Las Vegas' housing market is no stranger to government intervention.
In 2011, with the economy in the trash heap and banks foreclosing on practically everyone, Nevada lawmakers passed Assembly Bill 284, better known as the "robosigning" law.
The bill required more paperwork from lenders when they were seizing properties, and repos slowed.
During the recently concluded 2017 legislative session, state politicians again passed some housing-related measures that Gov. Brian Sandoval signed into law. In a press release, the Nevada Association of Realtors said homeowners "fared well" in the session and outlined a handful of new laws, though it seems none will have the kind of sweeping impact that AB 284 had.
Here's a look at some of them.
— Senate Bill 33, which took effect May 29, protects military members from losing their home to foreclosure while on active duty or for a year after their active duty ends.
— Senate Bill 490, which took effect Monday, makes permanent the state's Foreclosure Mediation Program, which was scheduled to expire on June 30. The Nevada Supreme Court had been required to administer the program, which will now be run by Home Means Nevada Inc., a nonprofit launched by the state.
— Assembly Bill 161, which takes effect July 1, targets squatters. It requires rental contracts to have a disclosure creating "rebuttable presumptions" that tenants don't have the right to live there if they can't furnish a notarized or management-signed lease.
(For those, like me, unfamiliar with this legalese, a rebuttable presumption is something that can be "inferred from the existence of a given set of facts," according to Cornell Law School's Legal Information Institute.)
Squatters in Las Vegas routinely have fake leases, and AB 161 initially sought to require that rental contracts for single-family homes be notarized. But real estate pros and others pushed back.
Berkshire Hathaway HomeServices broker Heidi Kasama, next year's president of the Nevada Association of Realtors, told me a few months ago that AB 161, as originally proposed, was a "well-intentioned bill" but would be a "nightmare" in practice.
Luxury gets a lift
Amid rising home sales in the valley, Las Vegas' luxury market is climbing as well.
A total of 141 single-family homes sold for at least $1 million from January through May, up 33 percent from the same period last year, according to the Greater Las Vegas Association of Realtors.
Ken Lowman, owner of brokerage firm Luxury Homes of Las Vegas, says 48 luxury properties changed hands in May, well above the typical 20 to 25 monthly deals.
It was the best month for sales since the luxury market peaked in 2007, he said.
Delinquencies down
Mortgage delinquencies have dropped in Las Vegas from a year ago but remain a bit higher than the national average.
Some 4.6 percent of borrowers in the Las Vegas area were at least 30 days late on their mortgage payments in March, down from 5.9 percent a year earlier, CoreLogic reported this week.
Nationally, 4.4 percent of borrowers were at least 30 days late, down from 5.2 percent.
'Stay out of Malibu, Lebowski!'
The Dude may not have been welcome in this nice, quiet, little beach community in the cult classic movie "The Big Lebowski." But for a hefty price, you can buy a Malibu mansion from Las Vegas Sun owner Brian Greenspun.
Greenspun – my former employer, as I worked at the Sun from 2012 to 2016 – is trying to sell a 10,000-square-foot home at 24860 Pacific Coast Highway for just under $27 million.
As shown on Zillow, the property was listed for sale on Tuesday, after being priced at $30 million last year.
The listing was previously reported by The Real Deal.
Built in 1988, the estate features ocean views, a lighted tennis court, a gym, a limousine garage and staff quarters.
Greenspun, whose paper is distributed in the Review-Journal as part of a joint operating agreement, did not respond to an email seeking comment.
Contact Eli Segall at esegall@reviewjournal.com or 702-383-0342. Follow @eli_segall on Twitter.