Primm's Fashion Outlets of Las Vegas faces grim future
Updated December 7, 2018 - 11:52 pm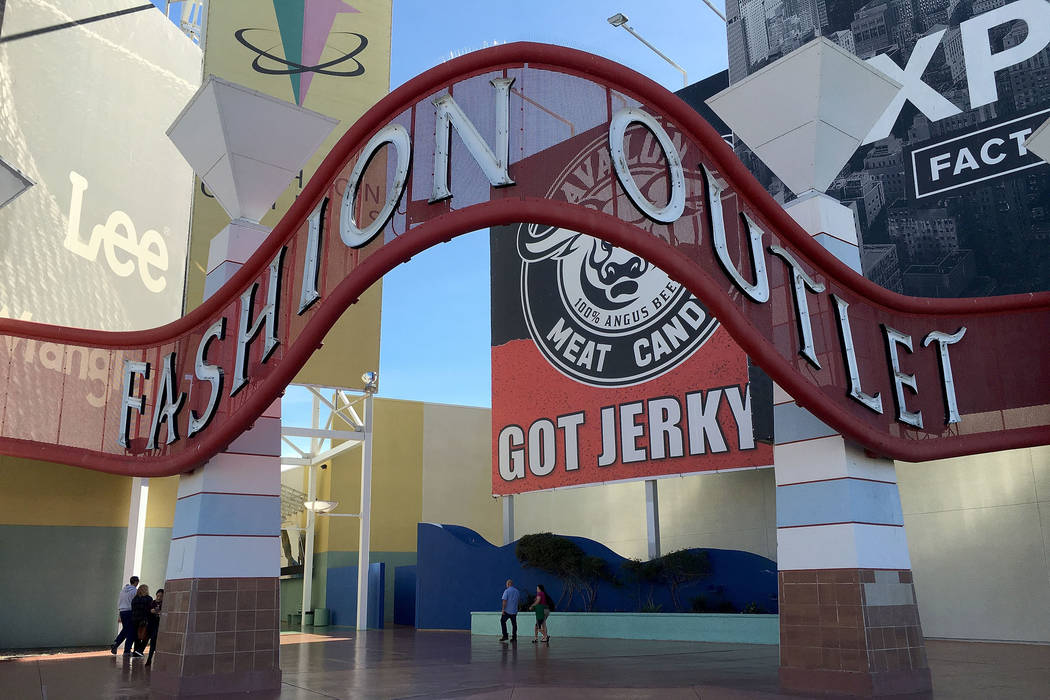 PRIMM — Empty tables fill the mall's food court, dozens of vacant shops line the corridors, and in some areas, no one is walking around.
Fashion Outlets of Las Vegas, as the mall in Primm is known, has fallen on hard times. At least a few real estate pros aren't sure it can be turned around.
"It may not be possible," said Matt Bear, founder of Las Vegas-based Bear Real Estate Advisors.
Primm's outlet mall, some 40 miles south of the Strip on the Nevada-California border, spans about 370,000 square feet and offers discounted clothes and other items. But its fortunes have dwindled amid increased competition for shoppers up the highway.
Its mortgage holder foreclosed on the mall in late September after a stream of stores emptied out. Current tenants include H&M, Coach, Tommy Bahama and others, but according to mortgage-research firm Trepp, the property was just 66 percent occupied as of October, down from 92 percent in September 2015.
So, what do you do with a failing mall like Primm's? Someone could buy it and try to fill it with retailers, gut it for another use entirely or — in true Vegas style — implode it to build something else.
For now, the mall will likely keep limping along.
Fashion Outlets, 32100 Las Vegas Blvd. South, sits off Interstate 15 and is positioned to draw tourists and others driving between Southern California and Las Vegas, a heavily traveled route. But amid tight schedules and ever-busy lives, the notion of stopping to shop for a few hours while trying to get somewhere "just doesn't seem realistic today," Las Vegas developer J Dapper said.
Also, Primm is no longer a unique attraction and is too far from the Las Vegas Valley, according to Dapper, founder of Dapper Cos.
In addition to having endless shopping spots on tourist-choked Las Vegas Boulevard, Las Vegas has outlet malls that don't require a hefty drive to the state line. The two Premium Outlets — one downtown, the other south of the Strip — were almost 100 percent occupied at the end of last year, according to owner Simon Property Group, and both are packed with shoppers.
Dapper said that even if he could buy the Primm mall for cents on the dollar, he "probably wouldn't be that interested in it because I think that it's a flawed concept today.
"Sometimes you can't fix things," he said.
The mall, attached to Primm Valley Resort, opened in 1998. Back then, it was a "textbook, perfect outlet-center location" — near a big city and off a major interstate, Bear said. But even if shoppers loved Primm, he said "the reason to go there evaporated" because of the Premium Outlets.
"There are so many better alternatives in Las Vegas for everything that's out there," Bear said.
Sofia Mulatu, of Las Vegas, was walking around Fashion Outlets with her husband and son Thursday in search of holiday gifts. She had been to the mall several times before, but with each visit, more shops were closed.
"We're not coming back here anymore because there is nothing here," she said.
Frank Sotomayor, of Los Angeles, operates a kiosk in the mall, selling rings, magnetic bracelets and wood-carved frames with sports logos. He said he only works in Primm during the holiday season and has come for the past seven years, but the mall used to have more stores, shoppers and buses hauling in customers.
He said he is "not really" losing money at Primm and that weekends are better than weekdays. But there are many days when he doesn't even sell $100 worth of merchandise.
This year, he said, is his last at Primm.
Contact Eli Segall at esegall@reviewjournal.com or 702-383-0342. Follow @eli_segall on Twitter.