Card skimming on the rise in Las Vegas, officials say
November 23, 2016 - 6:24 pm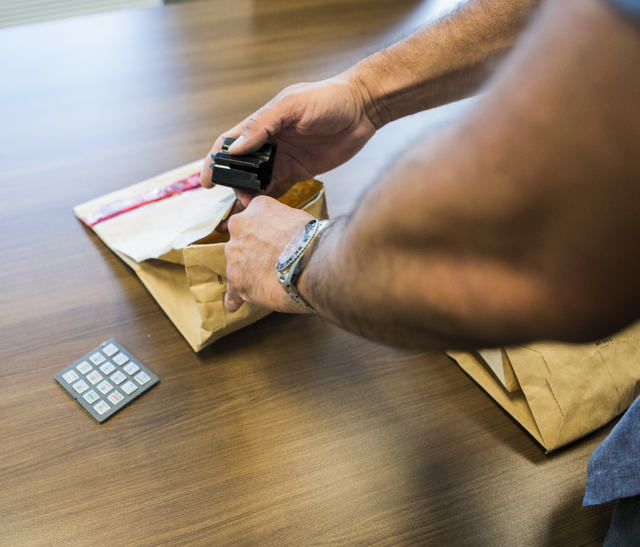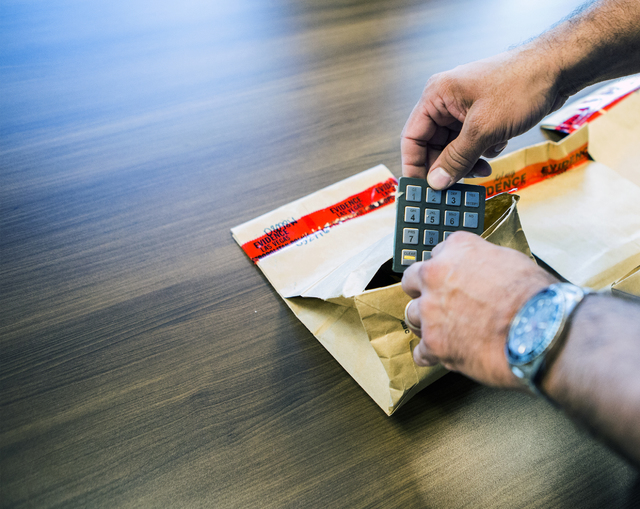 Don't use your debit card. That's the message from law enforcement officials going into the holiday shopping season.
Credit card skimming is on the rise in Las Vegas. The Metropolitan Police Department's financial crimes unit has recovered 100 skimmers so far this year, 23 in October alone. That's up from 52 recovered devices for all of last year. Metro Detective Jeff Grace said fraudsters are able to draw between $2,000 and $5,000 from each card. With each skimmer getting an average of 400 swipes, a fraudster can pocket up to $2 million with one device.
Law enforcement officials spoke to a group of local business leaders at the National Atomic Testing Museum earlier this month about local trends threatening businesses, and held a press conference following the presentation.
Skimmers are devices made to look like legitimate keypads you would use to enter in your pin number, for example, or to look like swipe-ready credit card readers. Instead, they capture a person's debit or credit card information for fraudulent purposes. They are often placed on top of real keypads and card readers at gasoline pumps and ATMs.
"These things are undetectable. You could be compromised by something that looks perfectly good, and then it's a matter of you keeping up with your accounts," FBI Special Agent Fred Bradford said.
"It is a major problem here," and it is going to get "really bad" as it always does over the holidays, he said.
Between 2012 and 2016, Metro's financial crimes section has recovered 162 gasoline pump skimmers, 43 hand-held skimmers, 31 ATM skimmers, and two point-of-sale terminal skimmers.
"As the years go by, the technology for taking up masses of information has really enhanced — has really increased — and it's so darn lucrative out there for these guys to be doing what they're doing. It involves tens of millions of dollars monthly in losses and in gains to the bad guys," Bradford said.
And the "bad guys" often get away, Grace said.
First off, when private companies become aware of a skimmer's presence, they don't always report it to police, or at least not right away.
"They may be embarrassed and may not want to attract negative attention to themselves," Grace said.
But in order to have a chance at catching a fraudster police have to know right away, he said.
Once they have a tip, it is a costly and time-consuming process to track a suspect and make an arrest, he said. The process involves identifying a skimming device, at a gasoline pump, for example, and then staking out the pump until a fraudster comes to dismantle the device to reap the benefits.
In many cases, Grace said, card skimming operatives act as cells and are part of larger organized schemes, in which a honcho at the top delegates the tasks of skimming and fraudulently using the card information to separate entities to make the scheme harder to catch.
Card skimming has its roots in Eastern Europe, he said, and emerged on the financial crimes scene in the early '90s. Grace said there are still big Eastern European groups carrying out skimming operations in Las Vegas.
With an uptick in financial fraud, Grace said, "it's a fight between the account holder, the bank and the merchant over who's going to eat the cost."
Grace and Bradford urged consumers to use their credit cards instead of debit cards to limit the amount of damage that can be done in the event of fraud, and to use credit cards with a low to medium limit.
"This is the time of year when people typically use their high-limit credit cards," Grace said, advising they resist the urge to do so.
Grace also urged holiday shoppers to be wary of prepaid gift cards. Grace said locals have reported getting a gift card that has already been activated.
"There is no way for us to know how much of an economic impact this has," Grace said, because the gift card industry doesn't report incidents.
According to an October study by Bankrate.com, half of Americans plan to give gift cards this holiday season.
Contact Nicole Raz at nraz@reviewjournal.com or 702-380-4512. Follow @JournalistNikki on Twitter.
RELATED
7 ways to protect yourself from holiday identity theft
9 most dangerous places to use your debit card