Casino gaming win hits $1B for 2nd straight month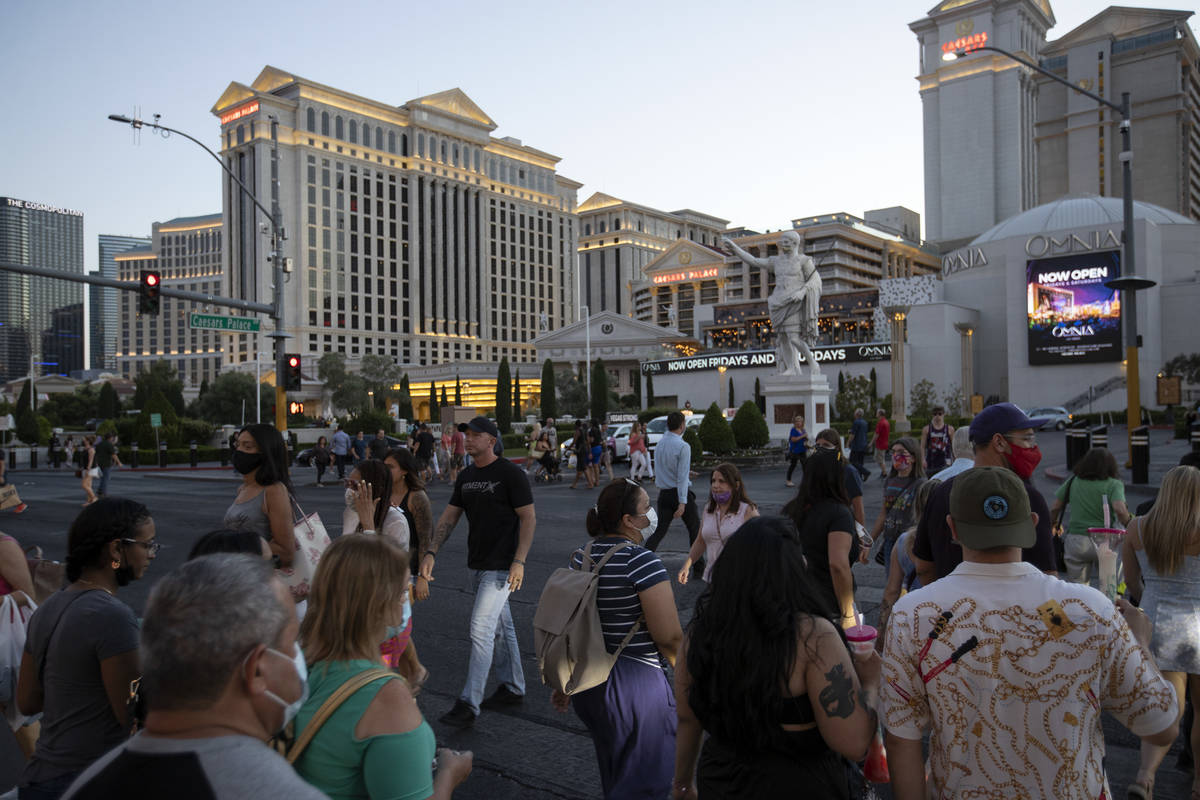 March's billion-dollar casino gaming win was no fluke. It happened again in April.
The Nevada Gaming Control Board on Thursday reported the state's casinos won $1.039 billion from gamblers with $865.5 million of that in Clark County, $483.4 million on the Strip and $76.2 million in downtown Las Vegas.
By comparison to March, statewide win was $1.067 billion, Clark County was at $893.2 million, the Strip was $501.5 million and downtown Las Vegas was $71 million.
Because casinos were shut down in April and May 2020, percentage differences between this year and last year aren't particularly telling, but the Control Board did the math for the statewide total, and the April numbers were a 28,255.9 percent increase over April 2020.
While the state's casinos were closed in mid-March and didn't reopen until early June as a means to slow the spread of the pandemic, they continued to win $3.7 million through mobile sports betting and interactive poker, which were operational during the suspension.
Joe Greff, a gaming analyst with New York-based J.P. Morgan, said an example of how the lack of international travel is hurting the Strip can be derived from win totals for baccarat, the Asian table game of choice, in April.
Strip baccarat win declined 58 percent with drop — the amount wagered — down 42 percent compared with April 2019. In addition, gamblers played lucky as the hold, or the amount casinos won, was at 10.7 percent compared with the normal 13 to 14 percent range.
As bad as the numbers were for the state in 2020, the current win totals are supercharged, beating comparative figures from 2019.
Michael Lawton, senior research analyst for the administration division of the Control Board, had a mountain of evidence to suggest that gaming win has surpassed pre-pandemic levels.
Among his statistics:
— Gaming win is up 34.8 percent calendar year to date from 2019.
— The only market of the 20 the Gaming Control Board regularly monitors that didn't eclipse 2019 numbers was North Las Vegas, where two of the largest casinos, Texas Station and Fiesta Rancho, remain closed.
— The Strip, slumping because of the lack of midweek visitors due to there being no conventions and trade shows during the pandemic and virtually no international visitors, dragged the rest of the state down in April with win down 27.3 percent since casinos reopened in June. Excluding the Strip, state win would have been up 10.9 percent and Clark County up 7.8 percent.
April had several record-breaking win performances.
Casino slot win statewide was $793.7 million, a 20.5 percent increase over 2019 that's up 31.2 percent for the calendar year to date. That represents the highest total in state history, eclipsing the record of $779.6 million set in October 2007.
Statewide slot coin-in — the amount gamblers put into slot machines — was $11.1 billion in April compared with $9.3 billion in April 2019. That volume was the highest total recorded since May 2008 and casinos kept 7.18 percent compared with 7.07 percent in 2019.
The Las Vegas locals market, casinos scattered throughout the valley, showed win totals up 11.1 percent since casinos reopened in June and up 18 percent compared with April 2019, with calendar year to date up 57.2 percent from 2019.
Las Vegas wasn't the only location in the state seeing large numbers. Washoe County, home to Reno and Sparks, had the highest win total recorded since July 2008 and was up 15.6 percent since June.
Contact Richard N. Velotta at rvelotta@reviewjournal.com or 702-477-3893. Follow @RickVelotta on Twitter.