Circus Circus on Las Vegas Strip still makes money after 50 years
August 19, 2018 - 12:17 am
Updated August 19, 2018 - 12:23 am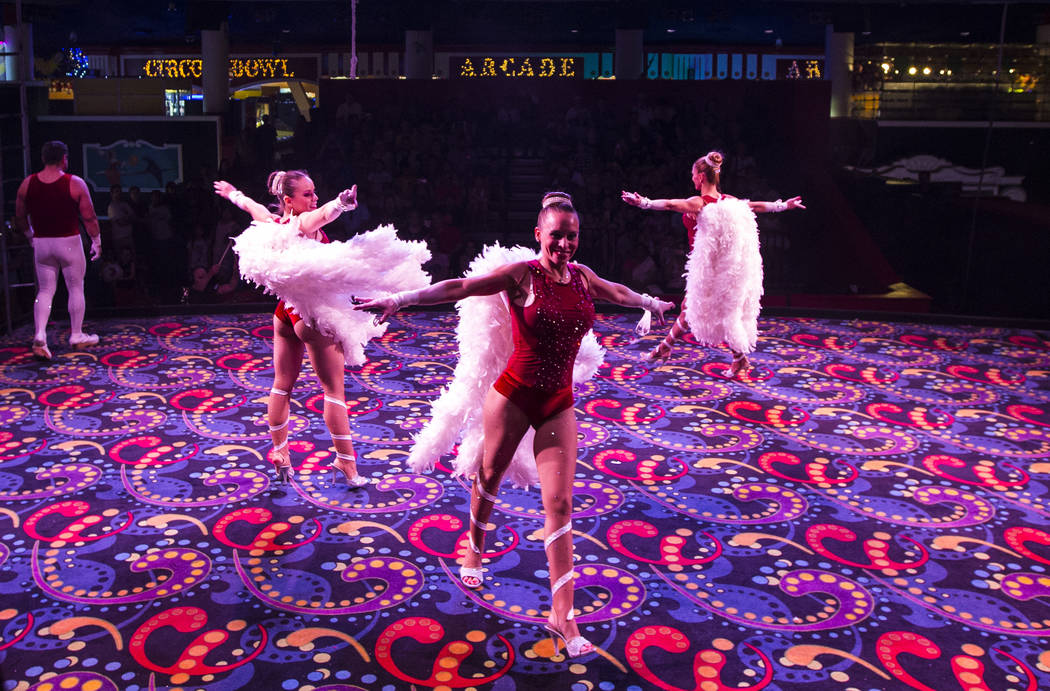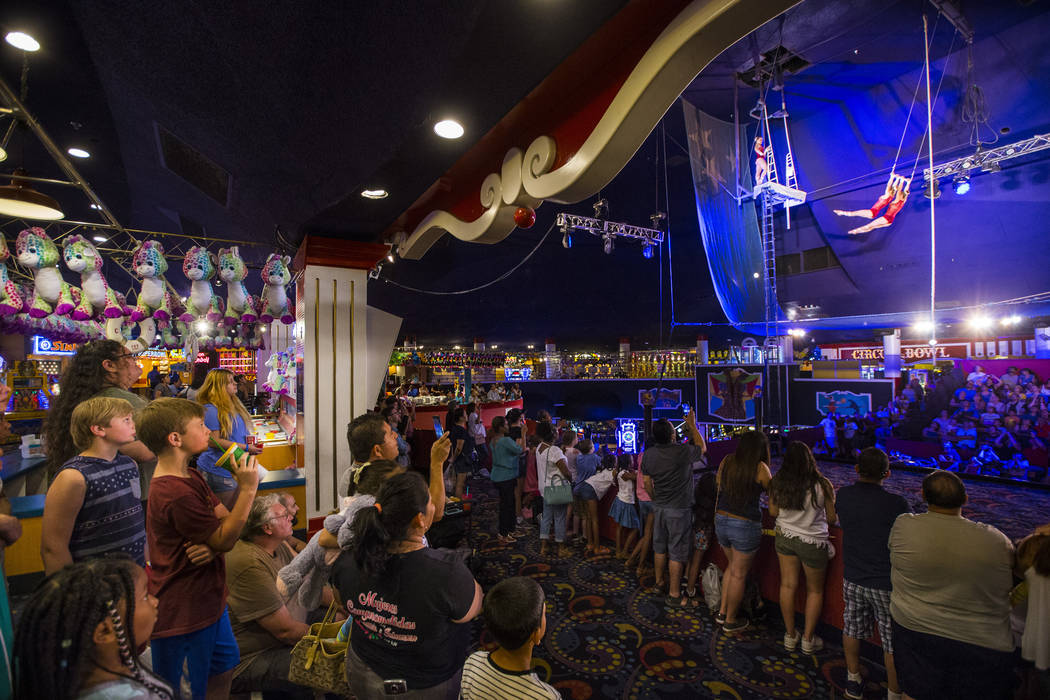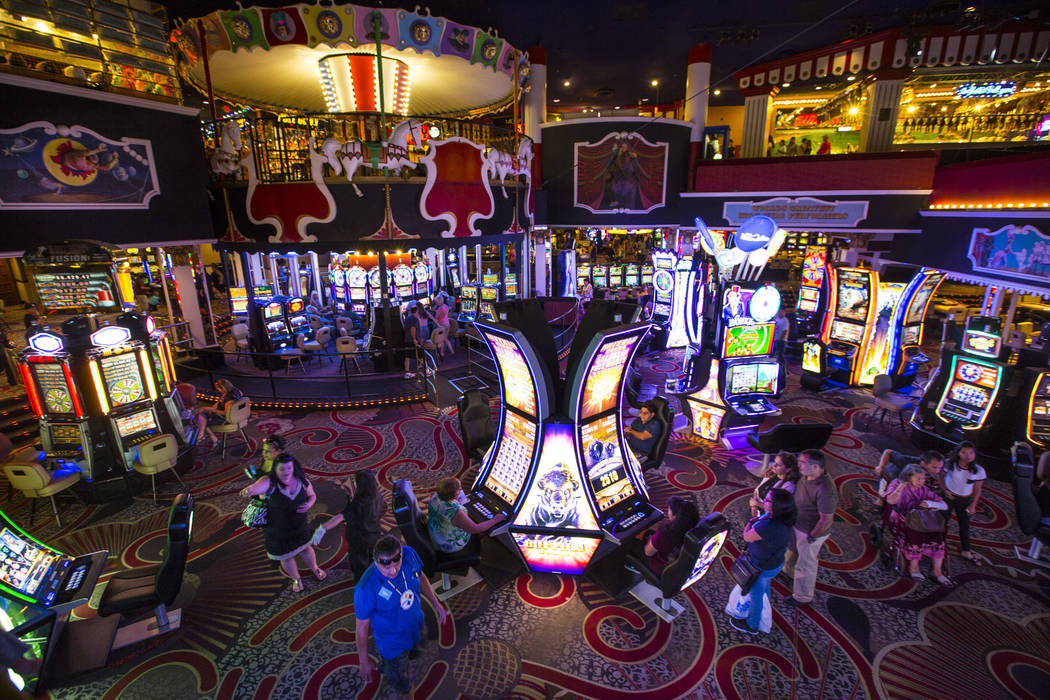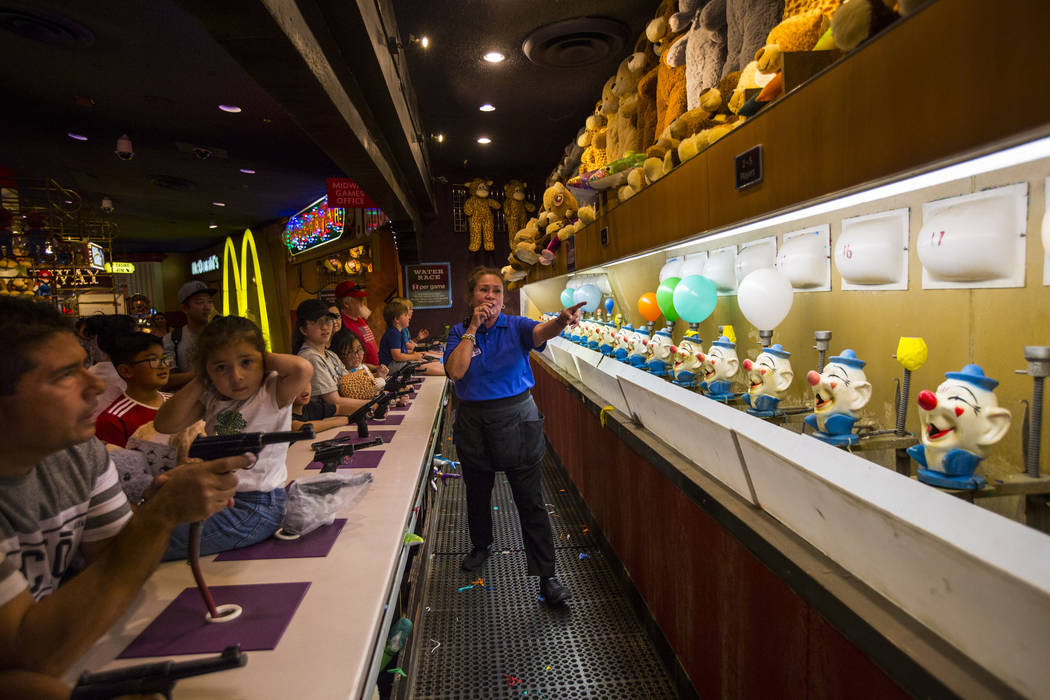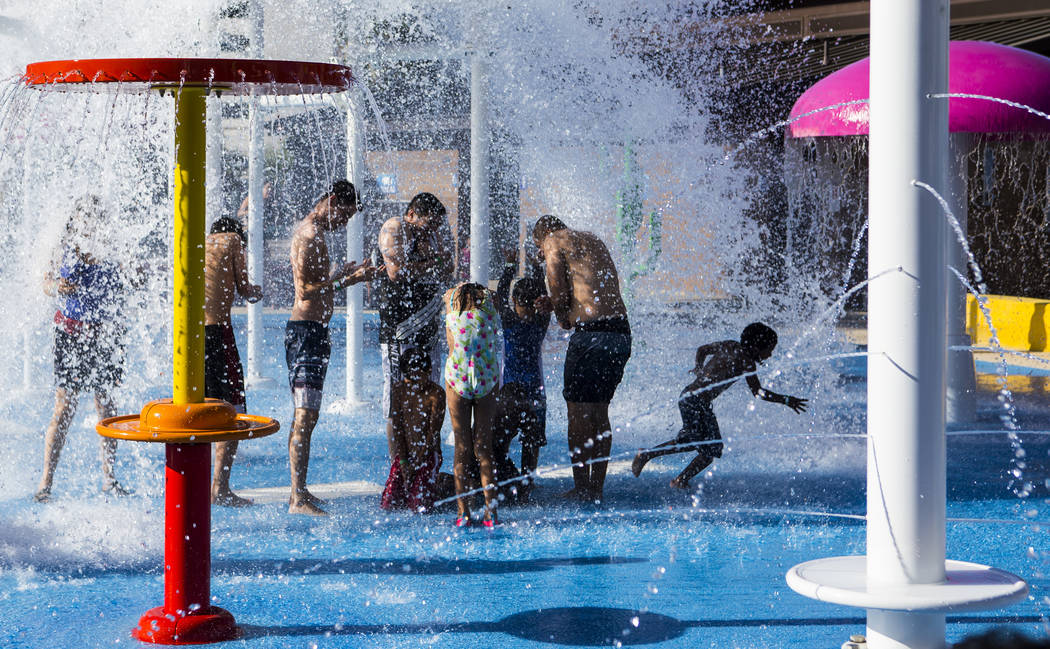 It only takes a short walk through Circus Circus to realize it attracts a demographic like no other casino on the Strip: families with children.
A visitor to the property is just as likely to see adults pushing strollers as pulling the handle on a slot machine. Stuffed dolls seem as plentiful inside the property as poker chips.
When school is out, families with children account for about 70 percent of booked rooms at Circus Circus, according to property President Eric Fitzgerald, attracted by the resort's new water playground with slides, Midway arcade area, circus show and Adventuredome, one of the largest indoor attraction parks in the U.S. with 25 rides. The strength of the property's affordable recreational offering is offset by its aged appearance, parents say.
"Overall, the children had a good time, but I would prefer to stay somewhere nicer and just visit Circus Circus for the rides," Latresha Jackson, who took a four-day vacation to Las Vegas in June with her two sons ages 8 and 10, said in an interview.
Circus Circus, which turns 50 in two months, has a carpet that is dotted with blackened gum stains and so worn in some areas the color is nearly gone. The sports book features last generation TV screens and ticker boards. The red and white colors on the buildings' facade are faded, as is the 123-foot-tall Lucky clown sign by the entrance.
Despite regularly receiving critical reviews on popular travel sites TripAdvisor and Booking for an outdated interior, Circus Circus has been posting impressive financial results in recent years. A major upgrade to the historic property would run into the hundreds of millions of dollars and potentially disrupt business, analysts said.
"With Circus Circus continuing to crank out money, there is no reason to do anything with it until the North End comes back alive," said Diana Bennett, co-founder of Paragon Gaming. She worked in the property when it was owned by her father, Bill Bennett.
Bill Bennett sold the property in 2005 to what is today MGM Resorts International.
Financial resilience
Between 2015 and 2017, Circus Circus posted the fastest percentage growth in average daily room rate and cash flow among MGM's Strip resort properties, a testament to the strength of its family and value niche in an increasingly expensive market.
The property is so packed in the summer that guests say they sometimes have to wait several minutes to get into the elevator. Getting a spot at the revamped pool area is even harder, they say.
"There's a lot of collective money in that low to middle market economic sector and that will always be the case," said Anthony Curtis, publisher of Las Vegas Advisor. "It continues to be viable because it does what it does very well."
Circus Circus posted an average daily room rate last year of $85, up nearly one-fifth compared with 2015, yet still just half the Strip average.
That lifted the resort's operating profit before depreciation and amortization to $70 million, an increase of two-thirds in just two years. Occupancy has been stable around 84 percent, the lowest among MGM Resorts' Las Vegas properties.That is because of its location on the desolate north Strip.
The property's financial resilience has given MGM time to focus big investments on more lucrative projects on the south Strip and outside Nevada.
Only Strip RV park
The 3,767-room property sits on a plot of about 60 acres near Sahara Avenue on the north Strip. The massive acreage is a potential gold mine.
But empty lots and construction sites have been turning tourists away for the past decade from the once thriving neighborhood, preventing MGM from mining that wealth.
That might explain why the company has yet to sell the land to its real estate unit, said Chad Beynon, a gaming analyst at Macquarie in New York. MGM has sold the land under seven of its 10 Strip resorts to the unit.
Circus Circus consists of the casino, three hotel towers, Slots-of-Fun, the Adventuredome, five motel-like blocks, and an RV park. Car parking, which is free, accounts for much of the remaining acreage.
The RV lot — which spans 10 acres and can hold 170 vehicles — is the only of its kind on the Strip. The value of land on the casino corridor is normally so high that an RV park can't be economically justified.
Fabio Murra and Luiza Souza, a Brazilian couple, parked their RV earlier this month at Circus Circus during a two-day visit to Las Vegas, paying about $35 a night.
"I was surprised it was on the Strip,'" said Murra, 26, as he returned to his vehicle with Souza after a dip in a pool for RV guests. "I don't know if they are making money out of it, but for us it's perfect."
Murra's RV was one of about six dozen parked at Circus Circus that evening. The resort might have generated about $2,500 in revenue from the RV Park that night, less than what one popular slot machine can pull in.
Recession impact
MGM Resorts had intended to get rid of the RV Park and motel-like structure more than a decade ago and develop the land around Circus Circus into another multibillion-dollar project.
The company had just started on the $9 billion multiuse CityCenter project on 66 acres 5 miles south of Circus Circus.
The iconic resort was scheduled for a major revamp as well.
"We intend to do with Circus Circus what we've done with the rest of our properties," current MGM CEO Jim Murren said in April, 2007. "We're going to put some money into it and enhance and expand it over time.''
But Murren never got a chance to move ahead with his plans.
The financial crisis tore through Las Vegas like a destructive sand storm just one year later, nearly bankrupting MGM and shelving its grand plans for the north Strip.
MGM has since invested some money into Circus Circus. Room upgrades were completed in 2014, the same year the property added a second roller coaster to Adventuredome.
The property last year spent $9 million to expand the outdoor pool area and add a giant slide. This year it will start replacing the casino carpet, the source of much critical commentary.
But MGM has not discussed any major plans for the property akin to its pre-crisis vision.
During a daylong meeting with Wall Street analysts in May to discuss company plans through 2020, Murren talked about investments on the south Strip, the East Coast and overseas but made no mention of Circus Circus.
"Given that we have seen announcements from the Stratosphere, SLS and everyone else there on the north Strip and with the convention center ready to open in 2021, we thought it could be something they would discuss," said Beynon, who attended the meeting.
North revival
More than $6 billion in capital is flowing into the north Strip for new resort and venue development and upgrades to existing properties.
That could bring thousands of more people per day to that end of the Strip, boosting the potential of Circus Circus' underused land.
The 3,000-room Resorts World Las Vegas next to Circus Circus and the 4,000-room The Drew across the street might open as early as the end of 2020.
The Las Vegas Convention and Visitors Authority will open its new $1.4 billion convention space near Circus Circus around the same time.
The owners of Stratosphere and SLS Las Vegas, competitors for the higher-end guests at Circus Circus, are pumping more than $100 million respectively to upgrade their properties in coming years.
MGM is unlikely to reveal plans for Circus Circus and its surroundings acreage until it can analyze the impact all of those projects will have on the neighborhood, said John DeCree, an analyst at Union Gaming.
But the appearance of new and refurbished properties nearby will force MGM to take action, Bennett said.
"When they start getting competition on that end of the Strip, they are going to need to do something. Otherwise it is going to be a shame in their portfolio," she said.
Contact Todd Prince at 702-383-0386 or tprince@reviewjournal.com. Follow @toddprincetv on Twitter.