Developer Steve Wynn to start work on Paradise Park before end of '17
January 26, 2017 - 9:30 pm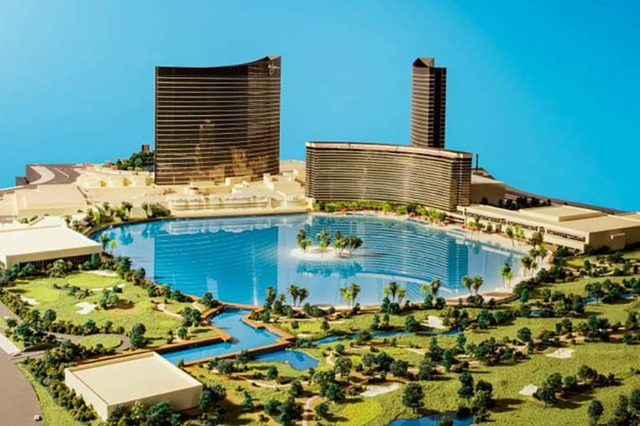 Wynn Resorts Ltd. hopes to start construction of its Paradise Park before the end of 2017, Chief Executive Office Steve Wynn said Thursday.
"I think we have nailed it down," Wynn told investors and analysts on a call to discuss the company's fourth-quarter results.
"I hope to take the business plan to our board of directors in the second quarter and be in a position to begin work in the fourth quarter," Wynn said of the the proposed 38-acre lagoon surrounded by a convention center and hotel on the Strip.
Wynn Resorts' future lies in nongaming attractions, Wynn said. It is those attractions that in turn bring people to the gaming tables.
"We want to take our noncasino revenue to enormously high levels," he said while explaining the project's concept.
Wynn commented after his company reported fourth-quarter net revenue rose 37.3 percent, beating analysts' estimates. Shares surged despite adjusted profits missing estimates as Wynn said business was off to a strong start in China.
Wynn Resort's revenue increased $353.5 million to $1.3 billion for the last three months of 2016, the company said in a statement. Wall street analysts expected the company to post revenue of $1.25 billion, based on Zacks Investment Research data.
Net income jumped at a slower pace, rising 31 percent to $113 million from $87.2 million a year ago. Adjusted for a non-recurring gain, net income would have declined to $51 million, the company said.
Earnings per share rose to $1.12. Excluding the nonrecurring gain, earnings were 50 cents per share. That fell far short of the estimate of 67 cents based on five analysts surveyed by Zacks.
The revenue increase came entirely from the new Wynn Palace in Macau. Revenue from Wynn Macau and Las Vegas operations declined year over year in the fourth quarter. The earnings report represents the first full quarter of operations for Wynn Palace, which opened Aug. 22 in Macau.
Despite the earnings miss, Wynn shares rose sharply, jumping 7.6 percent to $102.75 in after hours trading, as the company said the new year started off strong in Macau.
Wynn Palace has been generating $1.6 million in operating income a day since the start of the year, just four months after opening, Wynn said on the earnings conference call. By comparison, it took the Wynn Macau a year to generate $1 million a day, he said.
"We are a little ahead now with our hotel occupancy at the Palace," said Wynn. "We are running in the (90 percent occupancy range.)"
The Palace is having "very good mass market success in Cotai" despite the continued construction nearby that affected pedestrian foot traffic during its first few weeks. The construction should be cleared by the second half, Wynn said.
Performance at its Las Vegas units has improved year over year in January, Wynn said. He expected that strong trend to continue amid the Chinese New Year, which kicks off Saturday, and the Super Bowl on Feb. 5, he said. Las Vegas revenue declined 2 percent to $383 million in the fourth quarter, the results showed.
Contact Todd Prince at 702-383-0386 or tprince@reviewjournal.com. Follow @toddprincetv on Twitter.