Elaine Wynn testifies, supporting earlier claims she reported Steve Wynn's misconduct
Updated March 28, 2018 - 8:01 pm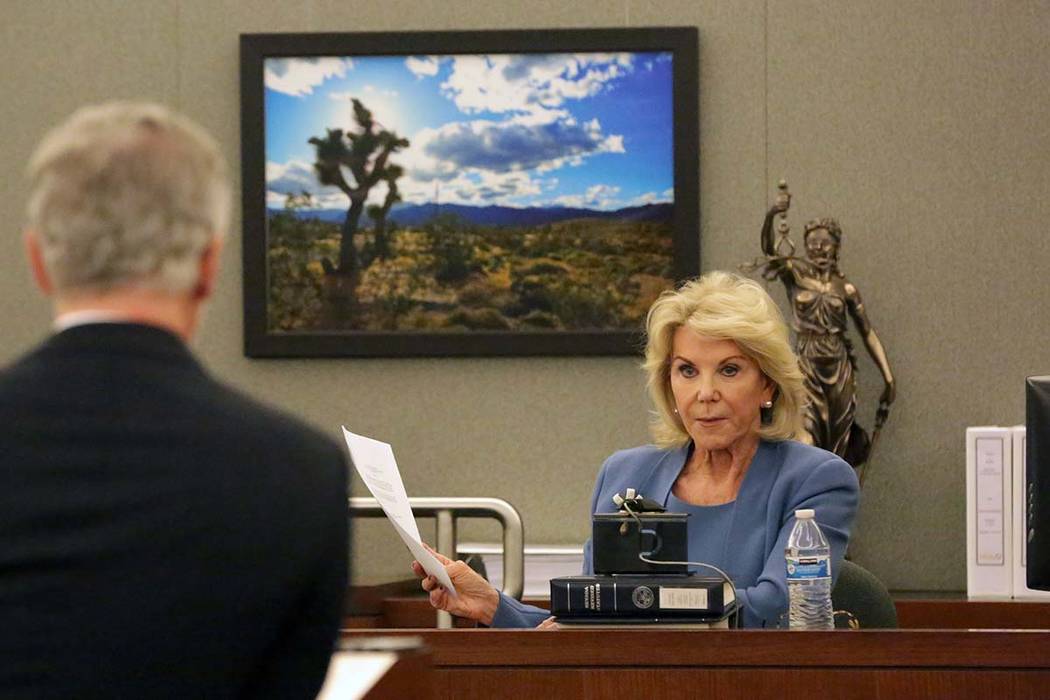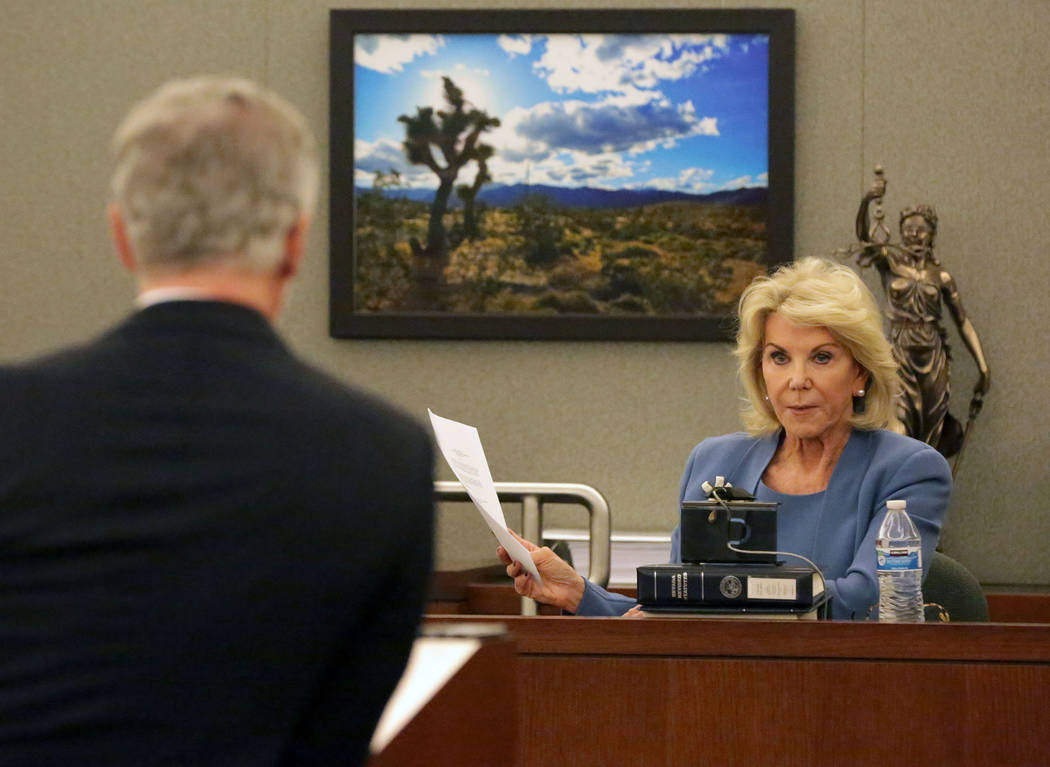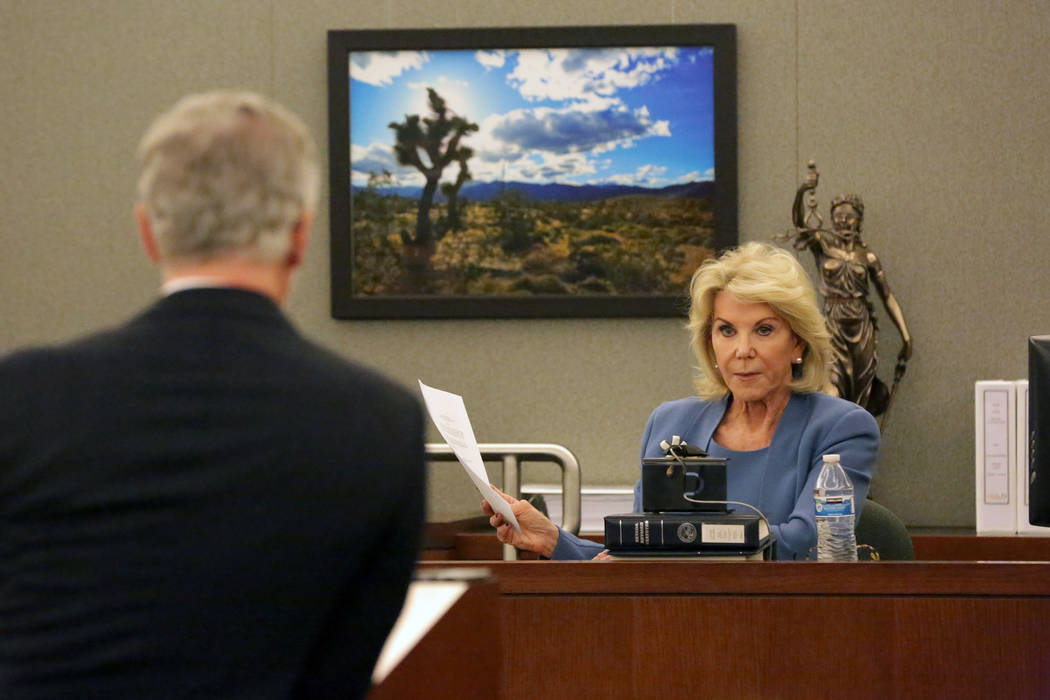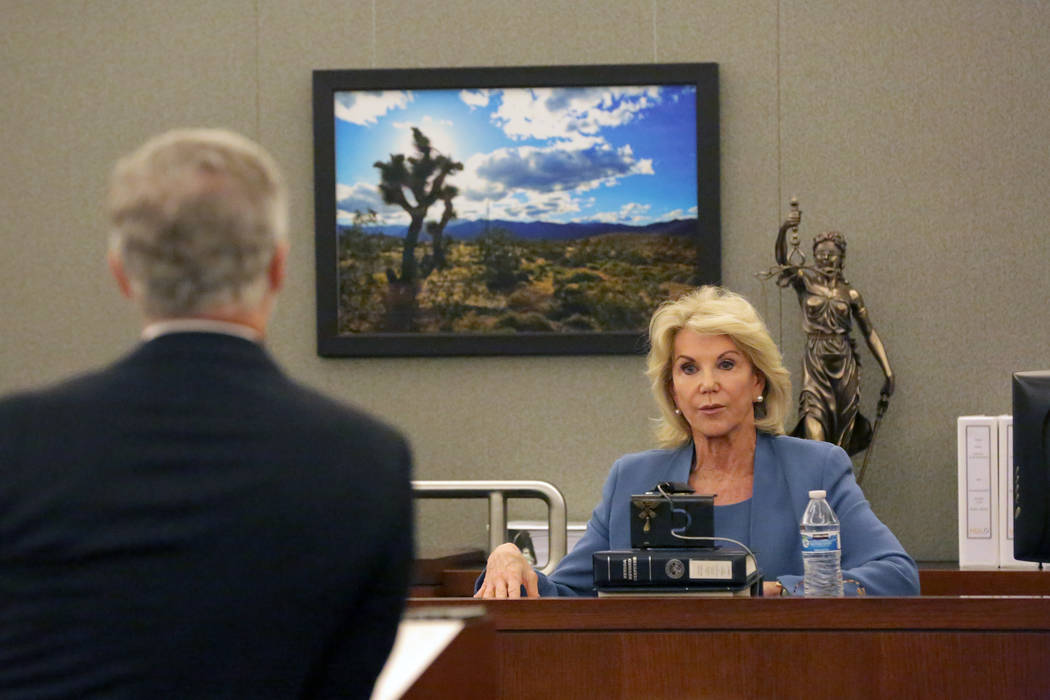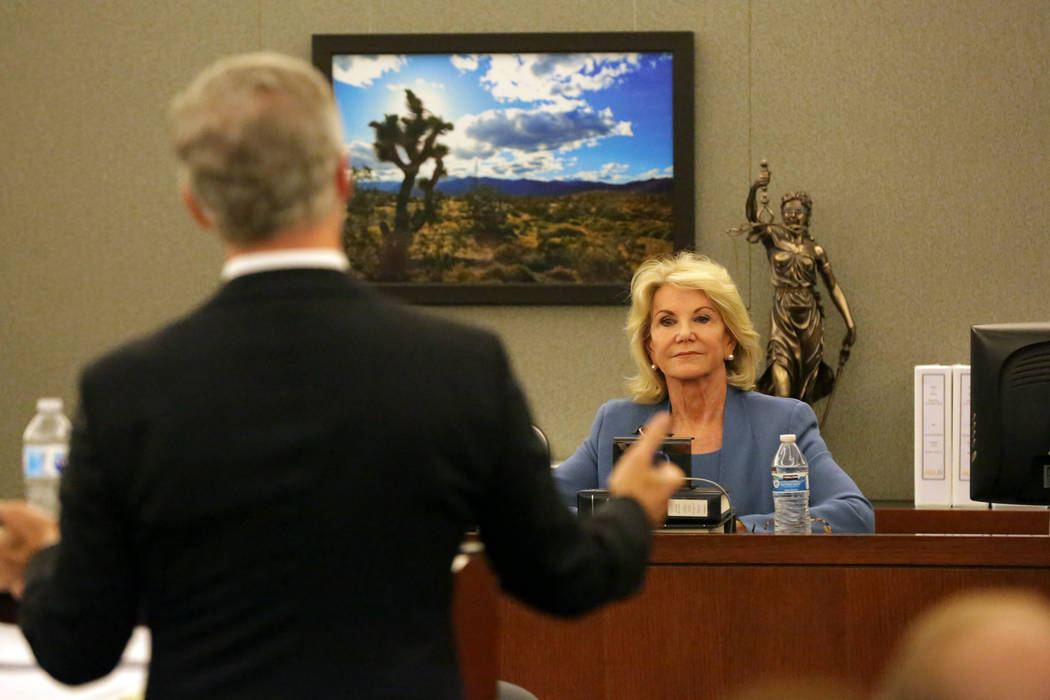 Elaine Wynn testified on Wednesday to support her previous claims that she notified Wynn Resorts general counsel of alleged sexual misconduct by Steve Wynn.
At the end of the Nevada District Court testimony, Chief Judge Elizabeth Gonzalez ruled that a jury will be able to hear about Steve Wynn's 2005 settlement with a female employee and unauthorized gambling by executives. Also, lawyers for Wynn Resorts and Steve Wynn requested a change in venue for the case, which is slated to go to trial in April.
Elaine Wynn is suing Steve Wynn and Wynn Resorts for breach of contract over her dismissal from the board in 2015. She claims she was not renominated to her position because she was exposing misconduct by top officials.
Steve Wynn resigned as chairman and CEO of Wynn Resorts on Feb. 6 in the wake of allegations of sexual harassment and misconduct.
On Wednesday, Elaine Wynn recounted telling Wynn Resorts General Counsel Kim Sinatra in 2009 that she received an email alleging that Steve Wynn "raped" an employee in 2005.
Elaine Wynn said Sinatra first consulted with lawyers and later responded that it was "not an issue of concern for the company." The 2005 event was a "personal matter" and had been "successfully dealt with," she said Sinatra told her.
Todd Bice and Don Campbell, lawyers for Wynn Resorts and Steve Wynn, said Elaine Wynn was using the word "rape" to sensationalize her testimony for the media in the courtroom. She had never mentioned the word in previous testimony, they argued.
Dan Polsenberg, an attorney for Elaine Wynn, retorted they had the proof the word "rape" had been mentioned before in connection with the 2005 settlement and would be willing to "reopen the evidence to show it is an appropriate description."
Sinatra issued a statement late Wednesday after the hearing, denying Elaine Wynn's claims she mentioned the word "rape" in their 2009 conversation.
"My recollection, which is clear, is that at no time did Elaine Wynn ever tell me that there was an allegation of rape against Steve Wynn," Sinatra said.
Proper reporting standards
Lawyers for Wynn Resorts also argued Wednesday that Elaine Wynn's conversation with Sinatra did not represent proper reporting standards. They cited that Elaine never mentioned the settlement to anyone else over the next six years despite serving as a director on the board.
She wouldn't bring the settlement up again until 2016 in her fight to get out of the shareholder agreement with Steve Wynn, lawyers said. The 2012 amended shareholders agreement required both Wynns to get each other's approval to sell their shares of Wynn Resorts.
In contrast, the lawyers argued, Elaine Wynn wrote numerous letters of complaints to Sinatra asking the full board to be informed of Steve Wynn's 2011 wedding on company property.
When she wants to make the company aware of something, "she does so ferociously," Bice told the judge.
Lawyers for Elaine Wynn sought to bring up during the jury trial information about Steve Wynn's $7.5 million settlement with a former employee in 2005 as well as unapproved offshore betting by two executives.
Attorneys for Wynn Resorts and Steve Wynn argued that the misconduct was irrelevant to the civil case over a corporate contract. Elaine Wynn is trying to use the "salacious" information about sexual misconduct to sway jurors, the lawyers argued.
"She knows exactly what she is doing. She wants to pollute the jury pool," Bice argued. "She wants to talk about something other than her breach of contract lawsuit."
Sufficient proof
Judge Gonzalez ruled that Elaine Wynn had shown enough proof that she reported the misconduct to permit the information to be heard by the jury.
Information about Steve Wynn's second settlement in 2006 as well as a series of other sexual harassment allegations filed this year by former employees will not be heard by the jury.
Both sides accused each other of pandering to the media in Wednesday's hearing that at times became heated. Gonzalez snapped twice at Wynn Resorts attorney James Pisanelli during his interrogation of Elaine Wynn.
"Mr. Pisanelli can you just ask the question," the judge said, adding later, "I would like to get done with the evidence some day."
Elaine Wynn also testified that she told a board committee in 2013 about her concerns that then-Chief Operating Officer Marc Schorr may be involved in unauthorized gambling.
She said she recalled her complaint regarding Schorr on Tuesday after committee minutes were brought to her attention by her lawyer Mark Ferrario. The minutes refer to concerns raised by Elaine Wynn but do not specifically mention unauthorized gambling.
Bice and Campbell pounced on Elaine Wynn's testimony, deriding it as an "epiphany." Elaine Wynn, they pointed out, had "lots of issues" with Schorr.
Schorr, one of Steve Wynn's longest-serving executives and a close friend, left the company in June 2013.
In an earlier taped deposition heard by the court today, Schorr said he placed bets with Wynn executive Tim Poster. Schorr said he was unaware that Poster was wagering online via an offshore company.
It is illegal in the U.S. to place sports bets through offshore operators.
Change of venue sought
Before Elaine Wynn took the stand Wednesday, attorneys for Wynn Resorts and Steve Wynn asked Gonzalez to move the trial with Elaine Wynn to another city amid concern they will not get a fair trial.
The case, they argued, has received extensive media coverage and has become swept up in the #metoo movement and merits a change in venue.
Gonzalez said Wednesday morning that she will let jury selection run two weeks before making a final decision on whether or not to move the trial.
The judge expects to speak with about 200 potential jurors over that period, she told both sides.
Contact Todd Prince at tprince@reviewjournal.com or 702-383-0386. Follow @toddprincetv on Twitter.