Steve Wynn resigns as chairman, CEO after sexual misconduct reports
February 6, 2018 - 6:55 pm
Updated February 7, 2018 - 1:50 am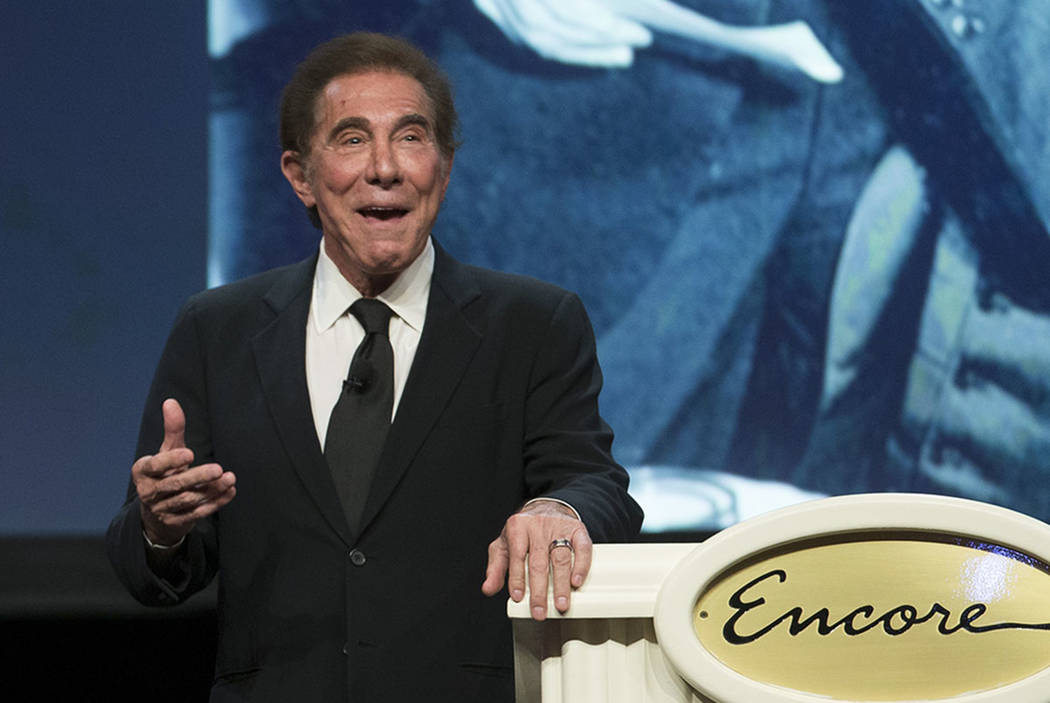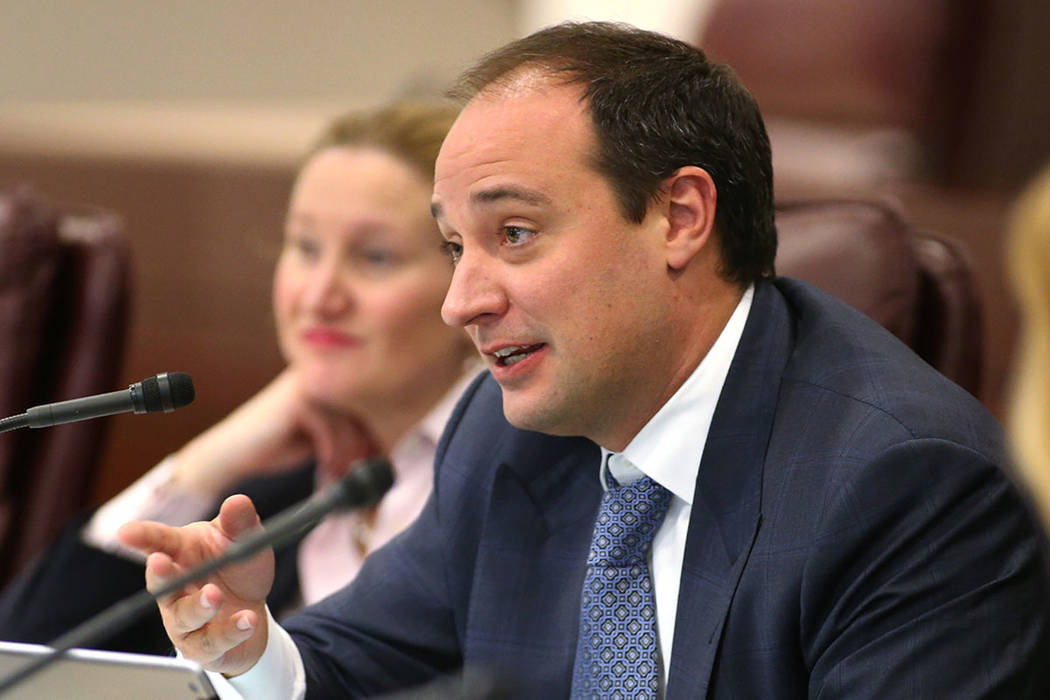 Steve Wynn, the gaming industry leader who brought an erupting volcano, a pirate ship and a choreographed ballet of dancing waters to the Las Vegas Strip, resigned late Tuesday as chairman and CEO of Wynn Resorts Ltd. in the wake of accusations of sexual misconduct.
Wynn, 76, had been under pressure to quit since Jan. 26, when The Wall Street Journal published an explicit account of him demanding sexual favors from and assaulting female hotel employees.
The resignation came one day after the Las Vegas Review-Journal published allegations that Wynn pressured a waitress into sex about 30 years ago, allegedly telling his employee he had "never had a grandmother before" and wanted "to see how it feels," according to a court document and interviews with multiple sources.
The Wynn Resorts leader denied the accusations from the beginning but couldn't escape the 12-day spiral to resignation, even after stepping down from the top fundraising position of the Republican National Committee the day after the allegations became public.
Maddox named CEO
Wynn's board of directors, which had begun an investigation into the allegations, said in a statement late Tuesday that it has appointed Matt Maddox as its CEO, effective immediately.
"In the last couple of weeks, I have found myself the focus of an avalanche of negative publicity," Wynn said in a statement released by Wynn Resorts. "As I have reflected upon the environment this has created — one in which a rush to judgment takes precedence over everything else, including the facts — I have reached the conclusion I cannot continue to be effective in my current roles. Therefore, effective immediately, I have decided to step down as CEO and chairman of the board of Wynn Resorts, a company I founded and that I love."
Wynn had accused his former wife, Elaine Wynn, of orchestrating the scandal as a legal strategy to modify a company share agreement in a court battle stemming from the couple's 2010 divorce. Elaine Wynn denied doing so.
What's next?
It remains to be seen what will happen to Wynn's vision of developing a new resort tower, a new convention center complex and a Carnivale-themed lagoon surrounded by a boardwalk and white-sand beaches on the Wynn Las Vegas campus.
The Wynn Golf Club, the site of the planned amenities, was closed in December, and Wynn recently told investors that designers had gathered in Las Vegas to begin work on the Paradise Park project and to begin initial work on a new project on 38 acres across Las Vegas Boulevard, tentatively called Wynn West.
Several analysts have speculated that, without someone as charismatic as Wynn at the helm, the company's future successes could be in doubt.
"It raises the questions of how much the company is reliant on the name and on the man," said Chris Grove, managing director of Eilers & Krejcik Gaming. "And how much separation does this resignation create in terms of the brand, and what kind of harm it might have undertaken if it were a protracted thing?"
Wynn without Wynn
"Is Wynn Wynn without Wynn?" Grove asked. "Does the Wynn brand become distinct enough from consumers who would have otherwise been negatively affected?"
The Wall Street Journal spent weeks interviewing 150 sources to produce a bombshell story that hit the company in the solar plexus last month.
The story included several graphic accounts of alleged interactions between Wynn and employees, including one case that led to a $7.5 million settlement with a manicurist who was summoned to have sex with him.
After the story hit, Wynn Resorts stock plummeted. When the market closed that first day after the story hit, shares were down 10.1 percent, a loss in market value of $2 billion.
A day after the story was published, Wynn stepped down as the Republican National Committee's finance chairman, the party's top fundraiser, setting off a political debate over whether candidates who had accepted campaign contributions should keep them, return them or donate them to charity.
Regulatory actions
Regulatory reaction was swift at the end of the weekend.
Gaming regulators in Nevada and Massachusetts, where Wynn is constructing his $2.4 billion Boston Harbor resort project on the Mystic River in Everett, made strides toward marshaling investigations.
The Massachusetts Gaming Commission met Jan. 31 and vowed to learn how a $7.5 million settlement wasn't disclosed when Wynn was brought forward for licensing there.
"The people of Massachusetts have a right to know what the hell happened here," Commission Chairman Stephen Crosby said at the hearing.
Nevada Gaming Control Board Chairwoman Becky Harris, who won't conduct her first meeting as head of the three-member board until Wednesday, said her agency also would conduct an investigation.
Harris could not be reached for comment late Tuesday.
Her counterpart from the five-member Nevada Gaming Commission, Tony Alamo, said he had no reaction to the resignation.
"We have to wait until we get all the facts," Alamo said late Tuesday. "We don't deal in the hypotheticals."
Board investigation
Wynn's 10-member board of directors also promised an investigation, headed by its only woman member, Pat Mulroy, a former general manager of the Las Vegas Valley Water District and the Southern Nevada Water Authority and a member of the Nevada Gaming Commission from July 2014 to October 2015.
The board hired a Los Angeles law firm that indicated it intended to set up a telephone- and internet-based hotline to gather information from potential witnesses.
Macau's Gaming Inspection and Coordination Bureau also planned an investigation, but there has been no indication how far along it has gotten in its efforts.
Just over a week after the initial story, there were more journalistic bombshells. Bloomberg was the first to report that the $7.5 million settlement, paid through a shell company Wynn had established — Entity Y LCC — was part of a paternity settlement, though there was no evidence Wynn had ever fathered a child.
The Las Vegas Review-Journal found more corroboration that the incidents of sexual impropriety had been going on a long time with the 30-year-old reports.
The Review-Journal also admitted Monday that sexual harassment claims could have surfaced years ago, but the newspaper in 1998 stopped publication of a story that would have brought the issue to light. After killing the story, the newspaper ordered the reporter who wrote it to delete it from the newspaper's computer system.
The reporter, current Review-Journal Metro Editor Carri Geer Thevenot, found a printed copy of the story and supporting court documents within her files. The newspaper re-reported the story for publication.
Supporters and detractors
Publicly, Wynn had supporters and detractors throughout the 12 days of turmoil. Wynn Resorts stock teeter-tottered up and down against a background of a massive stock sell-off followed by a big rebound. On Tuesday the shares closed down $2.26, or 1.37 percent, to $163.22 a share on average volume — about 18.6 percent below where it was before the story first appeared.
Some observers were quick to judge: "Steve Wynn should not be allowed to operate a casino in Nevada ever again," said Nita Chaudhary, co-founder of UltraViolet, a women's advocacy organization, which flew a banner reading "Wynn is a sexual predator #FireWynn" over Southern Nevada last week.
Last week the University of Pennsylvania announced it would remove Wynn's name from a commons area on campus and withdraw honorary degrees given to him and comedian and actor Bill Cosby, who also is under scrutiny for sexual misconduct. Wynn received an undergraduate degree in English literature at the university.
The University of Iowa has taken Wynn's name off the Stephen A. Wynn Institute for Vision Research. Wynn, who suffers from retinitis pigmentosa, committed $25 million toward research to cure blindness from inherited eye disease.
UNLV, however, chose to await the outcome of the Control Board's investigation before making a determination on what to do about donations Wynn made and whether to strip him of honors bestowed upon him over the years.
Contact Richard N. Velotta at rvelotta@reviewjournal.com or 702-477-3893. Follow @RickVelotta on Twitter.
Steve Wynn resigns from Wynn Resorts Ltd. by Las Vegas Review-Journal on Scribd
Steve Wynn Investigation
Read complete coverage about Wynn and the accusations of sexual misconduct