Fontainebleau rumor resurfaces during MGM's earnings call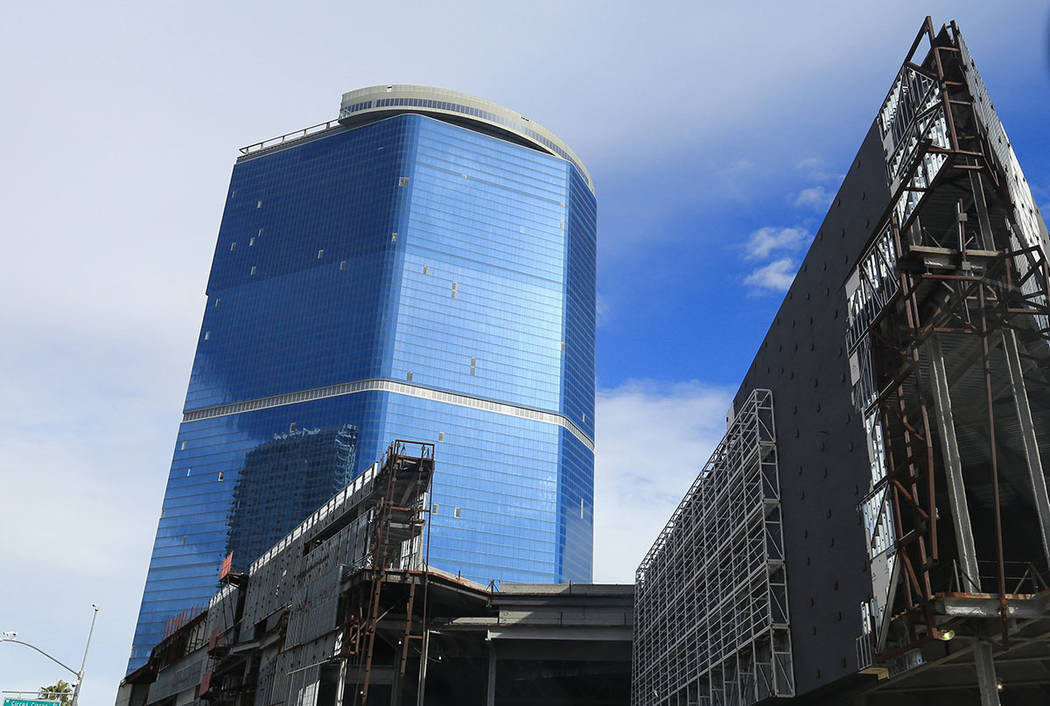 MGM's new East Coast holdings continue to pay off big for MGM Resorts International, but it was a fresh Strip rumor that has nothing to do with the company that jumped out of Thursday's second-quarter earnings call.
Chairman and CEO Jim Murren said he is hearing "really strong chatter" that a deal may be in the works for the acquisition of the 63-story Fontainebleau, owned by Carl Icahn. He emphasized that it isn't MGM making the deal and added that he expects "a hotel flag will be put on it."
"I love this town," Murren said in response to an inquiry from an analyst. "It doesn't have as many rumors as Macau, but we do hold our own."
Murren said he expects it would take 2½ to three years for the hulking blue tower that has never opened to be made available as a hotel-centric property.
"An expanded and upgraded convention center would be very positive for the town and positive for northern (Strip) properties like Mirage and Circus Circus, of course," Murren said.
While a Fontainebleau opening is just a rumor — and one that has been repeated over and over for months — other big events are driving the fortunes of Nevada's largest employer.
The opening of MGM's National Harbor property near Washington D.C. and acquiring complete control of Atlantic City's Borgata continue to pay off for the company.
Las Vegas-based MGM saw revenue rise 16.3 percent to $2.64 billion for the quarter that ended June 30, but earnings fell 53 percent to $241.6 million compared with the same quarter a year earlier.
Much of the revenue increase was attributed to National Harbor, which Murren said has become Maryland's leading casino property. National Harbor contributed net revenue of $177.8 million to the company, which would have ranked it fourth among nine Las Vegas properties not including CityCenter.
Borgata, which contributed $209.4 million in revenue and is Atlantic City's market leader, was acquired when MGM bought out a 50-50 partnership with Boyd Gaming Corp. for $900 million a year ago.
Murren said MGM would continue to focus on profitability and operational efficiency as it anticipates several big events in the months ahead.
The company is expecting a big third quarter when it hosts two major fights, the Floyd Mayweather-Conor McGregor spectacle Aug. 26 and the boxing match between Canelo Alvarez and Gennady Golovkin on Sept. 16.
MGM's convention business continues to thrive and the company expects to open a new property just off Macau's Cotai Strip in the fourth quarter and a new resort in Massachusetts in the middle of 2018.
MGM shares closed down 1.4 percent, 48 cents, in Thursday trading and fell another 0.4 percent, 14 cents, to $33.25 a share after hours. Volume was about three times the daily average.
Boyd Gaming Corp.
Boyd Gaming is back in the dividend business.
The Las Vegas-based locals operator that also has downtown Las Vegas properties as well as riverboat and racetrack casinos in the Midwest and South affirmed Thursday that it paid a 5-cents-per-share dividend and repurchased 600,000 shares in July, the first time the company had done that in nearly 10 years.
Boyd President and CEO Keith Smith said in a conference call on the company's second-quarter earnings that the company would continue to balance returns to shareholders, paying off debt and reinvesting capital in its properties in the quarters ahead.
Smith said it was the best second-quarter results for its locals market in nearly 10 years, driven by ongoing improvements in operations and a strong regional economy. He said local results would have been robust even without the company's acquisition of three new properties — Aliante, Cannery and Eastside Cannery — in the past year.
Boyd reported earnings of $48.6 million, 24 cents a share, on revenue of $599.9 million for the quarter that ended June 30. A year earlier, the company reported earnings of $30 million, 10 cents a share, on revenue of $544.9 million.
Boyd shares closed down 46 cents, 1.7 percent, on above-average trading Thursday and fell another 53 cents, 2.1 percent, on after-hours trading to $25.24 a share.
Penn National Gaming Inc.
Operators of the Tropicana in Las Vegas will take a wait-and-see approach through the first half of 2018 to determine whether it will invest more in the Strip resort, company executives said Thursday in a quarterly earnings call.
Tim Wilmott, CEO of Wyomissing, Pennsylvania-based Penn National Gaming Inc. told investors that the company is opening celebrity chef Robert Irvine's first signature Las Vegas restaurant, the Robert Irvine Public House, at the Tropicana Thursday and there are plans for a new Asian restaurant be added by the end of the year.
Once executives gauge customer reaction to the new non-gaming amenities, they'll make decisions on whether they'll do more.
The hotel-casino has been hampered by poor pedestrian access as a result of construction on the new restaurant and repairs to a pedestrian bridge linking Tropicana to the MGM Grand.
Penn shares fell 2.7 percent, 57 cents, to $20.74 a share on volume that was about twice the daily average on Thursday.
Contact Richard N. Velotta at rvelotta@reviewjournal.com or 702-477-3893. Follow @RickVelotta on Twitter.