G2E panels in Las Vegas discuss #MeToo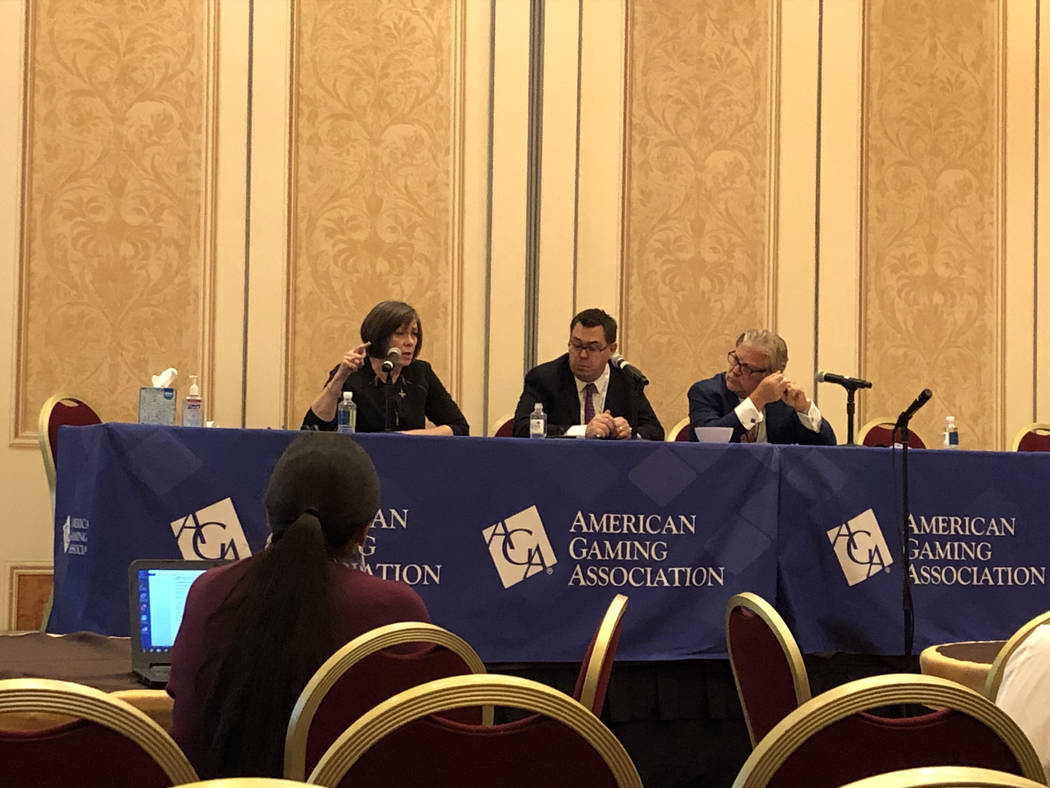 The #MeToo movement has companies around the world re-evaluating their sexual harassment policies and procedures, including those in the gaming industry.
Panels on how to best prevent and respond to sexual harassment claims were held Monday and Tuesday at the 18th annual Global Gaming Expo at the Sands Expo & Convention Center.
Moderator Matt Krystofiak, senior vice president of human resources for Caesars Entertainment Corp., said there are five elements every company should have in place to prepare for and prevent sexual harassment claims: a policy statement that clearly defines harassment, anti-harassment training, multiple channels to report harassment, training those who investigate claims, and a good attorney.
Companies can't "wait to be a headline," said speaker Phyllis Gilland, senior vice president and general counsel for Golden Entertainment, Inc.
Scandal on the Strip
"We hired outside counsel to come in and speak with all senior management after (Steve) Wynn was accused publicly," she said. Management was told 'if you have anything you need to tell me, tell me now.' … It's another compliance check."
Former Wynn Resorts Ltd. Chairman and CEO Steve Wynn was accused of multiple sexual harassment incidents but has denied all of them.
Harassment isn't just from top executives, Gilland said.
"I've had as many women harass women as men," she said. "People say hire more women (as a solution). … That's all great, but I can tell you at least 25 stories of women harassing women."
Thomas Auriemma, a gaming consultant for Penn National Gaming of Wyomissing, Pennsylvania, who also serves on the compliance committees of other companies, including MGM Resorts International since 2014, said every company needs a compliance plan, a code of conduct, written policies on all kinds of harassment, and a whistleblower or ethics hotline.
"Each of those should contain statements about sexual harassment that there is no tolerance and a path for reporting sexual harassment and investigating such matters," Auriemma said. "If any company out there doesn't have, in my view, all four of them, they are deficient."
But Auriemma said overreacting can be just as consequential.
"I'm amazed sometimes how lawyers and politicians can jump to judgment sometimes without understanding what the facts are," he said.
Regulations in Nevada
Another panelist, state Gaming Control Board Chairwoman Becky Harris explained how her board is in the midst of drafting regulations that specifically address the sexual harassment issue.
"Our next step will be to take into consideration some of the testimony that was heard," she said. "I want to be really clear that not all the testimony was in support of the regs. We heard from some attorneys in town as well as some licensees that perhaps these regulations aren't necessary at this time."
Harris referenced comments that existing regulations give Nevada regulators broad discretion to punish licensees that violate federal laws, or whose actions damage the reputation of the state's gaming industry.
In hearings in Las Vegas and Carson City in September and October, licensees have said a proposal to annually respond to a 16-item compliance checklist is onerous and that companies must already adhere to rules established by the U.S. Equal Employment Opportunity Commission and the Nevada Equal Rights Commission.
Toni Repetti, a professor in UNLV's Harrah College of Hospitality, attended the session and said the need for new regulations is unfortunate, but necessary. Repetti said generally, the more diverse a company is, the better it performs financially.
"I'm a firm believer that we should just do good business and to me, this is a logical good business decision," she said. "It's unfortunate that we need policies in place to do this, but not just gaming, but all industries have gotten themselves in trouble so now we're at the point that we have to put policies in place and often putting policies in place is reactive instead of proactive."
Shekinah Hoffman, a researcher in the gaming industry at UNLV, said it's important to be proactive as a company and take the time to train employees on appropriate behavior.
"Culture training is super important," she said. "What's important is having a conversation with employees saying what that (sexual harassment) means and that what someone might think is appropriate is what someone might think is not appropriate."
Spreading the message
Ron Steinmetz, an executive sous chef in Arizona, said he plans to check with the human resources department once he returns to work to make sure there's a policy in place and that the staff are following procedures, something he believed they were.
But, "it's food and beverage," he said. "There's issues."
Sharon Harris, the North American associate editor for Casino International attended the session and said employees shouldn't be able to use ignorance as an excuse.
"No one should be able to say, 'Gee, I didn't know,'" she said. "You need to give somebody all of the tools to protect themselves, protect their company, protect their employees."
If any industry were to lead a cultural change in this #MeToo movement, Hoffman said the gaming industry is a strong contender.
"The industry has a very sexy image … (but) gaming is an industry where people can grow from all types of backgrounds," she said. "I think that gaming has an opportunity to lead on issues like this … the industry is highly regulated, and works really well with the community and legislation."
With those three areas working together, Hoffman said "that's where the magic happens."
The Review-Journal is owned by the family of Las Vegas Sands Corp. Chairman and CEO Sheldon Adelson. Las Vegas Sands operates the Sands Expo & Convention Center.
Contact Bailey Schulz at bschulz@reviewjournal.com or 702-383-0233. Follow @bailey_schulz on Twitter. Contact Richard N. Velotta at rvelotta@reviewjournal.com or 702-477-3893. Follow @RickVelotta on Twitter.