Holograms, virtual reality coming to Las Vegas Strip casino
Updated May 22, 2019 - 8:51 pm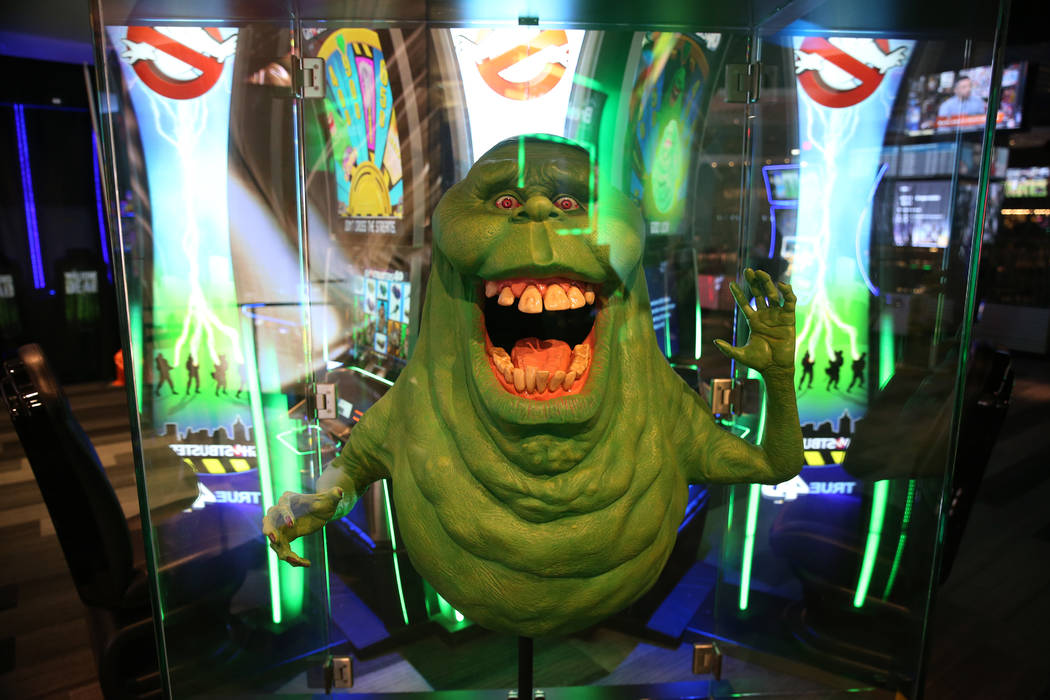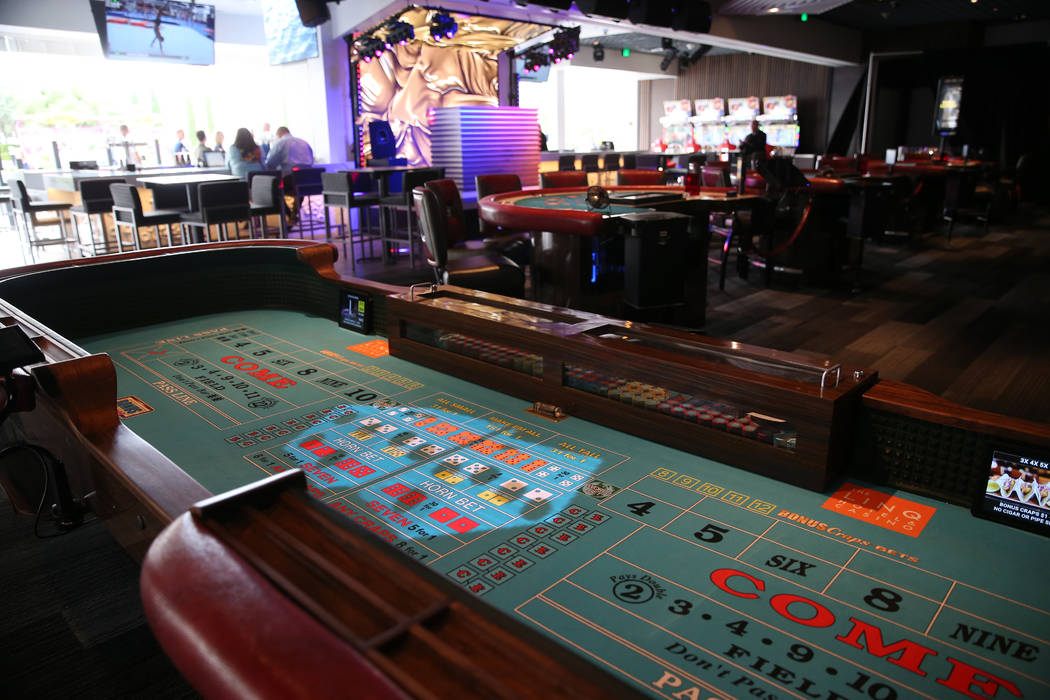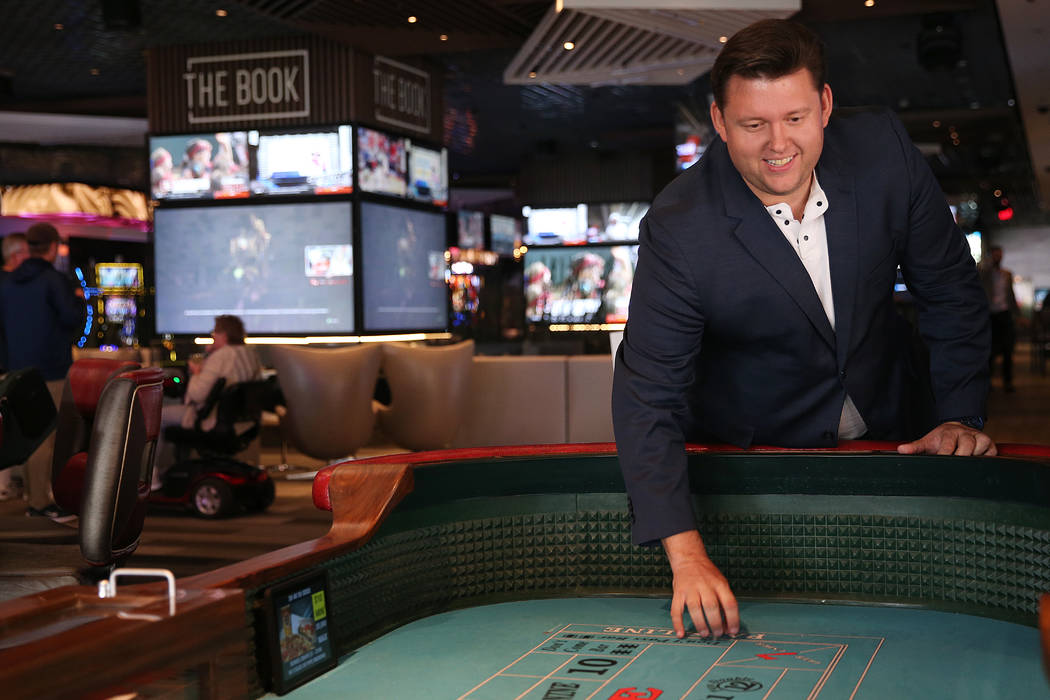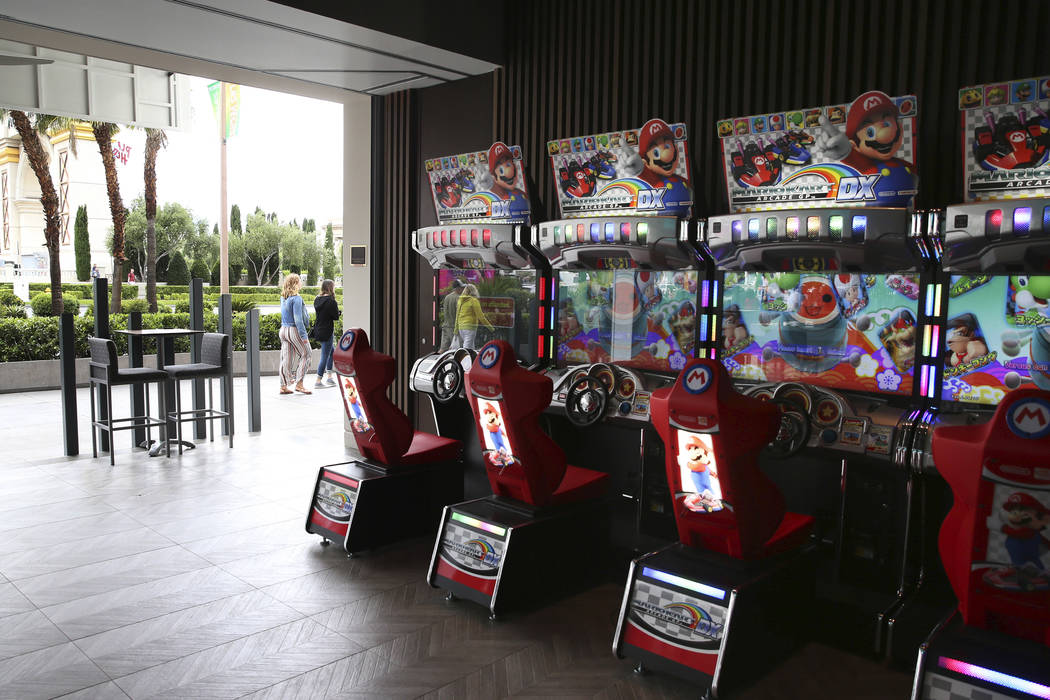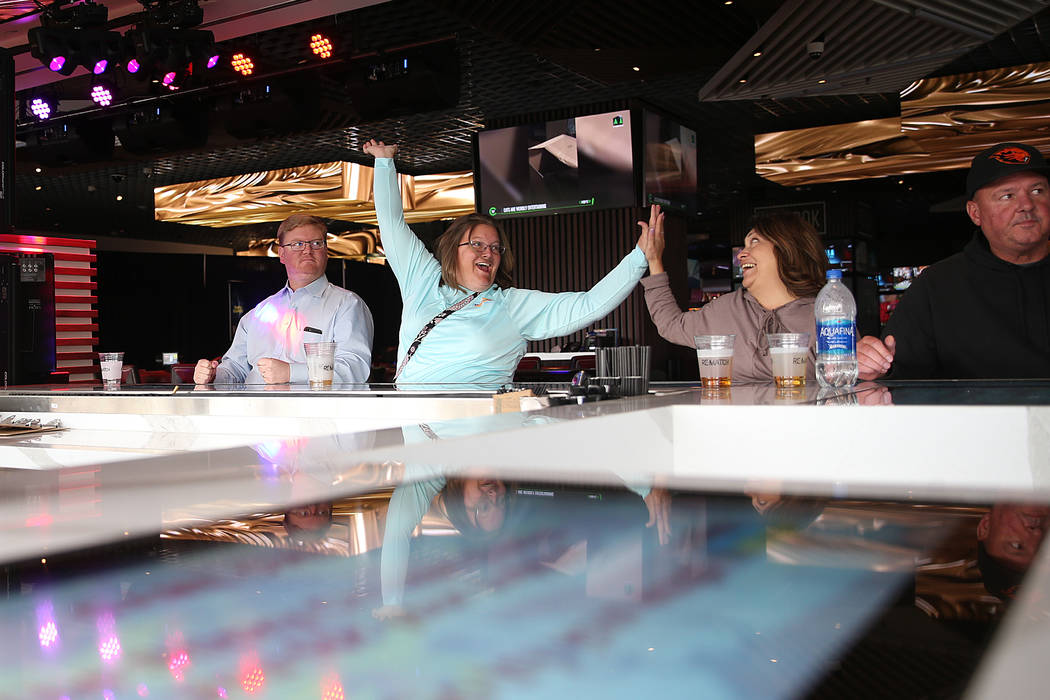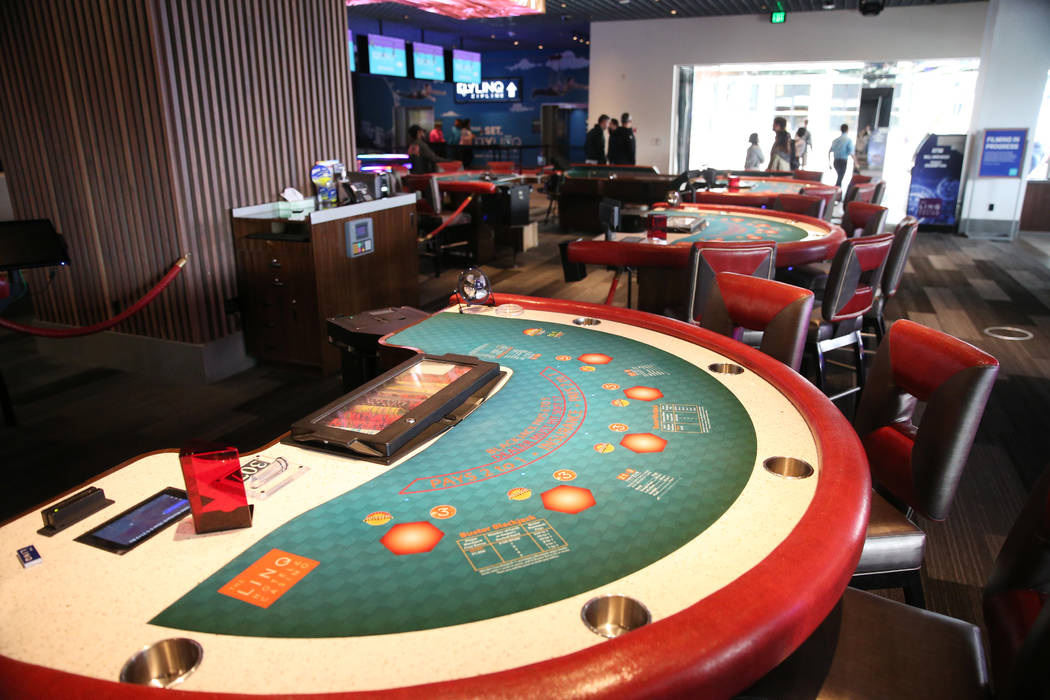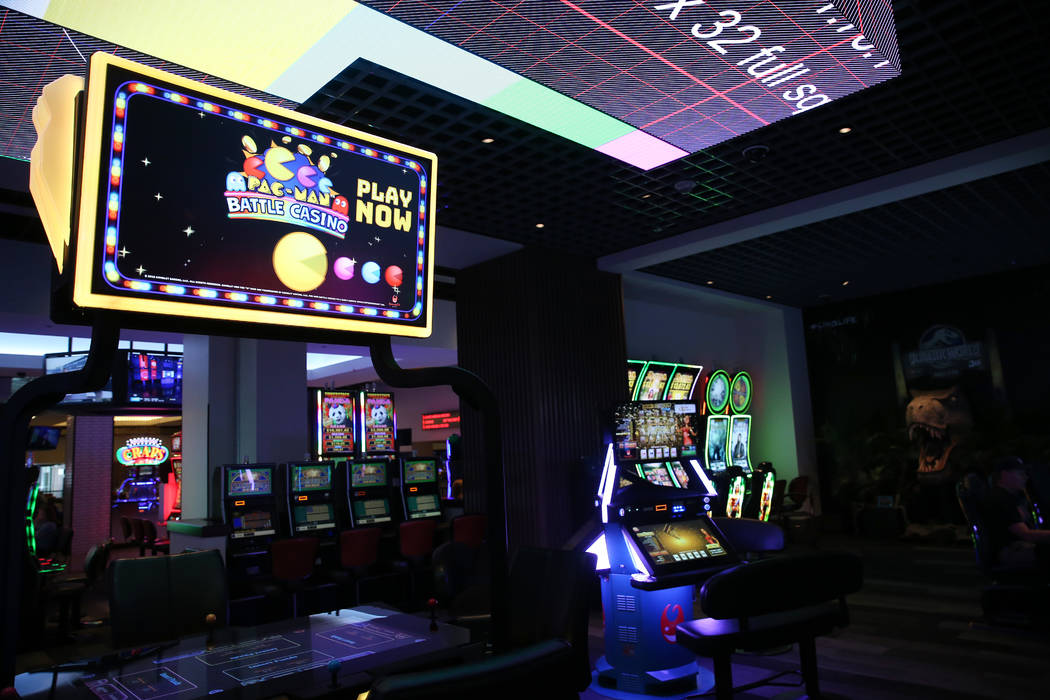 Inside The Linq Hotel's new Re:Match bar, visitors' eyes are cast down, focused on touch-screen games built into the bar top.
The interactive sea life display fades from the screens and up pops a food truck-themed game, inviting guests to join in. Fingers fly, swiping chicken wings across the screen below. After 60 seconds, the game ends and a player throws her arms in the air, victorious. The bartender hands her a free drink.
The tech-heavy bar, which opened May 3, is only one example of the resort's new efforts to transform itself into an experiential casino space. Within the next couple of weeks, The Linq is set to launch holographic games, interactive art exhibits, virtual reality bays and more.
"We saw that the industry was changing, and the customers were changing — how they consume, content, the type of experiences they wanted," said Matthew Kenagy, the senior director of strategic development at Caesars Entertainment Corp. "We wanted to respond to that quickly and lead the industry in how we think about gaming in general and how we build our spaces."
Testing ground
The transformation began with The Book, which first opened in October.
Kenagy said the company wanted to make guests comfortable in its sportsbook, which offers couches, large TVs and gaming consoles. The area also offers Fan Caves — rentable rooms with a 98-inch TV and virtual reality.
"We wanted to build the ultimate living room experience," Kenagy said.
The Linq plans to continuously integrate new technology and act as a testing ground for Caesars. Within the next two weeks, Kenagy said it will roll out first-of-its-kind technology onto its casino floor.
"It's one of the oldest buildings in Vegas … and it became the technology center," Kenagy said. "We'd like to see what works and bring that out to other properties."
New technology includes the Pulse Arena, which opened about three weeks ago. The space includes electronic table games complete with virtual dealers displayed on a screen that stretches across the back wall. A few feet away is a skill-based arena, with retro games like Pac-Man that let players compete for pooled money.
There will also be a new area that offers $5 holographic games, pitting players against creatures at tic-tac-toe, a balloon-popping game and rock, paper, scissors. According to a Wednesday statement from Caesars, this will be the first gesture-controlled hologram game and the first time hologram gaming has been introduced in a casino. The Linq will also introduce life-sized holographic dancers.
There will be six new virtual reality bays, which let guests see themselves as DJs in outer space, action heroes and pro boxers fighting against the likes of Rocky Balboa. Nearby will be an esports area with 24 stations that can hold both daily game play and tournaments.
Additionally, an interactive environmental art installation called DATALAND: LINQ will soon be present across the casino. The reactive art will be featured on LED screens, LED sculptures and immersive interaction zones.
Kenagy said The Linq's innovative technology has been successful so far, raising both guest service scores and revenue.
Macquarie analyst Chad Beynon said it makes sense to integrate more technology into gaming spaces.
"VR and new technologies have found success outside of the casino industry," he said via email. "The Linq has served as a test bed for new ideas and we think that these technology offerings could serve the (property's) needs well."
A different kind of customer
The Linq is looking to attract digitally-focused demographics of all kinds with the new additions, according to Christian Stuart, Caesars' executive vice president of gaming and interactive entertainment.
"People are very digitally-focused and they're connected to their phones, they're connected to content, they're connected to new, innovative experiences, and that's what we created here," Stuart said. "That's where the world's going."
Kenagy said The Linq's customer base skews on the younger side, toward millennials (those between 23 and 38) or Gen-Xers (aged 39 to 54), those who don't look like "the traditional slot customer." To keep these demographics interested, The Linq is trying to accommodate both their gaming and non-gaming interests.
For example, social media-worthy attractions can be found across the casino floor, from the rippling, reactive LED screens at the entrance to the life-sized Slimer next to the Ghostbusters 4D slot machines.
"The Las Vegas Strip has been a place of Instagram worthy attractions long before such a thing existed," Brent Pirosch, director of gaming consulting for CBRE, said via email. He pointed to structures like the Mirage's volcano, TI's pirate show and the Bellagio fountain.
Opportunity for growth
Pirosch said new technology is one way Las Vegas operators can appeal to this new generation of customers.
"Holographic games and virtual reality are what's hot, and it stands to reason that interactive technology will be a development trend," he said. "The Strip has been working towards offering experiences you can't get at home since its inception, and non-gaming experiences have been the best opportunity for growth."
Kenagy said Caesars wanted the space to feel more like an attraction instead of a casino. To prepare for the renovations, Kenagy said he and his team drew inspiration from Silicon Valley and theme parks.
Stuart said The Linq is taking the first steps with some of this technology, but every casino operator will need to follow at some point.
"The world is changing really fast, and the way that people interact with their mobile devices and content today, this is the expectation of the new generations," he said.
Contact Bailey Schulz at bschulz@reviewjournal.com or 702-383-0233. Follow @bailey_schulz on Twitter.