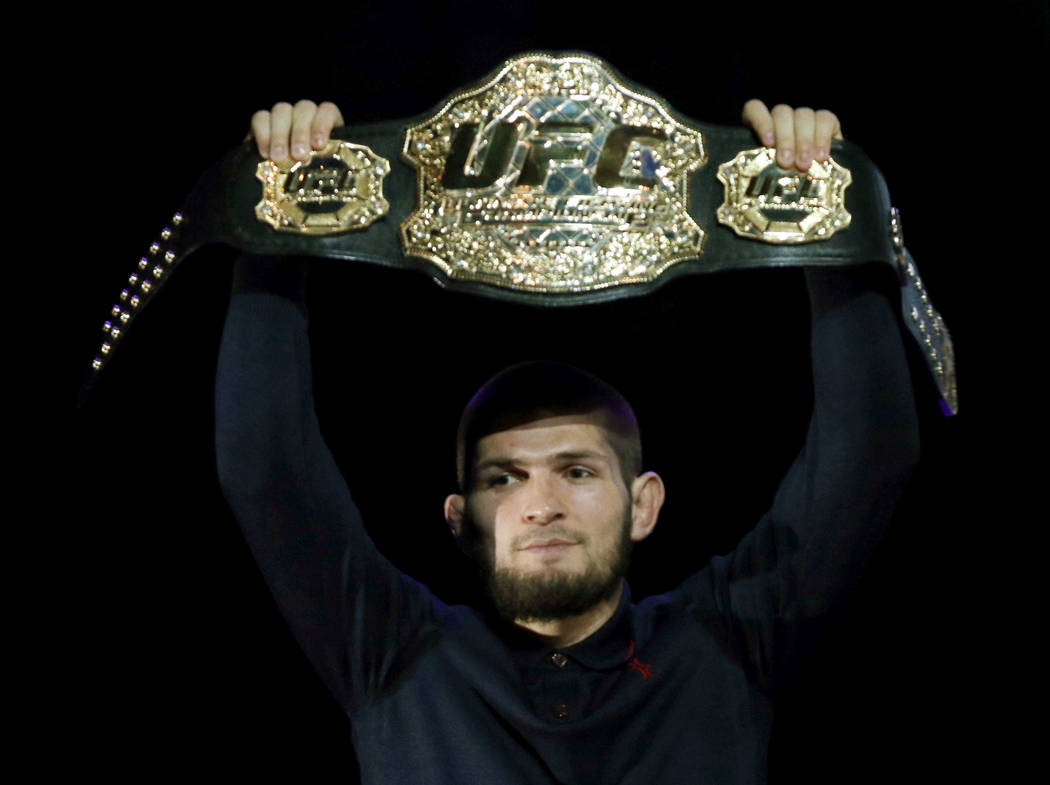 Strip casinos are set for a Conor McGregor bump this weekend as thousands of UFC fans pour into town to watch the Irish mixed martial arts fighter take on Russian counterpart Khabib Nurmagomedov on Saturday night in UFC 229.
Room rates have jumped for Friday and Saturday and clubs are gearing up for packed parties following the rumble at T-Mobile Arena. Nobu Hotel, the high-end boutique inside Caesars Palace, is sold out Friday as casinos dish out free tickets to high rollers.
However, the spike in resort revenues this weekend is unlikely to alter gaming investors' bearish outlook on Strip operators, analysts said.
"It's going to be a great weekend for the Strip and we are likely to see high gaming volumes, but it is hard to get the investment community excited," said Union Gaming analyst John DeCree. "There is still a little bit of uncertainty about about how strong the Vegas market will bounce back in the fourth quarter."
Fourth quarter
Strip casinos have been on a bad roll over the past three months as fewer events, especially fights, have caused a drop in the number of visitors to Las Vegas. That has pulled down room rates and revenues across the Strip.
The decline has surprised gaming investors, who expected the strongest U.S. economic growth in years and lowest jobless rate in five decades to put more cash in people's pockets for a trip to Las Vegas.
Investors have been dumping shares of MGM Resorts International and Caesars Entertainment Corp, the two largest Strip resort operators by properties, sending them tumbling more than 14 percent since August to near 52-week lows.
MGM Resorts and Caesars executives said during August conference calls they expect a rebound in the fourth quarter as the Strip will host more events. During an investor conference in September, Caesars executives highlighted the Conor McGregor fight as one reason it expects the fourth-quarter to be better.
Rates
Nobu's 189 rooms are all booked for Friday and selling for $1,000 for Saturday, triple the rate for Saturday Oct. 13. Bellagio king rooms are selling for $429 per night this weekend, a 50 percent premium compared with Oct. 12 and 13. MGM Grand queen rooms are selling 33 percent higher and Caesars king rooms 25 percent more.
Fights can boost the MGM Resort's Strip quarterly revenue per available room by as much as 1 percent, said Chad Beynon, an analyst at Macquarie.
Floyd Mayweather announced last month he will fight Manny Pacquiao in December. If the fight is held in Las Vegas, it will further support a Strip rebound, Beynon said.
"I think that would make this quarter significantly better than what we were thinking," he said.
UFC Chief Operating Officer Lawrence Epstein said the economic impact from the fight will last well beyond the weekend. The fight has nearly 3 million pay-per-view buys, the third largest in history. The broadcast will generate a "huge amount" of advertisement for the city, he said.
"As part of the telecast the city of Las Vegas will be integrated into that broadcast. Whether it is a vanity shot of the Strip, or the hottest nightclubs, the Bellagio fountains — those positive images will be sent" to the millions of people watching, he said.
UFC fans
A MGM Resorts presentation to Wall Street analysts in May showed that fight fans are among the most lucrative Strip clients.
That is backed up by a 2016 study conducted by Las Vegas research firm Applied Analysis for UFC.
UFC fans spend nearly $4,000 per visit to Las Vegas, more than three times the amount spent by the typical traveler, according to Applied Analysis. They also tend to have higher incomes and stay longer.
Nearly 90 percent of UFC ticket holders said they would not have come to Las Vegas for the weekend were it not for the fight, according to the study.
UFC has sold 20,000 tickets, implying that as many as 18,000 fans could be traveling to Las Vegas for the battle.
"This is a very big weekend. People are coming from Australia and all parts of Mexico to watch this fight," said high roller RJ Cipriani, who traveled from Los Angeles to see the fight this weekend.
Contact Todd Prince at 702-383-0386 or tprince@reviewjournal.com. Follow @toddprincetv on Twitter.