Major Las Vegas Strip resorts saw net income triple in 2017
January 12, 2018 - 5:05 pm
Updated January 12, 2018 - 8:49 pm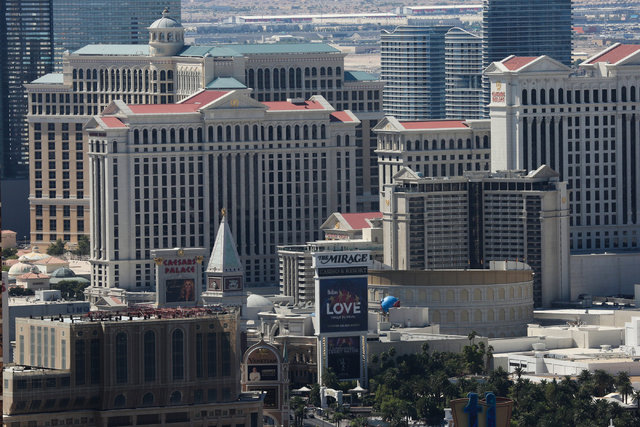 The Strip's largest resorts nearly tripled net income from gaming and attractions last year with revenue from casinos and amenities rising modestly, a new state report says.
The 2017 Nevada Gaming Abstract, published Friday by the state Gaming Control Board, said net income from Strip licensees that annually gross more than $1 million in gaming revenue was up 191.4 percent over the previous year to $814 million in the 2017 fiscal year that ended June 30.
Strip properties showed a 3.9 percent increase in total revenue including rooms, food, beverage and gaming over 2016 to $17.8 billion for the year with gaming revenue alone up 3.1 percent to $6 billion.
The 233-page abstract is a statistical smorgasbord that lists net income, money spent by patrons on gaming, rooms, food, beverages and other attractions by county and by the board's 13 geographic market areas statewide.
Statistics are compiled from July 1, 2016, to June 30, 2017, and compared with matching statistics from the previous 12 months.
The report, posted on the Control Board's website, lists compiled balance sheets from the state's casino companies, the average number of employees, the rate of room occupancy, revenue earned per room per day, gaming revenue earned per square foot and various ratios.
The report also breaks out statistical categories for Nevada's publicly held corporations, the amount of taxes paid and the percentage of income that went to taxes.
Because of proprietary information from some privately held companies, statistics aren't broken down by property or by company.
Among the eye-popping facts from this year's report:
■ Casino resorts collected $26.2 billion in revenue statewide in the 2017 fiscal year. That includes rooms, food and beverage and all aspects of the casino.
■ High-flying downtown Las Vegas reported net income of $110.3 million for its major resorts, a 111.3 percent increase over 2016. Total revenue was up 10.3 percent to $1.22 billion, and gaming revenue climbed 11.6 percent to $613.2 million. Those revenue percentage increases were the highest in the state.
■ In Clark County, major casinos have $70.5 billion in long-term debt and liabilities on their books.
■ Slot machines are still the biggest generators of gambling revenue. In Clark County, 63.4 percent of casino revenue was generated by slots, while 32.6 percent came from table games. Sports books contributed 2.1 percent while poker rooms added 0.5 percent.
■ The room occupancy rate for Clark County resorts was 88.15 percent. The best month of the fiscal year: July, at 93.01 percent.
■ Clark County resorts saw an average of $155.09 in revenue per hotel room, per day in fiscal 2017. Casino pit revenue was $79.72 per room, per day, and food sales averaged $89.38 per room, per day.
■ The average return on invested capital for all resorts was 6.9 percent.
Contact Richard N. Velotta at rvelotta@reviewjournal.com or 702-477-3893. Follow @RickVelotta on Twitter.
The 2017 Nevada Gaming Abstract can be found at http://gaming.nv.gov/modules/showdocument.aspx?documentid=12700
Gaming abstract by the numbers
$9.6 billion: Gaming revenue generated in Clark County for FY 2017.
272: Number of Nevada casinos that grossed $1 million or more in gaming revenue.
$852.2 million: Amount of gaming taxes and fees paid by state's major resorts.
7.7 percent: Percentage of gaming revenue paid in taxes and fees.
16: Number of publicly held corporations (with 62 properties in Nevada) grossing $12 million or more a year in gaming.
34,247: Average number of casino employees in Clark County for the year.
36,813: Average number of resort food employees in Clark County for the year.