Mandalay Bay Convention Center opens major expansion
August 18, 2015 - 12:43 pm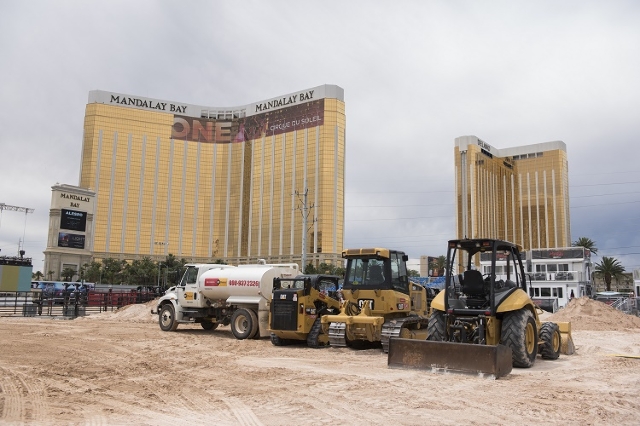 Meeting space at the Mandalay Bay Convention Center grew to 2 million square feet Tuesday with the opening of the property's $70 million, 350,000-square-foot expansion.
And, it's already in use.
The Men's Apparel Guild in California (MAGIC) fashion trade show, which began Monday, is the first occupant of Mandalay Bay's new space.
"This is an important day, not only to Mandalay Bay and MGM Resorts, but to all of Las Vegas," said Chuck Bowling, president and chief operating officer of Mandalay Bay.
The city is engaged in a competitive battle with other cities to host the lucrative convention and trade show market, which fills hotel rooms midweek and generates revenue from rooms as well as food and beverage.
The Las Vegas Convention and Visitors Authority board of directors, of which Bowling is a member, has been working to maintain Las Vegas' lead as the premier convention and trade show host in the nation.
Mandalay Bay's expansion goes a long way toward accomplishing that.
With the expansion in place, the convention center now has more than 2 million total square feet and 1.1 million square feet for exhibit space. That improves the facility's ranking from seventh to fifth in total square footage and from 11th to fifth in exhibit space in North America.
Although Mandalay Bay leapt in the rankings, it's still third in Las Vegas behind the Las Vegas Convention Center and the Sands Expo and Convention Center. They all trail McCormick Place in Chicago and the Orange County Convention Center in Orlando.
Bowling said Las Vegas began creeping out of the recession, Mandalay Bay officials began discussing with trade show organizers the prospect of increasing business if an expansion were to occur. In April 2014, MGM announced plans to expand the facility and ground was broken on the expansion in October.
The new space is an extension of the convention center's Bayside section on the south end of the facility and is built to the east toward Las Vegas Boulevard. A 900-space parking lot has been built beneath the convention center.
With the expansion in place, Mandalay Bay will now be able to attract shows that it had not been able to accommodate before, secure more new shows to the building simultaneously with others and keep existing shows from defecting to other cities.
"We believe this investment will increase visitation to Las Vegas, driving incremental business to MGM Resorts' portfolio and the city overall," Bowling said.
While the main convention hall is open, a second phase will be to repurpose existing meeting rooms, a project expected to be completed by January.
The expansion features a 70,000-square-foot ballroom that is divisible by five for flexibility and break-out areas for corporate groups. The company also is expanding the bandwidth of its Wi-Fi technology.
Atop the new space is an 8-acre rooftop solar photovoltaic array that will go live by fall. Combined with an existing 20-acre array already in place at the convention center, the facility would produce 3.4 million kilowatt hours a year, enough to power the equivalent of 1,300 homes.
It's the largest solar array on a convention center in the world.
Contact reporter Richard N. Velotta at rvelotta@reviewjournal.com or 702-477-3893. Find @RickVelotta on Twitter.