Mandalay Bay to be Las Vegas Raiders pre-game, post-game venue
Updated January 23, 2020 - 7:05 pm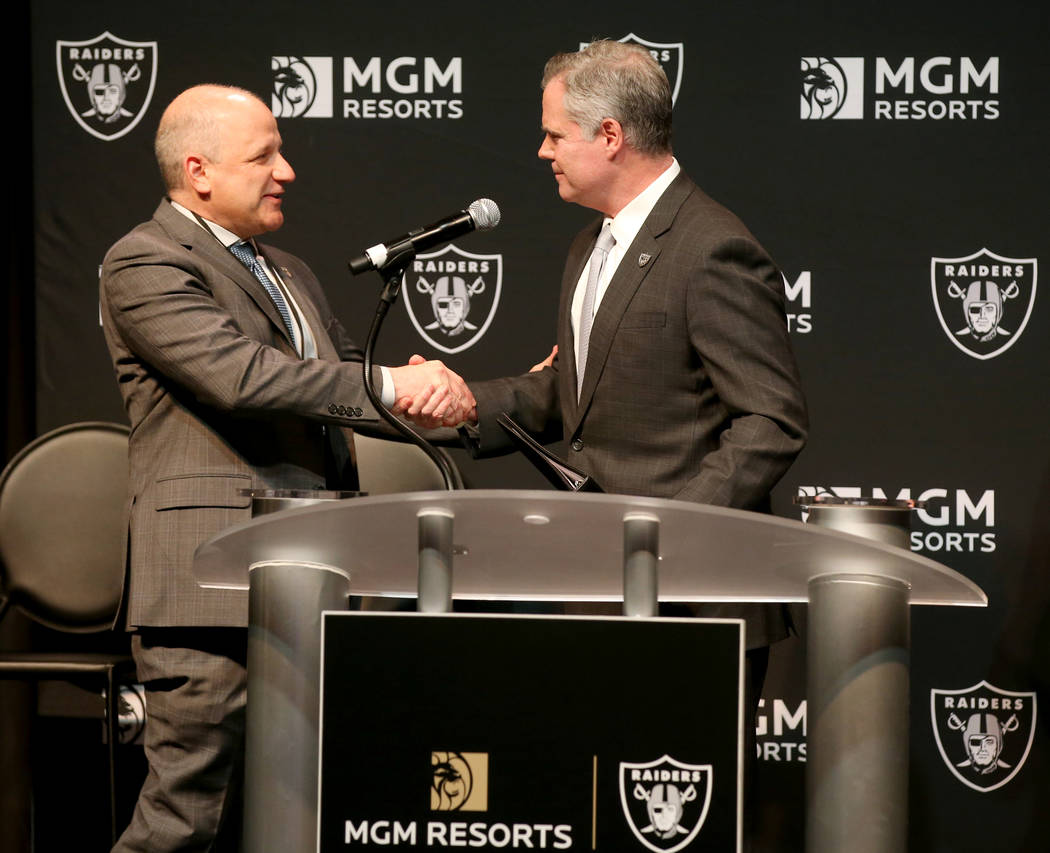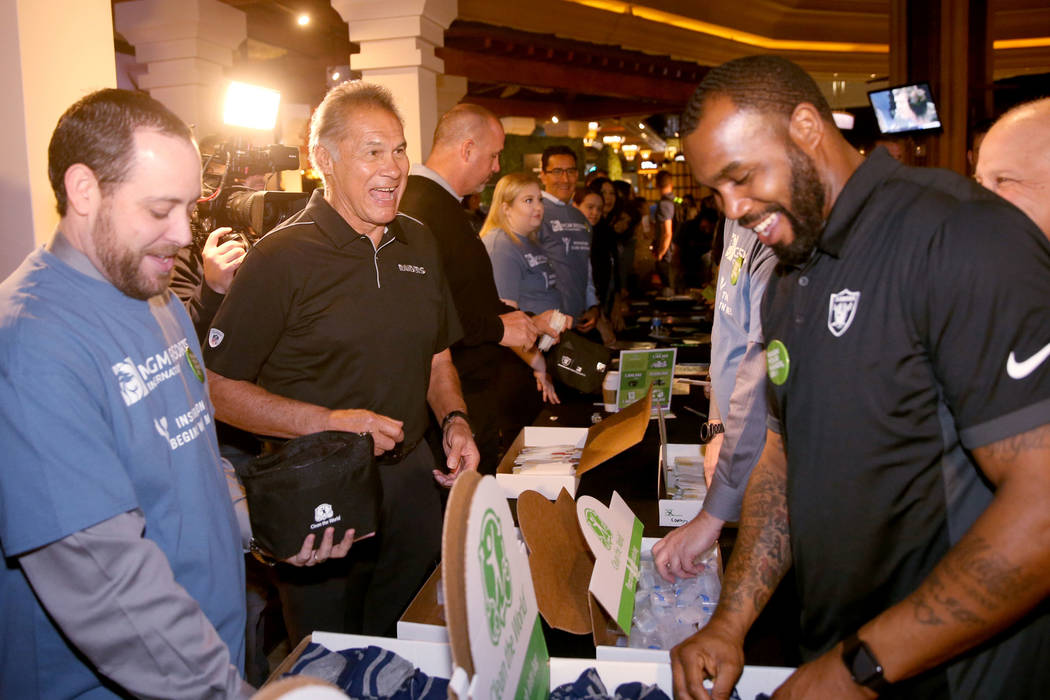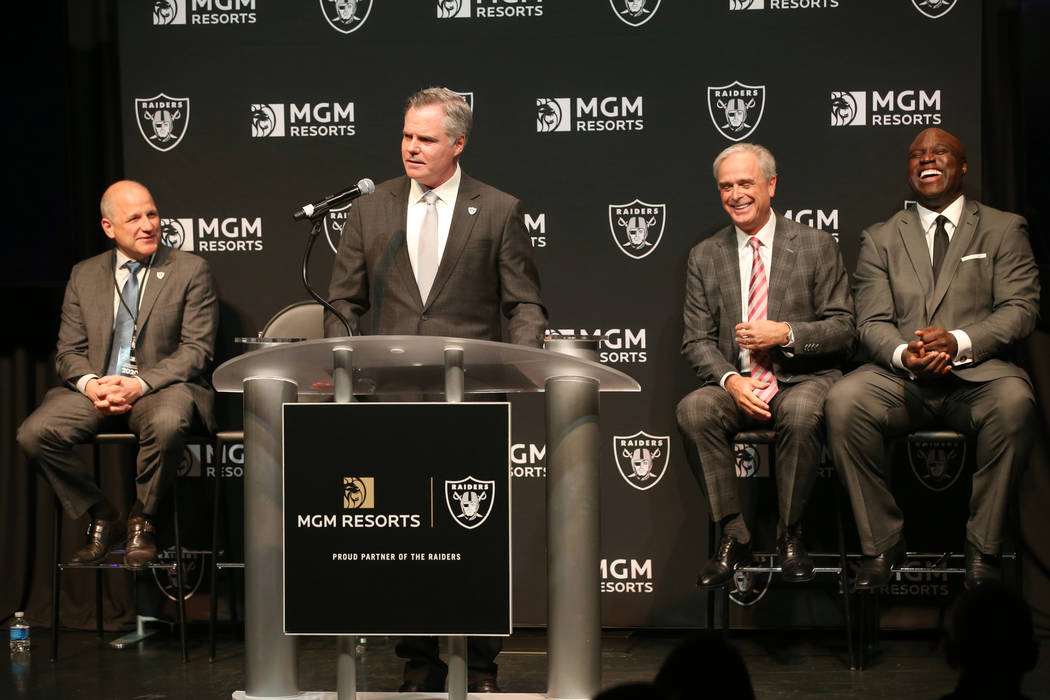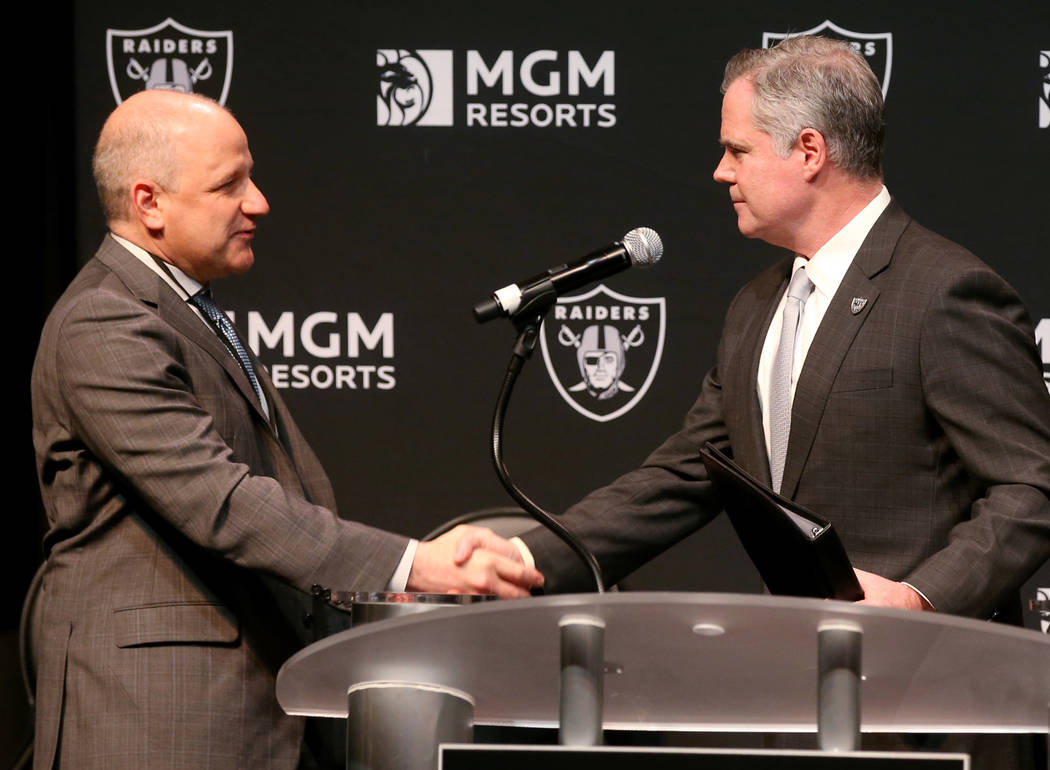 MGM Resorts International plans to replicate the Toshiba Plaza vibe of Vegas Golden Knights games at Mandalay Bay when the Las Vegas Raiders kick off their season at Allegiant Stadium later this year.
The resort company on Thursday was named an official gaming partner of the Raiders as well as a founding partner of Allegiant Stadium with prominent signage throughout the stadium and in-stadium branding and naming rights to the venue's west VIP entry and drop-off zone.
MGM Chairman and CEO Jim Murren said he hopes MGM and the close proximity of Mandalay Bay to the stadium will allow the company to establish pre- and post-game events in the same way New York-New York and Park MGM work with the Vegas Golden Knights at T-Mobile Arena.
Allegiant Stadium is being built on 63 acres across Interstate 15 west of the 3,209-room resort opened in 1999.
Murren said events before and after National Hockey League games at T-Mobile Arena are regarded as the best in the league. He expects that atmosphere to be even more intense at Allegiant Stadium because there are fewer games and the company can ramp up special activities for each one.
"It's going to be like the Super Bowl every week," he said.
Despite announcing various partnerships with the Raiders and Allegiant Stadium, Murren was mum on whether parking at are MGM properties would be allowed during game days and other stadium events.
"We're working on all parking solutions," Murren said. "It's a work in progress."
Though the parking situation is still a little murky, MGM will offer its patrons transportation from various other MGM properties.
"MGM already has robust transportation plans in place," he said. "We want to make the fan experience as easy as possible."
Murren, a self-proclaimed sports fan, said one of his favorite parts of the game day experience is tailgating.
"We're going to create the world's best pregame tailgate experience right here at Mandalay. Between Mandalay and Luxor we have a lot of property," Murren said. "It will be something that you cannot see at another stadium in the United States."
What Murren envisions is fans flying in, staying at a resort property on the Strip and taking public transportation to the Mandalay Bay/Luxor area where they'll take part in pregame activities.
"Then they're going to walk right across Hacienda, which is closed to vehicular traffic on game day and you'll literally come right into the stadium," he said. "Logistically, we know that's what the fans want… I know the Raiders have spent years trying to find the best elements of every stadium, I've seen the plans, it's over the top, it's going to be really great and we're lucky to be here."
While MGM will have a presence at Allegiant Stadium, it's still off limits for gaming, expressly prohibited by the legislation that established $750 million in public funding through an increase in Clark County's hotel room tax.
Some sports venues in Washington D.C. and Maryland permit sports wagering, but an amendment to Senate Bill 1 would be required to have similar offerings at Allegiant Stadium.
Badain said Thursday that additional partnerships with the Raiders and Allegiant Stadium will be announced in the months ahead.
In a celebratory event attended by dozens of MGM employees, Murren, Mandalay Bay President and Chief Operating Officer Chuck Bowling, Raiders President Marc Badain and several Raiders player alumni and Raiderette cheerleaders at Mandalay Bay, the team and the company also announced that MGM would be a founding partner for Allegiant Stadium, joining 10 other companies with that status, including the first gaming company, Caesars Entertainment Corp., and the San Manuel Band of Mission Indians, which operates a tribal casino in Southern California.
Murren considered the partnership a win for all of Las Vegas.
"This is a win for the whole community, not just an MGM win," he said. "It's a win for Las Vegas, and a win for the industry I represent all around the country."
Murren said he has been impressed with Raiders owner Mark Davis embracing Southern Nevada.
"I am humbled by the partnership with the Raiders," he said. "I've gotten the opportunity to know Mark Davis, a man of his word. I've gotten to know him socially because he is a passionate fan of the Las Vegas Aces — I see him courtside all the time when he's in town. In fact, I see Mark Davis all around this community."
The Aces are the Women's National Basketball Association team MGM acquired as the San Antonio Stars and relocated to play at Mandalay Bay's arena.
"A lot of people come to this town, kind of look around and they leave," Murren said. "Mr. Davis, Marc Badain, the whole Raiders organization are planting deep roots. That means more to me than almost anything else. So the fact is that this commitment is a level of trust. Handshakes mean everything to Mr. Davis, they mean everything to me, the fact that the Raiders are putting deep roots into this community, the fact that it's a global brand.
Murren said Raider Nation extends beyond U.S. borders and he sees Raider emblems whenever he travels.
"Everywhere I travel around the world — I'm in Japan all the time, China or Europe or the Middle East — you'll find the Raiders flag all around the world. It's truly a global brand, and not every NFL team can say that. So to have a global brand here in a global entertainment sports city like Las Vegas with an alignment of interests is absolutely the perfect partnership."
Contact Richard N. Velotta at rvelotta@reviewjournal.com or 702-477-3893. Follow @RickVelotta on Twitter. Review-Journal staff writer Mick Akers contributed to this report.