MGM Resorts to charge for parking at Las Vegas Strip casinos
January 15, 2016 - 2:28 pm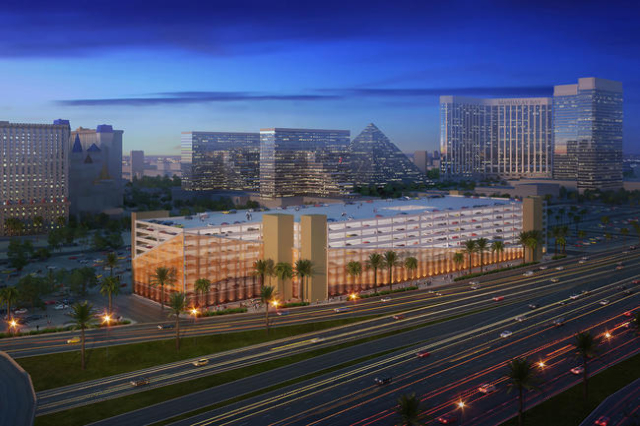 MGM Resorts International will break from a long-standing Las Vegas tradition and begin charging customers to park at the company's Strip resorts as part of a $90 million strategy to "expand and enhance" the company's parking infrastructure.
The parking fees will go into effect sometime between April and June the company said in a Friday statement, which also announced plans for a $54-million, 3,000-space parking structure MGM will construct near the northwest corner of the Excalibur.
The parking structure will help serve visitor growth and attendance at the company's nearby resorts and entertainment venues, including the 20,000-seat T-Mobile Arena, The Park retail and restaurant complex, and the new 5,000-seat Theater at Monte Carlo.
Construction of the new parking facility is scheduled to begin later this spring with completion scheduled in the second quarter of 2017. An MGM spokesman said customers using the new garage will be able to access the T-Mobile Arena and other nearby locations via a short walk along Frank Sinatra Drive, which runs underneath Tropicana Boulevard.
As part of the vehicle program, MGM Resorts will charge parking fees at all its Strip resorts. The company operates nine Strip developments, including the CityCenter complex, MGM Grand, Bellagio, Mandalay Bay, and The Mirage. Circus Circus will continue to have free self-parking, but there will be a fee to valet park. The Signature Towers and the Crystals and Mandalay Bay Place shopping malls will be exempt from the parking fees.
Overnight guests utilizing a self-park facility will pay $10 or less. Las Vegas locals will be given a grace period for free parking after the program begins and can maintain their free-parking status by enrolling and earning privileges through M life, the company's customer loyalty program. Nonresident guests can also earn free-parking status through the M life program.
MGM Resorts called the parking fees "moderate" when compared with similar fees in other "high-demand" tourist and convention markets, such as New York, Los Angeles and Orlando.
"We don't take this change lightly," MGM Resorts Chief Operating Officer Corey Sanders said in a statement. "We recognize this is a significant departure from a long-established paradigm in the Las Vegas market. However, after months of analysis, we believe these enhancements and new technology solutions will become welcome additions to our overall guest experience."
David Schwartz, director of the Center for Gaming Research at the University of Nevada, Las Vegas, pointed out that downtown Las Vegas casinos and casinos in Atlantic City charge customers for parking.
He said the success of the parking program — and whether or not other Strip casino operators jump on the idea — depends on how visitors react to the change.
"It could be an historic shift," Schwartz said. "Ultimately, it's up to the customer."
Schwartz said the question of paid parking on the Strip is ultimately tied to transportation planning in the tourist corridor.
"That's the bigger issue is the logistics of moving around 45 million visitors a year," Schwartz said. "You have to do it differently from when we were moving 20 million visitors a year."
Spokespeople from other Strip resort companies declined comment on MGM's plans. Station Casinos spokeswoman Lori Nelson said the company will continue offering free parking as an amenity to its guests at the company's Southern Nevada properties.
Schwartz said casino companies will be watching to see if MGM customers are simply using other casinos for parking because the location is free.
MGM Resorts said it will invest $36 million to improve the parking facilities as its Strip resorts, that will include new technologies to facilitate parking issues.
The planned improvements include redesigning the parking facility layouts, parking guidance systems that will guide guests to available spaces, mobile technology that allows visitors to check space availability prior to arrival, upgraded lighting and signage, and improved elevator and escalator service.
"The parking process is our customers' first and last touch-point with us," Sanders said. "Our guests expect and deserve an enhancement to this aspect of our resort experience. We've taken into account our customer feedback and carefully planned these improvements to address some of their most common concerns – challenging navigation and difficulty finding available spaces. We acknowledge that this aspect of our resort experience can be improved, and we're taking an aggressive approach."
The parking program is part MGM's profit growth initiative that the company announced last year. The idea is to increase cash flow by $300 million annually by 2017.
Contact reporter Howard Stutz at hstutz@reviewjournal.com or 702-477-3871. Find @howardstutz on Twitter.