NFL slot machines to touch down on casino floors this fall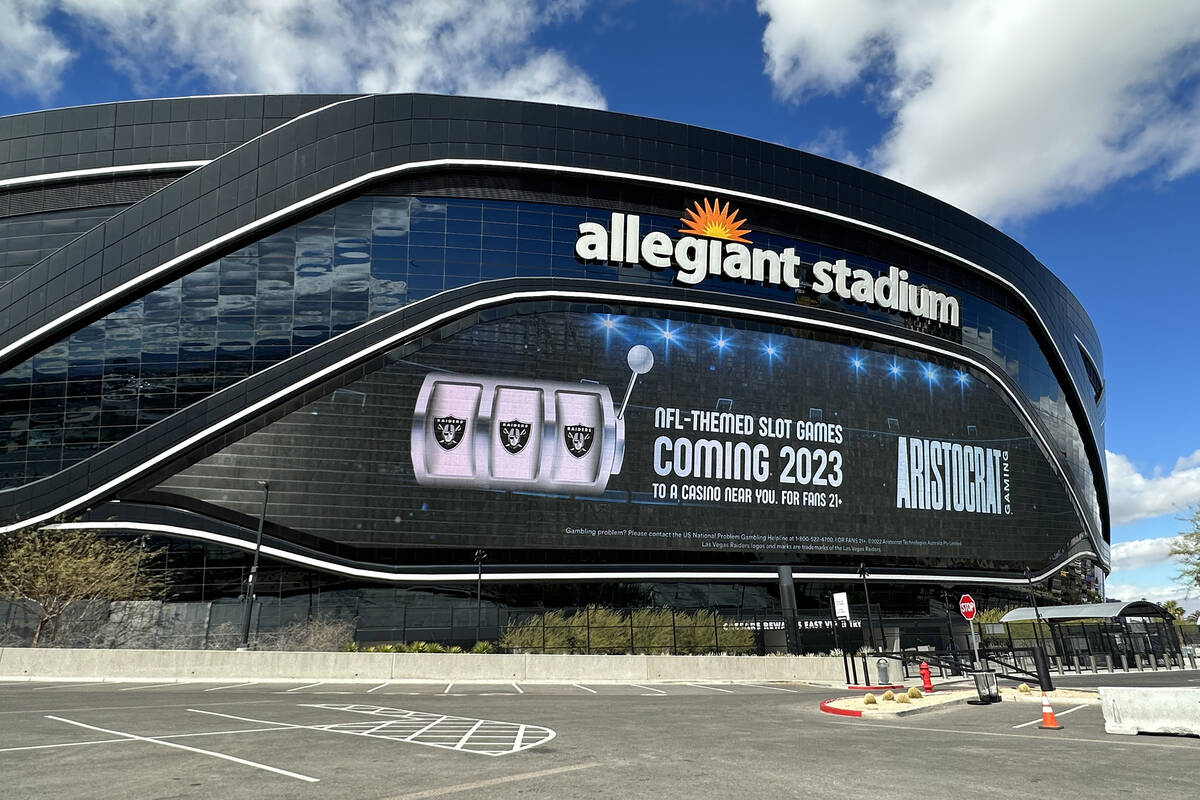 The NFL is set to take to casino floors with the pending release of Aristocrat Gaming's league-themed slot machines this fall.
The exact number of locations that will see the NFL-licensed slots added to their casinos hasn't yet been determined, but Mark Wadley, chief marketing officer of Aristocrat Gaming, noted that the machines won't be hard to find.
"I would anticipate that there will be a wide demand for this product," Wadley said. "It will be widespread throughout Vegas as well as other gaming jurisdictions in the United States."
The pending release of the NFL slots is being advertised on the giant media mesh screen on the east-facing portion of Allegiant Stadium.
"We're very proud partners of the Las Vegas Raiders and Allegiant Stadium and in that right we get the opportunity to be able to use some of their high-value channels to be able to advertise our games," Wadley said.
The slot machines' design and programming are still being developed and Aristocrat is asking for user engagement to include in their decision making process.
On Aristocrat's website fans can "design" their own slot machine, by filling out a brief interactive questionnaire. Questions regarding users' favorite teams, jersey style and if their favorite NFL players should be included in the games are among the asks on the gaming company's website.
"We are working to finalize that product," Wadley said.
The addition of NFL-themed slots represents a complete shift in the league's dealings with Las Vegas. The U.S. Supreme Court's overturning the Professional and Amateur Sports Protection Act in 2018 paved the way for the Raiders to relocate to Las Vegas in 2020 and opened the door for Las Vegas to begin dealing with the NFL.
Since, the city has hosted two Pro Bowls, the NFL Draft and will host Super Bowl LVIII next year. The NFL, Raiders and Allegiant Stadium also have a number of partnerships with gaming-related companies.
"It signals a 180 on the NFL's attitude towards gambling," said David Schwartz, UNLV professor and gaming historian. "For decades, the league took pains to eliminate any associations between football and gambling. Most infamously, the NFL in 2003 refused to allow a commercial extolling the virtue of Las Vegas — without any reference to gambling — to air during the Super Bowl.
"In the 20 years since then, the expansion of gambling (both casino and sports) nationwide, as well as the significant public investment in Allegiant Stadium, have helped to soften the league's stance."
Contact Mick Akers at makers@reviewjournal.com or 702-387-2920. Follow @mickakers on Twitter.