Station Casinos' CFO talks about fourth-quarter earnings, but not IPO
February 18, 2016 - 2:49 pm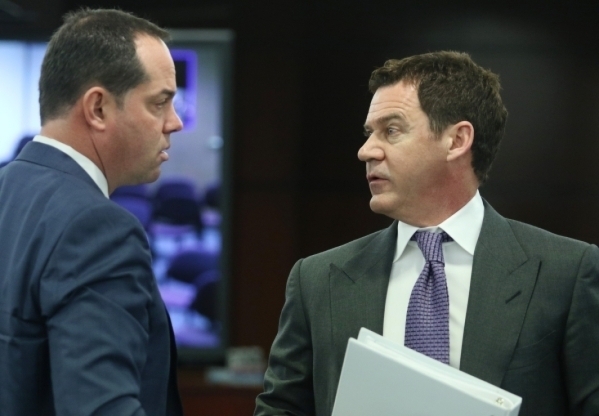 Analysts and investors hoping to learn more about Red Rock Resorts Inc. Thursday were disappointed.
Station Casinos Chief Financial Officer Marc Falcone said the registration statement for the company's publicly traded entity was on file with the Securities and Exchange Commission.
"As a result, we are currently in the quiet period with respect to the offering and will not be commenting further about the IPO," Falcone said on a conference call.
According to a Reuters News Service report last month, the IPO was postponed "due to market conditions." The report cited comments by the CEO of Germany-based Deutsche Bank, which owns 25 percent of Station Casinos through its U.S. subsidiary, German American Capital Corp.
Nevada gaming regulators also approved the IPO in January.
With the IPO off the discussion table, analysts had no questions for Falcone.
The locals casino giant focused on it fourth quarter and year-end earnings, which marked the 11th consecutive three-month period of year-over-year revenue growth and the company's 19th consecutive quarter of cash flow growth.
Falcone said the quarter than ended Dec. 31 was "our best fourth quarter operating results since the peak of 2007."
For the quarter, the company said its net income increased almost 25 percent to $41.8 million. Station Casinos has more than $2 billion in publicly held debt.
Net revenue in the quarter grew 4.3 percent to $347.9 million while cash flow was up 12.1 percent to $129.9 million. For all of 2015, the company had net revenue of $1.35 billion, an increase of 4.7 percent, and cash flow grew 12.3 percent to $472 million.
Falcone said the improving Las Vegas economy has played a part in the company's financial results. Station Casinos operates more than 20 large and small resorts in the Las Vegas valley.
"The majority of key economic indicators have shown signs of improvement for several years and we are now beginning to experience steady increases in average weekly wages, which should yield an increase in additional discretionary spending dollars," Falcone said. "Station Casinos has now experienced six consecutive quarters of year over year improvements in our gaming revenues. We believe that our business will benefit from these positive trends."
Station Casinos also operates two Indian casinos in California and Michigan and told investors its management fees increased 57 percent for the two properties. For the year, the company said its management fees were $66.6 million, a 41.9 percent increase.
"We are optimistic about the momentum we are seeing in our business and believe the key economic and operating metrics we are experiencing indicate that a Las Vegas market recovery is underway," Falcone said.
Contact reporter Howard Stutz at hstutz@reviewjournal.com or 702-477-3871. Find @howardstutz on Twitter.