'Trusted confidant' Matthew Maddox takes helm of Wynn Resorts
February 6, 2018 - 9:15 pm
Updated February 6, 2018 - 11:24 pm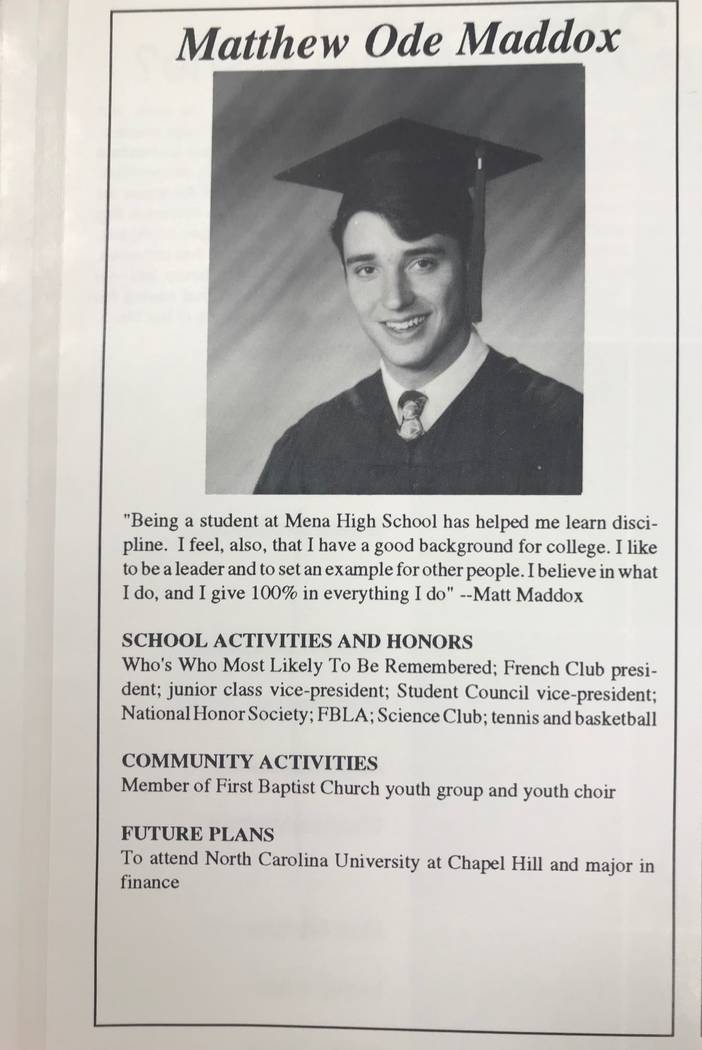 Matthew Maddox, one of the longest-serving executives at Wynn Resorts Ltd., has replaced Steve Wynn as chief executive officer, capping a career rise from small-town Arkansas to leader of a $17 billion global gaming giant.
Maddox, 42, joined Wynn Resorts in 2002, when Steve Wynn began rebuilding his casino empire from scratch. Maddox rose through the company's ranks, working in Macau, then as chief financial officer and finally as president since November 2013.
He was named CEO by the company's board late Tuesday after Wynn resigned amid sexual harassment allegations that threatened the company's gaming licenses in the United States and Macau.
"There is not a more trusted confidant than Maddox inside that company. He knows every inch of Wynn Resorts," a Wall Street analyst said on the condition of anonymity to maintain relations with the company. "However, he is rather young and hasn't led a large group of people."
A former Wynn employee agreed, saying Maddox and Kim Sinatra, the gaming company's general counsel, are the executives closest to Wynn.
Maddox grew up in Mena, Arkansas, a town of 5,500 people just east of the Oklahoma border. His father, a lawyer, still runs the injury practice he founded 46 years ago with his older son.
"I am proud of my son. He is a good leader," J. David Maddox said late Tuesday, adding that he had heard the news of his son's promotion but hadn't yet spoken with him about it.
Maddox graduated from Mena High School in 1994 at the top of his class and was voted "most likely to be remembered" by his roughly 120 classmates, according to the school's yearbook. "I like to be a leader and set an example for other people," he wrote in his yearbook.
Maddox studied finance at Southern Methodist University in Dallas, a four-hour drive from his hometown.
Upon graduation, Maddox did a short stint as an investment banker for Bank of America in Charlotte before joining Park Place Entertainment, which was later renamed Caesars Entertainment.
The married father of three has been well-compensated by Wynn Resorts. According to Fortune magazine, he was the highest-paid executive under 40 in 2008. He received $70 million in total compensation from 2008 through 2016, according to Equilar, a data provider.
Maddox's employment agreement signed last year provided a base annual salary of $1.5 million and a grant of 200,000 shares of restricted stock worth $33 million based on Tuesday's closing price of $163.22.
Steve Wynn, Matthew Maddox compensation, 2007-2016 by Las Vegas Review-Journal on Scribd
Since being named president in 2013, Maddox has spent more time learning the daily operations of the casino and hotel business, experience he previously lacked, the former Wynn Resorts employee said.
"He was really trying to understand that piece of the business," the former employee said. "That was what he was lacking to truly replace Wynn."
Contact Todd Prince at tprince@reviewjournal.com or 702-383-0386. Follow @toddprincetv on Twitter.