Wynn CEO touts growth, calls ambitious Las Vegas plans 'unsustainable'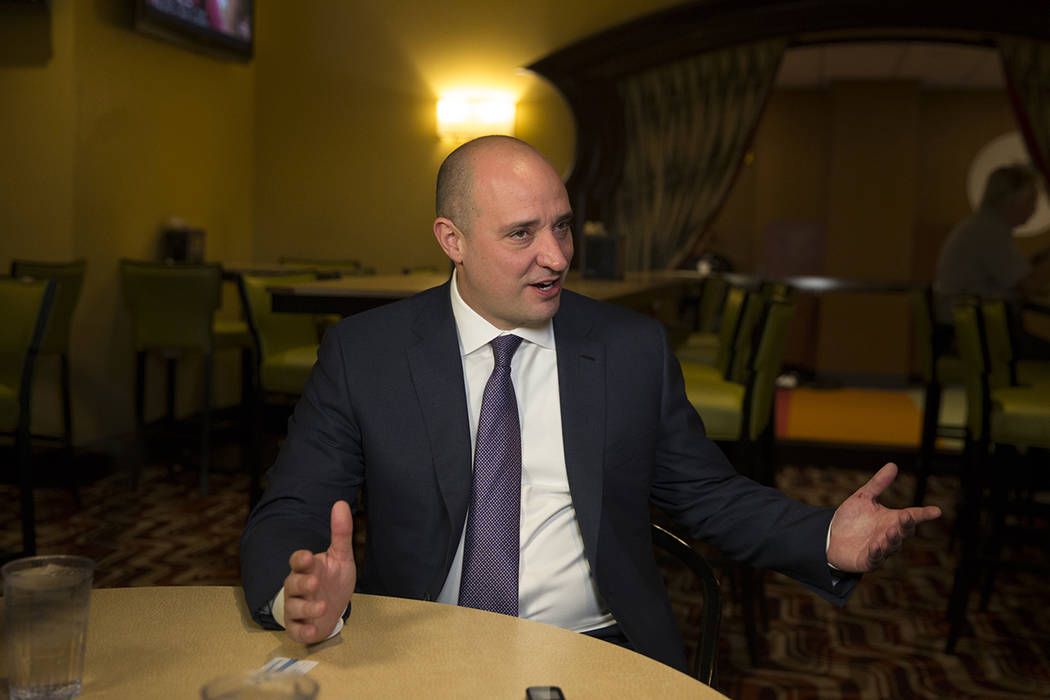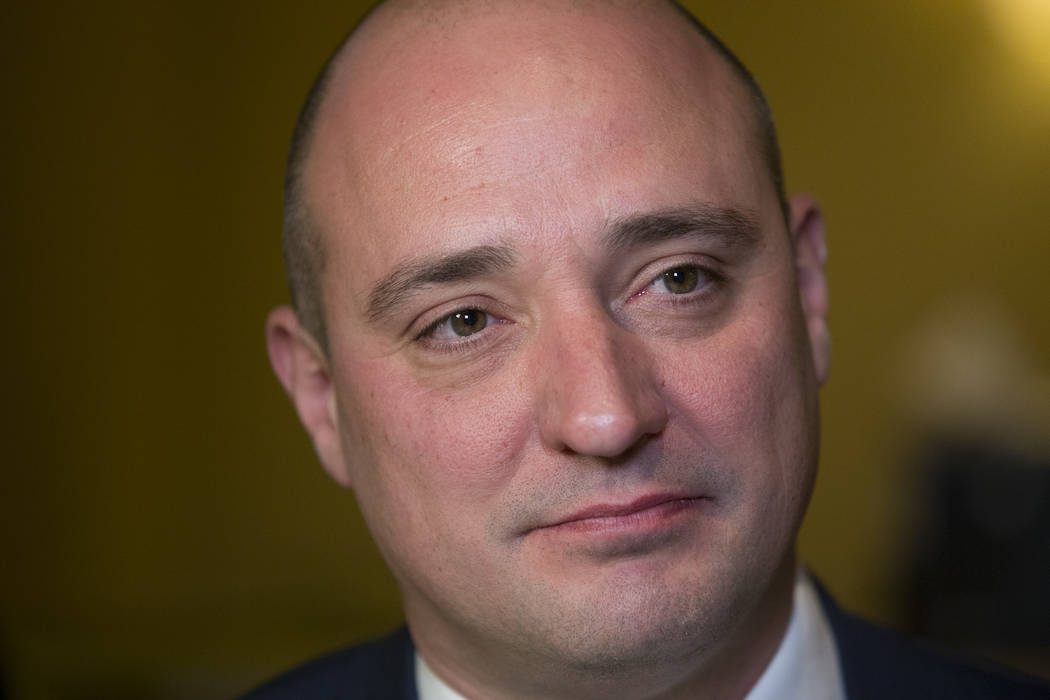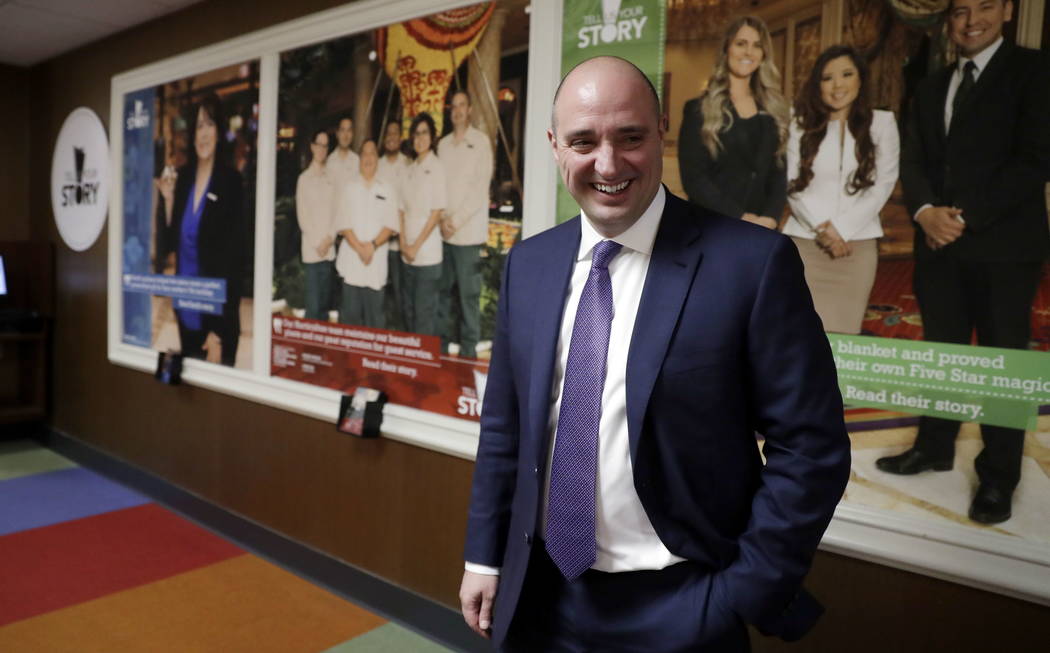 Matt Maddox came out swinging in his first earnings conference call as Wynn Resorts chief executive officer, boasting of record Las Vegas quarterly revenues and applicants lining up for work.
During an hour-long call, Maddox tried to deliver a message of growth and dispel rumors of a company sale. But Maddox called his predecessor's plan to spend over $3 billion in the coming years on two Las Vegas resorts — Paradise Park and one on the former Alon site — "unsustainable," adding that only one of the two would go forward for now.
Wynn Resorts has been the focus of national attention since the Wall Street Journal reported in late January that founder Steve Wynn had sexually harassed employees. Wynn was forced to step down as chief executive and chairman in February, kicking off an unprecedented whirlwind of change and developments at the casino operator.
The New York Post reported earlier this month that MGM Resorts International was in early talks to purchase Wynn Resorts, citing unidentified individuals. The Wall Street Journal later reported MGM could buy Wynn's Boston project. The Review-Journal has reported about Wynn Resorts' above average board pay.
"There has just been an onslaught of negativity from the media. That destabilizes people because they read that — 'are things for sale, or are there problems?"' Maddox told analysts in response to a question about stabilizing the corporate culture. "The future is better than the past no matter what the media likes to say."
'Continued strength'
Maddox said he has met with about 15,000 employees during 15 town halls since taking the helm on Feb. 6 to "talk about the future of the company, about how bright it is and how we are not for sale."
When asked the fate of the company's Boston project, Maddox said he still thinks it's a "really good opportunity" for the company, but hinted he would sell the project to save the company.
"If there was ever any risk due to heightened rhetoric that there could be any contagion from Massachusetts into our $20 billion company in Las Vegas and Macau, we will have to take a hard look at what is best to protect our shareholders and value," Maddox said.
He also took time during the call to praise the board, which has been accused in investor lawsuits of being too loyal to Steve Wynn. Maddox said he was "proud" of the board's work over the past few months to find three new members.
The 42-year-old said the fallout from the sexual harassment scandal hasn't impacted business or residents' desire to work for the embattled company.
Wynn Las Vegas posted record quarterly room revenue during the first three months of the year, Maddox told analysts. Bookings for the year ahead are better than they were at the same point in 2017, he added.
"I think what is important is that we see no degradation of business. What we are feeling and seeing in Las Vegas is continued strength."
There are about 110 applicants for every job position available at the company, he said. The company's employee turnover rate is also less than half of the industry standard, he added.
Las Vegas investment
Maddox spent much of his time on the call explaining how he is implementing financial discipline on capital expenditure plans and refocusing on the company's core luxury client.
In January, Steve Wynn said he planned to build Paradise Park on the site of a former golf course to include a lagoon, integrated resort and convention center. Wynn also said he would also build an integrated resort on the Alon site and connect it to his current properties with a pedestrian bridge.
Maddox has already altered those plans. He cut the cost of the convention center by $35 million to $325 million and will restrict the use of the lagoon to hotel guests.
"I don't want to focus on the mass market theme park, which is really where we were going before" with the lagoon, he said.
Maddox said the company will built a new resort either next to the lagoon or on the former Alon site, which Wynn Resorts bought earlier this year.
The CEO said he isn't worried about greater hotel supply on the north end of the Strip coming in the next two years.
Construction activity at Resorts World Las Vegas and The Drew is not moving at full speed and "it would be a long shot" for them to open by 2020, Maddox said.
International investment
Maddox said the company will begin investing $100 million into Wynn Macau earlier than planned this year. Wynn Macau and Wynn Palace on Cotai account for more than 70 percent of Wynn Resorts earnings.
The CEO said the company is focusing more time and resources on winning a Japanese license. Japan may auction off license as early as next year.
Wynn Resorts could team up with Hong Kong-based Galaxy Entertainment to bid for licenses in regions legalizing gambling, Maddox told analysts. Galaxy Entertainment bought a 4.9 percent stake in Wynn Resorts last month for more than $900 million in what the Las Vegas-based company described as a strategic investment.
The numbers
Maddox's hour-long conference call followed Wynn Resorts' publication of its first-quarter results.
Company revenue rose 21 percent to $1.72 billion driven by a strong performance at its properties in China.
Wynn Palace, which opened on Cotai in August of 2016, posted revenue growth of 47 percent. Wynn Macau boosted revenue by 12 percent while Las Vegas revenue gained just 3 percent.
The company posted a $204 million loss, or $1.99 a share, resulting from a $464 million payment to Universal Entertainment to settle a six-year lawsuit over the seizure of its stake in Wynn Resorts.
Adjusted net income, which excludes the one-time payment, rose to $237 million for the three months compared with $131 million in the year-ago period.
Adjusted property earnings, a closely watched industry figure, jumped 32 percent to $564 million.
Contact Todd Prince at 702-383-0386 or tprince@reviewjournal.com. Follow @toddprincetv on Twitter.