Celebrity chef Rochat gets OK to exit bankruptcy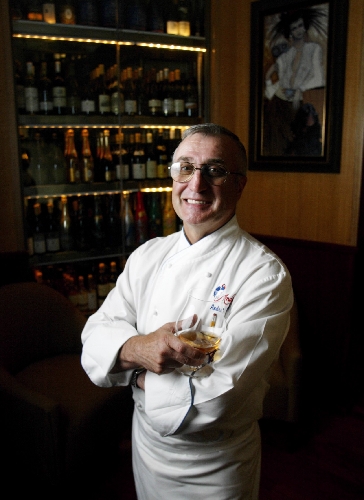 Andre Rochat, Las Vegas' self-proclaimed original celebrity chef, will become one of the few restaurateurs to exit bankruptcy with the business intact.
After a brief hearing Tuesday, U.S. Bankruptcy Court Judge Bruce Markell approved the Chapter 11 reorganization plans for Rochat and three of his companies, including Andre's Restaurant and Lounge in the Monte Carlo and Alize atop the Palms. With completion of a few administrative tasks, Rochat can close the case just over a year after it was filed.
Restaurants rarely survive bankruptcy because they have few hard assets available to refinance. Rochat slimmed his $4.7 million debt by more than half by getting a bank to accept a short sale on his former downtown location at 401 S. Sixth St., and by paying off others in installments running as long as five years.
Still, the current economy does not present the prospects any time soon for a rebound to the strong profits of a few years ago.
"Everybody is standing by, waiting to see what will happen," Rochat said. "But I survived downtown for 30 years, so I will be able to survive this."
Even though convention traffic to Las Vegas has rebounded, Rochat still does not see average tabs running as large as in the past. This reflects the experience of other companies that cater to conventions.
According to bankruptcy court documents, Alize cleared just $71,000 on $4.8 million in revenues during the 51 weeks ended June 30, while Andre's made $27,000 on $2.4 million.
Rochat arrived in town 40 years ago, opening Andre's downtown in 1980 as a gourmet restaurant in the French provincial style.
According to court documents, that location ran at a profit until Sept. 11, 2001, then posted losses until it closed on New Year's Eve 2008.
However, Rochat subsidized his downtown place with the earnings from Andre's at Monte Carlo, which he started in 1997, and Alize four years later.
"This was very personal to me," Rochat said. "There is a difference between being a business person and someone who really cares about his craft. When you do what I do for so many years, it is my life."
But losses hit the other locations as well. The recession, coupled with what Rochat said were plans to weave the Monte Carlo into the CityCenter project that were later shelved after he had remodeled the restaurant, caused the red ink to flow. Further, he said, Monte Carlo's reduced number of comps and its position as a mid-market hotel made it more difficult to fill seats at a high-end restaurant.
Rochat attempted to carry the restaurants with personal money, but could not sustain it. In addition, he parted with his longtime business partner and close friend, Mary Jane Jarvis, creating a $560,000 liability.
The key break toward financial reorganization came in September, when Plaza Bank agreed to accept a $572,000 short sale on the downtown Andre's property.
That cleared a debt that stood at $2.6 million.
Contact reporter Tim O'Reiley at toreiley@review
journal.com or 702-387-5290.