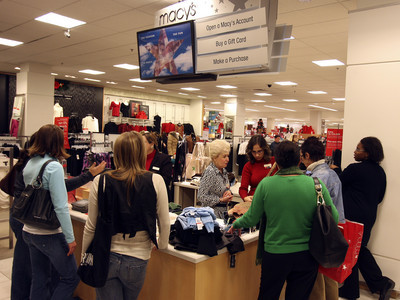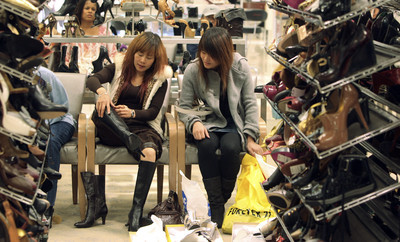 Time is dwindling for procrastinating shoppers looking for last-minute gifts and steep discounts, those who make the final push in the retail industry's most lucrative sales period.
Even with the clock ticking, 20 percent of people haven't begun their Christmas shopping and millions more have a substantial number of names to check off their lists, the National Retail Federation reported.
The average person has completed 64.7 percent of his or her holiday shopping, a survey conducted for the Federation by BIGresearch shows.
The survey found that 44.5 million people had not started their holiday shopping before last weekend, including about one-quarter of men and one-quarter of 18- to 34-year-olds. However, 30 percent of shoppers said they're finished.
Foot traffic was pretty heavy over the weekend at Macy's in the Fashion Show mall as customers took advantage of 10 percent to 15 percent savings on select items, Macy's manager Kim Singleton said Monday.
"I think we have a lot of people who shop ahead, but there's always some last-minute shopping," she said. "They left someone off their list or they want something for themselves, especially with the holiday parties and festivities."
Singleton said Macy's is selling a lot of fragrance, handbags, denim jeans and boots during a "countdown sale." Cashmere sweaters, starting around $70, are also popular this year, she said.
Aubrey Blau started her Christmas shopping in October, but found herself at Fashion Show mall Monday buying socks and pants at Dillard's.
"I'm buying for my sister's boyfriend and my brother, who at the last minute decided to get married," she said.
Retailers try to entice last-minute shoppers by promoting gift ideas within a certain budget or for a specific person, National Retail Federation spokeswoman Kathy Grannis said.
Astoria at Fashion Show was advertising 30 percent to 70 percent off the entire store stock and Aldo shoes was knocking off 70 percent.
"For extreme procrastinators, their main focus was getting the best price possible," Grannis said. "Since everything took a backseat to price this year, shoppers wanted make sure they wait to see what the finals deals are going to be."
Even with deep discounts that started after Thanksgiving weekend, consumers have been cautious with their discretionary spending, Grannis said. Although they may not have cut back on gift purchases, they're buying fewer holiday plants and decorations, she said.
"Now that prices are low and gas prices are cheap, maybe there's pent-up demand. People may hold off buying that scarf or winter coat. November data showed consumers were mainly focused on essentials," Grannis said.
Consumers plan to spend an average of $832.36 on holiday-related shopping, up 1.9 percent over last year's $816.69, the federation reported. It's the smallest increase since the survey began in 2002.
The Washington, D.C.-based National Retail Federation represents more than 1.6 million U.S. retail establishments with 2007 sales of $4.5 trillion.
Online holiday season spending has caught up with last year's pace, data from comScore show. Spending totaled $14.92 billion through Dec. 5, essentially the same level compared with the corresponding days last year.
Contact reporter Hubble Smith at hsmith@reviewjournal.com or 702-383-0491.