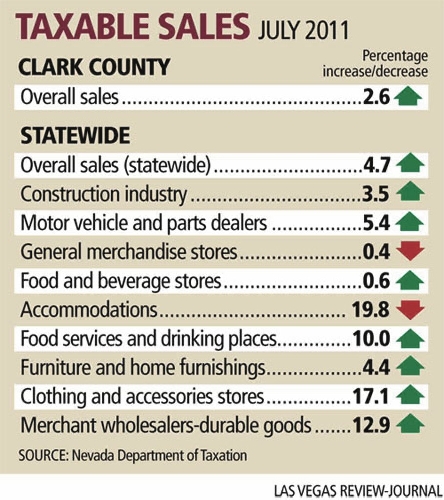 Less building, more eating.
That's the story in Clark County, where the latest taxable sales numbers show continued struggles for construction, even as the biggest sales category — bars and restaurants — posted double-digit percentage gains.
Sales in Clark County rose to $2.4 billion in July, up 2.6 percent from $2.3 billion in July 2010, according to Tuesday numbers from the state Department of Taxation.
"The choke hold on the Southern Nevada consumer is starting to loosen," said Brian Gordon, a principal in local research firm Applied Analysis. "In areas in which consumers may have been holding off, we're starting to see spending loosen up. That appears to be benefiting local retailers."
Statewide, taxable sales jumped to $3.4 billion, up 4.7 percent compared with $3.2 billion in July 2010.
Notably, construction sales rose 3.5 percent, for the first annual statewide industry gain in about three years. In Clark County, though, construction continues to struggle, with spending dropping 22.9 percent.
Blame overbuilding for sustained local construction difficulties. The rest of the state didn't build excess housing and office inventories to the extent that Southern Nevada did, so the local market "is being penalized far worse in the correction cycle," Gordon said.
Almost all of the industry's statewide improvement came in Washoe County, home to Reno. Washoe County saw spending on building construction skyrocket to $11.9 million in July, up from $310,000 a year earlier.
Back home, Steve Brown, director of the Center for Business and Economic Research at the University of Nevada, Las Vegas, said Clark County's overall sales numbers are nothing to be ashamed of. They simply mirror the nation's economy.
"If we focus on Las Vegas, we're seeing signs that people are feeling better about the economy, except in the construction arena," Brown said. "And if we look at what's going on nationally, we actually see movement in the economy, except in construction. We're seeing the same thing happen here as in the rest of the country."
And given Clark County's years-long overhang of empty resales, it's not necessarily bad that investment in new construction has slowed, Brown added.
Outside of building, Clark County's sales showed impressive gains in consumer-oriented spending.
Bars and restaurants are by far the biggest taxable sales sector, accounting for 28.6 percent of Clark County's taxable sales in July. Eatery sales were up 10.8 percent, from $622.4 million to $689.4 million, year over year. At 10.6 percent of sales, clothing retailers are the second biggest spending category, and they posted an 18.4 percent jump, spiking from $216 million to $255.7 million. Dealers of cars and car parts rank No. 3 for sales, with 9.7 percent of taxable sales' dollar value. Their sales rose 3.3 percent, from $227.1 million to $234.7 million.
All three dwarfed construction spending, which totaled $41.3 million.
"We do have a high unemployment rate, but people who do have jobs locally are pretty confident, and resuming their spending," Brown said.
That increased spending should eventually translate into job growth, but as long as news about international fiscal turmoil dominates headlines, hiring managers may "stay a touch conservative," Brown said.
Gordon agreed that though the worst may be behind Las Vegas, consumers remain cautious because of uncertainty.
"Consumers are starting to loosen the reins on consumer spending, but by no means are we out of the woods," he said. "The economic climate remains fragile, and concern persists in the mindset of most residents and business owners."
Collections from taxable sales help fund prisons and schools. Gross revenue collections from taxable sales totaled $266.2 million in July, up 5.4 percent from a year earlier.
Contact reporter Jennifer Robison at jrobison@reviewjournal.com or 702-380-4512.