Co-working space for women only opens in downtown Las Vegas
October 25, 2017 - 5:20 pm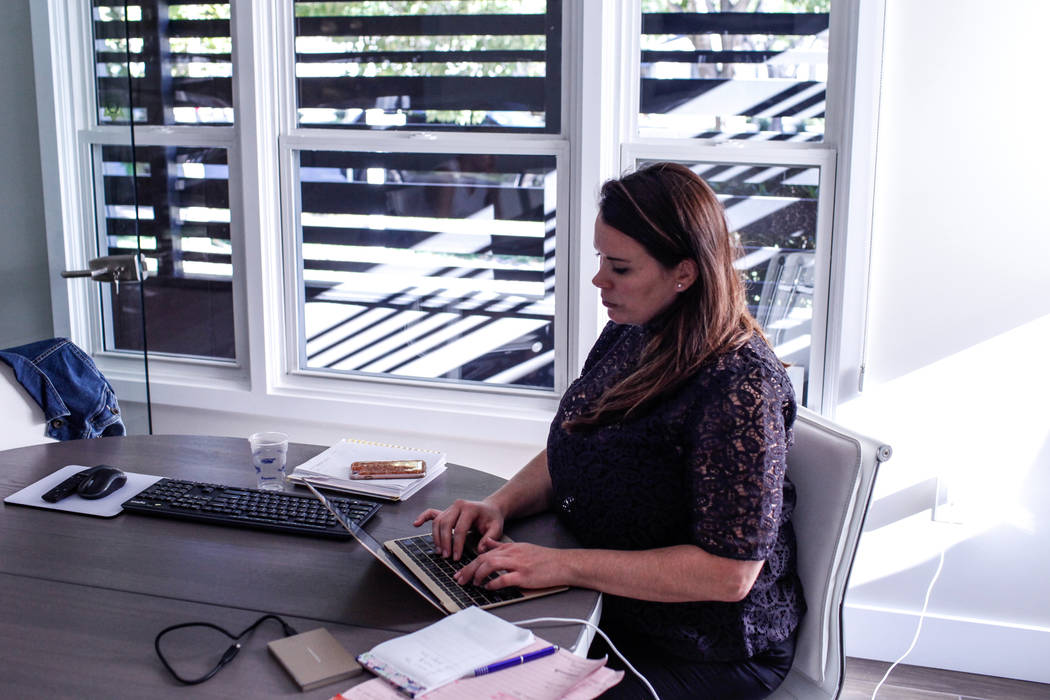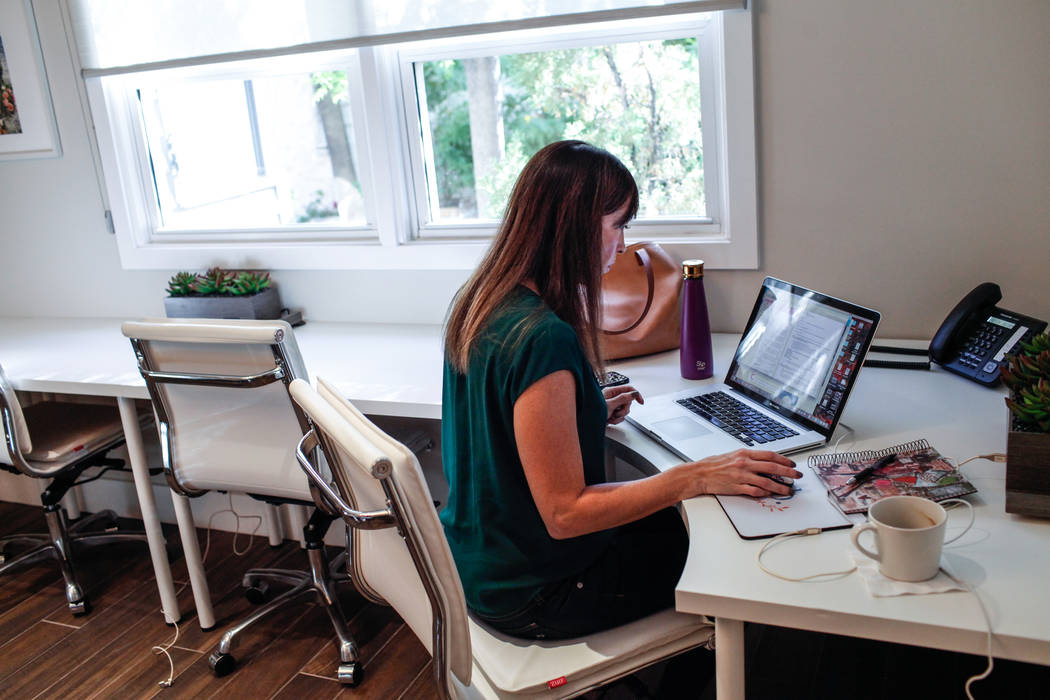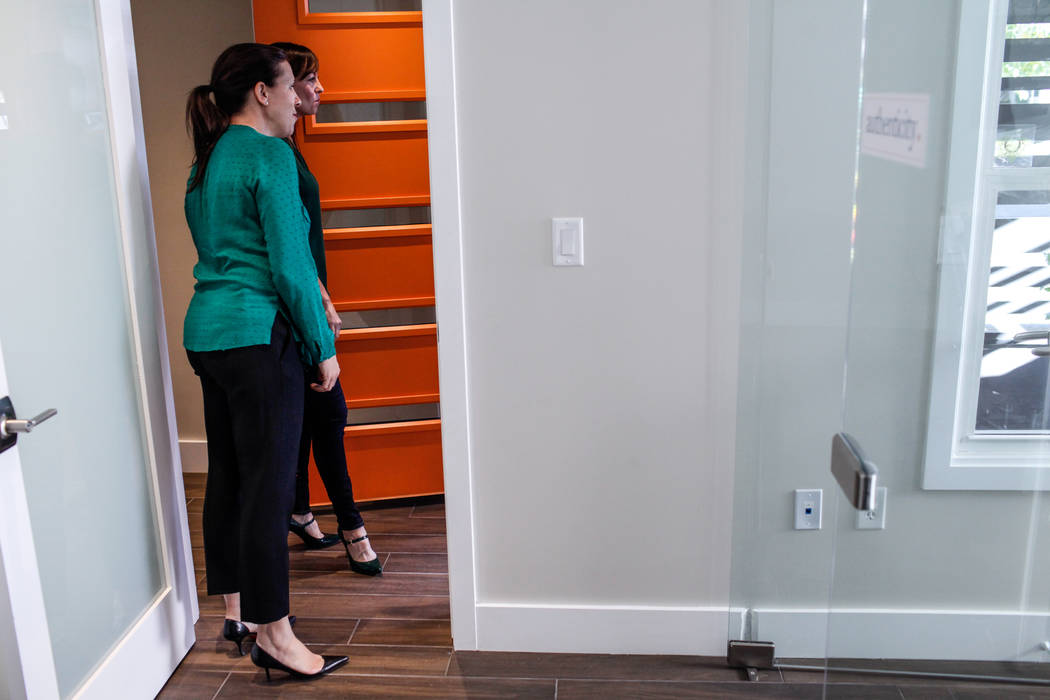 Las Vegas entrepreneur Amy McKee, 41, hasn't yet found a co-working space where she feels comfortable.
At the co-working space where she used to spend time getting a startup off the ground, she found that she would get in a lot earlier than the others.
"That group was more into getting in at 11 a.m. and then leaving at 6 or 7 p.m. to grab dinner and then they'd come back, and maybe grab drinks later in the night," she said. "Much more of the younger type of demographic with no family."
Co-working spaces are shared office space.
"It's nice to be able to get out of your home, where you can have a lot of distractions," McKee said, adding that it's also nice to socialize with other entrepreneurs and to exchange ideas.
McKee has since taken to working from her home office for a business that she founded, called Business is Beautiful.
But she said she might check out a new co-working space that opened this week catered to women, called Bloom.
Located in downtown Las Vegas, Bloom is the first working space to be branded as women-only.
Men are welcome, but "we have a strict no a——— policy," Bloom co-founder Chelli Wolford joked.
Bloom
Wolford and co-founder Ginger Melien say it's not just the space's lactation room that makes it more geared toward women than other co-working spaces.
It's also the energy and the decor.
"It is a charming two-story bungalow with three conference rooms, three bathrooms, two lounge areas, two co-working areas and an outdoor sitting area," Melien said, later adding that "some rooms look like (converted) bedrooms and some look like conference rooms, but instead of having fluorescent lighting, we hung chandeliers."
Melien and Wolford are renting the 2,588-square-foot space, which has traditionally been used as law offices.
"But it feels like a home away from home, it's cozy, there's wallpaper, there's a lounge, there's couches, it's decorated," Melien said.
The space was built by women, for women, Wolford said.
"When you buy a package to come here not only do you get the space, but you also get a community of like-minded women to support each other and help each other with whatever endeavors they're working on," Melien said.
They said they feel the momentum in Las Vegas and believe there is enough demand to support a women-only space.
Las Vegas businesswomen
According to a 2016 State of Women-Owned Businesses report, Las Vegas is home to 75,600 women-owned businesses.
"Women own 30 percent of small businesses and are starting new ventures at 1.5 times the rate of the general population," said Leanna Jenkins, executive director of the Nevada Women's Business Center, in an email.
According to data released earlier this month by the Kauffman Foundation, the Las Vegas area is ranked as one of America's best markets for entrepreneurs.
The data found that 82 percent of people who started a new business in the area were already employed when they started their new venture, meaning that they started the business because they saw a viable opportunity in the market, not because they needed employment.
"So many women are sole proprietors," said Leanna Jenkins, executive director of the Nevada Women's Business Center. "While this can be an exciting venture, it can also be very isolating. Having a co-working space that is women-focused allows the woman entrepreneur to be more candid and open about the challenges that she is facing."
Such as funding challenges.
Women receive only 4 percent of conventional small business loan dollars, Jenkins said.
"Research conducted on behalf of the National Women's Business Council indicates that women start businesses with roughly half as much capital as their male counterparts. If women started businesses with the same amount of capital as men, 6 million jobs would be created over five years, according to Babson College," she said.
A growing market
There are about 14,000 co-working spaces worldwide, according to Emergent Research.
"Flexible office space is still only 1 percent of the total commercial real estate market and demand is in its infancy," said California-based Jamie Russo, who is executive director of the Global Workspace Association and founder of Enerspace Coworking in Palo Alto.
"Las Vegas has just a few shared workspaces so my guess is that supply will start to fall into place and you'll see a number of spaces start to pop up over the next year or two," she said via email.
Kenny Eliason can name four co-working spaces off the top of his head, including the space Work in Progress, which he and a partner purchased in September. Eliason, who has worked in downtown Las Vegas for about 12 years, said he sees a promising opportunity for coworking spaces.
He said he and his partner are going after out-of-state companies seeking to set up satellite offices in Las Vegas, as well as small- and medium-sized teams already in Las Vegas that don't want to be locked into a leasing commitment.
Russo said coworking space owners who can carve out a niche market allow operators to differentiate from each other and "speak very clearly to a specific group," and may lead to better business.
The Global Workspace Association's 2017 operator survey found that niche shared workspaces are more profitable than generic spaces.
Contact Nicole Raz at nraz@reviewjournal.com or 702-380-4512. Follow @JournalistNikki on Twitter.