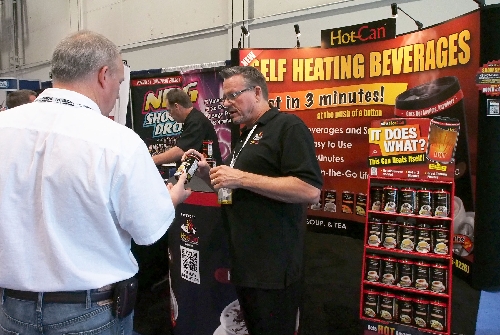 The Las Vegas Convention Center is a junk food junkie's dream this week.
Through Wednesday , the National Association of Convenience Stores show is in town, bringing with it thousands of candy, food and beverage manufacturers.
At its booth in Central Hall at the Las Vegas Convention Center, local beverage company Xyience showed off new energy flavors tangerine and melon. But, really, it was there to unveil its beverage line extensions beyond energy – tea, lemonade and hydration.
"Come January 1, you can see it in stores locally," said Ruben Rios, Xyience's vice president of U.S. sales.
The added product lines come as Xyience continues to expand its national presence. In 2011, the company had product in 37 states. This year, it's available in 47.
And once the lemonade, tea and hydration drinks are available commercially, the company is projecting a 20 percent to 30 percent increase in sales.
Xyience is among 1,300 exhibitors on the floor at the Las Vegas Convention Center. An estimated 23,000 attendees are expected to walk the show. Exhibitors included companies in food service, gasoline, merchandise, candy and beverage.
Other energy drinks launching next year include No Doz Energy Shots and Red Bull's three-flavor Editions line.
"There's an awful lot of interest in energy everything," said Jeff Lenard, the association's vice president, industry advocacy. "If there's some way to make it energy, you'll probably see it."
Energy ice cream anyone?
Madison, Wis.-based Bang Caffeinated Ice Cream is at the show and managing partner Sarah Moore is trying to snag a piece of the $681 billion in sales that the 148,216 U.S. convenience stores did in 2011.
"We came to the show to get our brand out. We're a new company, we've been out for a year or so," Moore said. "We feel this is something that would have a national appeal and this is probably the best place to come."
Single-serve cups of the energy-laden ice cream come equipped with a small spoon hidden under the lid's label.
And so far, so good for the new brand.
"Vegas is probably the perfect spot for caffeinated ice cream, we're learning," Moore said.
And when Las Vegas wants to calm down, what better to provide that relaxation than Mellow Mood drinks from the Marley Beverage Co., inspired by Reggae legend Bob Marley. Company President and CEO Kevin McClafferty said the beverages are in about 35,000 convenience stores now, but his goal is to have them in 100,000 by the end of 2012.
"We're looking to add 15 or 20 significant convenience store chains," McClafferty said.
By "significant," he means those with 300 or more stores.
That probably counts out buyers Patricia Whited and Andrew Carsey. The buyers for Retail Buying Solutions purchase goods for 30 Ohio-based retailers, including grocery stores and gas stations.
"We are looking to bring in the newest, hottest items into our stores next year," Whited said. "We're trying to stay fresh, trying to compete as much as possible with the Walmarts of the world and the Targets."
Whited said a convention like National Association of Convenience Stores expo costs about $6,000 to attend and the goal is to take enough deals back to the stores to warrant the expense. Thus far, she already found a few things that caught her eye.
"Electronic cigarettes are where the industry's going," Whited said.
Lenard agreed, and said that analysts are predicting e-cigarette sales will outpace regular cigarette sales in the next decade or so.
While beverage and tobacco had a huge presence at the show, food service, and snacks did too. Hostess, Wrigley and Mars had large booths, and RJ Reynolds, Altria and Swisher Sweets drummed up large amounts of traffic. Altria's booth was showing off Skoal's new ready-cut chewing tobacco, which falls in the space somewhere between long cut and pouches. The product is being rolled out in select markets next year, but Las Vegas isn't one of them. Altria also showed the new Marlboro Black cigarettes and Copenhagen's new Southern blend.
Other products shown at the National Association of Convenience Stores show included pepper spray, beers, detox products, vehicle-wash systems for car washes, ATMs and safes.
The National Association of Convenience Stores show is open to trade only, and rotates between three cities.
Contact reporter Laura Carroll at
lcarroll@reviewjournal.com or 702-380-4588.