Could Google be involved in top secret Henderson data center?
Updated October 12, 2018 - 5:58 pm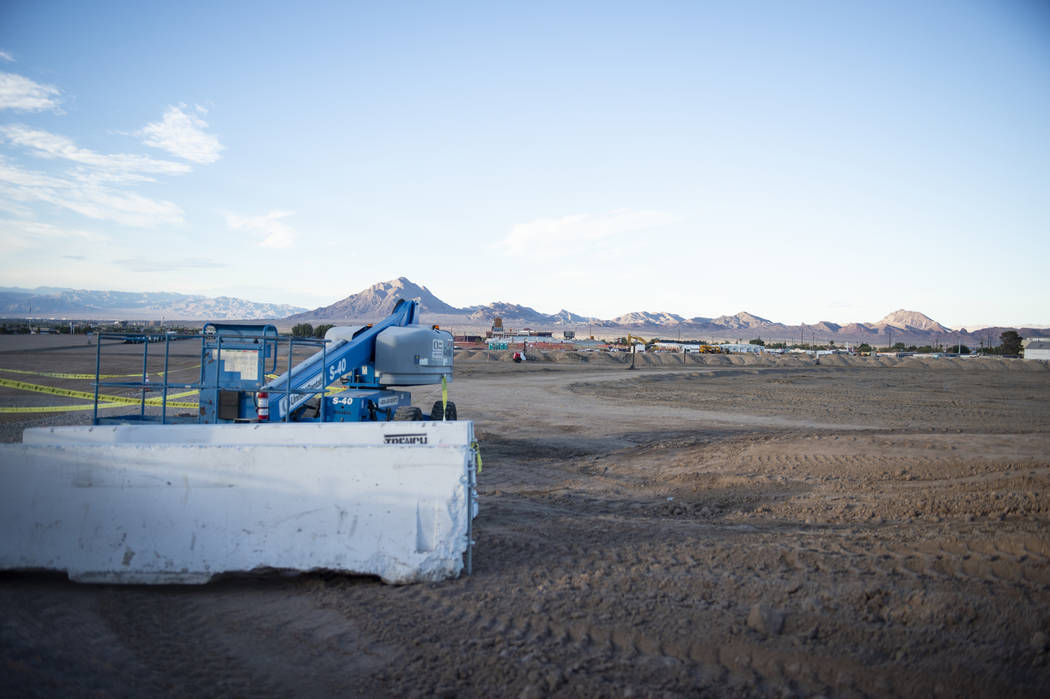 A developer shrouded in secrecy is building a massive data center in Henderson.
An obscure company called Jasmine Development LLC acquired 64 acres of land on Warm Springs Road west of Boulder Highway in January for $19 million and drew up plans for a data center project that would span more than 750,000 square feet, Clark County and Henderson city records show. Construction is underway.
The project is the latest in Southern Nevada's ongoing industrial property boom. But unlike countless other residential and commercial projects and properties around town, the developer for this one left no clear paper trail to its identity.
Asked to identify the developer, Henderson city spokeswoman Kathleen Richards said she is "not able to provide any details about that project," citing "confidentiality reasons."
She said the city signed a nondisclosure agreement, adding that state law allows for such secrecy when "attracting businesses to jurisdictions."
Brian Baluta, spokesman for the Governor's Office of Economic Development, which approves financial incentives to bring companies to Nevada, said he's "not able to comment" on the project.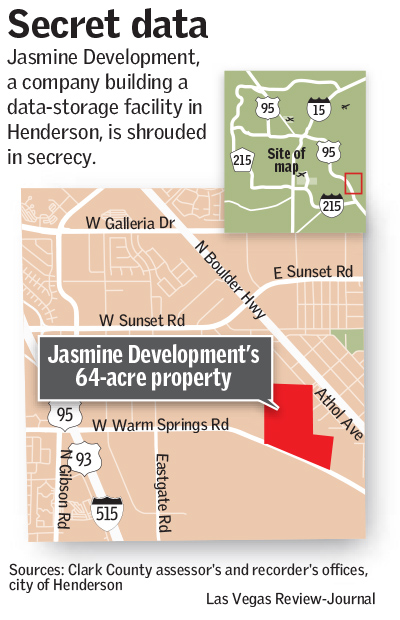 He did not respond to a follow-up email asking why.
Speculation is swirling that the facility is for internet search giant Google.
Google's press office did not respond to a request for comment.
A similar air of mystique surrounded the Google data center that's under construction in Bridgeport, Alabama.
Shelia Shepard, president and CEO of the Jackson County Economic Development Authority in Alabama, said it was so secretive that she didn't even know which company was behind it until "very close" to the public announcement in 2015. Google held a groundbreaking ceremony for the 360-acre, $600 million project in April.
She said the project had code names in internal communications but declined to disclose them.
"Any economic development project uses code names because they don't want competition to know what they're doing," she said.
Jasmine Development was incorporated in Delaware last year, and David Thomas is listed in government records as its manager. Jasmine does not appear to have a website, and public records obtained by the Review-Journal — including project plans, property records and business-entity registrations — do not show which company is behind Jasmine, any definitive links to Google or Thomas' phone number or email address.
The only hint that the developer might hail from Silicon Valley is that, as Henderson records show, Thomas notarized some project plans in Santa Clara County, California. That county encompasses San Jose and surrounding cities, including Mountain View, Google's hometown.
Jasmine's mailing address is typically listed in public records as "c/o Corporation Service Company" in Wilmington, Delaware. The firm, a registered agent, accepts and forwards legal documents for clients.
Google parent Alphabet Inc. also incorporated in Delaware and uses the same registered agent, records show. However, Corporation Service Company's clients include 90 percent of Fortune 500 companies, nearly 10,000 law firms and more than 3,000 financial organizations, according to its website.
A woman who answered the phone at CSC on Tuesday said she would give a message to a client only if it was a subpoena or a summons.
When a reporter asked if she could provide a client's contact information, she said that's confidential. When a reporter asked for her name, the line went dead.
Project has neighbors talking
Snap Towing owner Don Ellis, whose business is next to Jasmine's land, said he heard Google was behind the data center. But when he went online to look into it, he said, it was odd that he couldn't find anything on the developer.
Los Angeles real estate investor David Emrani, whose family owns land on the other side of the project site, said he's heard "many different things," including that Google was building the facility.
Colliers International broker Dan Doherty and CBRE Group broker Greg Tassi, who specialize in industrial properties, said they've also heard the Google rumor.
"They're holding everything pretty close to the vest," Tassi said.
Officials with project contractors Holder Construction, engineering firm WSP and architecture firm HKS did not return calls and emails seeking comment.
Henderson City Councilman John Marz and spokespeople for U.S. Rep. Jacky Rosen, whose districts include the project site, did not respond to requests for comment.
Clark County Commissioner Jim Gibson, who also represents the area, was not familiar with the project but couldn't comment even if he were, his office said.
Contact Eli Segall at esegall@reviewjournal.com or 702-383-0342. Follow @eli_segall on Twitter. Review-Journal business editor Nicole Raz and staff writer Todd Prince contributed to this report.
Data Center Docs by on Scribd
Neighbors' reactions to new data center in Henderson
Wyndee Forrest, co-owner of CraftHaus Brewery, said she did not know who was behind the data center or how many jobs it would create.
"Whether or not we will see a trickle down from the project, it's hard to say, but I hope workers will want to come into the brewery," she said. "Any sort of business growth is positive for Henderson."
Cheryl Gowan, spokeswoman for the LandWell Co., developer of the Cadence master-planned community, also was unaware of project details but said she hoped the data center would be a '"benefit to the entire area."
Nearby hotels including Best Western Plus and Skyline could see a bump in business from construction workers.
"We hope it will cause a chain reaction and change the image of Boulder Highway," said Martin Oceguera, general manager of Best Western Plus.
He said the hotel has been focusing more on business travelers amid economic development in the area.
"We want that type of business," Oceguera said.
— Todd Prince
Code names
Google's data center project in Alabama had code names, a local official said, limiting outsiders' ability to hear about it before it became public.
A spokesman for the Nevada Governor's Office of Economic Development did not respond to an email asking whether internal code names are common for big projects in Nevada before they're announced. But in Las Vegas, at least one high-profile project in recent years had one: the Ikea store in the southwest valley.
The 351,000-square-foot furniture store opened in 2016. While it was under construction, spokesman Joseph Roth told the Las Vegas Sun that when Ikea was in talks to buy land in Las Vegas, executives gave the effort a code name: Project Silver.
It was needed in part to prevent a bidding war for the site, he said.
"You don't want to skew the real estate market by it getting out that Ikea is looking," Roth told the Sun.
— Eli Segall