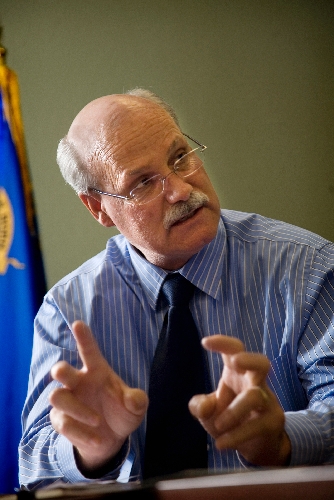 Curtis Cummings has resigned as president and chief executive officer of the North Las Vegas Chamber of Commerce effective immediately, the Chamber has announced.
Cummings, who served a little more than a year in the position, told the organization's board of directors he wanted to focus his energy on his construction company, Jeske Builders.
"Curtis has made a valuable contribution to the Chamber and the wider North Las Vegas community during his brief tenure," board chairman Mike PeQueen said in a statement. "His passion and energy will be missed. We wish him every success in developing his business."
PeQueen, who will handle day-to-day operations at the Chamber of Commerce until a replacement is found, said he looks forward to building on programs that Cummings designed to strengthen business cooperation in the north Las Vegas Valley.
Cummings took over at the Chamber last year after Michael Varney resigned. He moved to stabilize the organization's dwindling membership, which had fallen from about 800 to under 500.
He introduced new events such as the valleywide business networking mixer and the successful City Walk that pairs the Chamber ambassadors with North Las Vegas City Council members to reach out to small-business owners.
Calls to Cummings and PeQueen for comment were not immediately returned.
In an interview last year for the Las Vegas Business Press, Cummings said North Las Vegas had taken a beating during the recession.
The city was under siege from budgetary shortfalls to contested election results to lawsuits over a wastewater treatment plant.
Among the bright spots, Cummings highlighted the new $142 million North Las Vegas City Hall, the $650 million Veterans Affairs medical center and a number of new businesses that have relocated to North Las Vegas.
"We feel like we have a niche in this market and we feel we can make changes," Cummings said. "The challenge is where to focus the energy with laser precision to get the results we need."