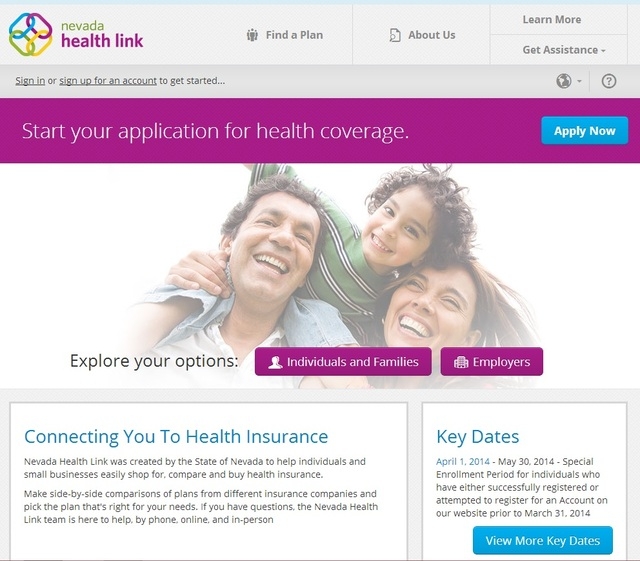 The deadline is looming for people who want to buy insurance through Nevada Health Link.
The special enrollment period ends May 30 for the state's health insurance exchange, the marketplace through which consumers can buy health coverage and get a federal premium tax credit under the Affordable Care Act.
And despite the exchange board's Tuesday decision to change the system that runs Nevada Health Link, it's business as usual for sign-ups through the next week, said exchange spokesman CJ Bawden.
The special enrollment period is for consumers who attempted to sign up for coverage during open enrollment from Oct. 1 to March 31, but who were unable to do so because of technical difficulties or problems. There's no limit on how far along in the process consumers had to be before they quit enrollment, though potential new members will have to "attest that they did sign on before (March 31)," Bawden said.
To sign up during special enrollment, consumers need to finish their application before 11:59 p.m. Friday. The exchange will accept payments up until June 15, but Bawden urged sending in the first premium payment well before then to safely make the cutoff.
As of May 17, 48,098 consumers had chosen qualified health plans through Nevada Health Link. Of those enrollees, 35,715 had paid.
To sign up, call 855-768-5465.
Consumers who feel they need assistance getting through the application process can call an insurance broker or enrollment navigator to help with the sign-up process. There's no charge to consumers who use the help.
To find a broker or navigator in your area, visit nevadahealthlink.com, click on "Get Assistance," and scroll down to "Find Local Assistance." There, you can search by ZIP code, either by scrolling through the list, or by hitting the Control and "f" buttons and typing your ZIP code into the search box.
Bawden urged consumers to apply as soon as possible.
"If they're going to start the process, they should start early. The closer it gets to the deadline, the less time there is to fix any issues that come up," he said.
Contact reporter Jennifer Robison at jrobison@reviewjournal.com. Follow @J_Robison1 on Twitter.