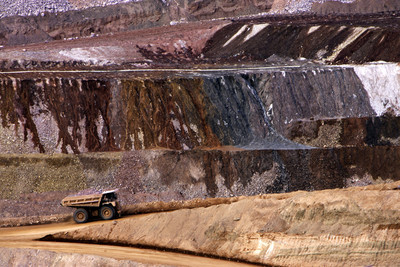 WASHINGTON — Since mining is competing with recreation and other activities on federal land, government agents should be given more authority to determine how public land should be used, a former acting director of the Bureau of Land Management told a Senate panel on Thursday.
"I think what's missing is the discretion for field managers to balance the multiple uses," Michael Dombeck told the Senate Energy and Natural Resources Committee. "For some reason, under the 1872 Mining Law, the perception is that hard-rock mining is under its own rubric."
Dombeck served as BLM's acting director from 1994 to 1997. His view was not shared by the current deputy director of BLM or by mining industry officials who argued federal oversight already is sufficient.
"The regulations provide a sound framework to prevent unnecessary or undue degradation of public lands during hard-rock mining and reclamation," said Henri Bisson, BLM's deputy director.
In November, the House voted 244-166 for a bill that would impose an 8 percent royalty on the gross revenues of new hard-rock mines and a 4 percent royalty on mines already operating on federal land.
Hard-rock mining trails only gambling as Nevada's leading industry. Senate Majority Leader Harry Reid, D-Nev., and Sen. John Ensign, R-Nev., have declared the House bill dead.
The Nevada senators are working with the Senate committee's chairman, Jeff Bingaman, D-N.M., and ranking Republican Pete Domenici, also of New Mexico, on a Senate version of mining reform that has yet to be introduced.
The hearing Thursday was the committee's second on mining reform since September, and the differing opinions have underscored the difficulty of crafting a bill that would be acceptable to both the House and the Senate.
The United States depends on imports from other countries for all of 17 mineral commodities and for more than half of 45 mineral commodities, according to William Cobb, who is vice president of environmental services at Freeport McMoran Mining Co. in Phoenix.
"We have a great resource in the United States. What we need is certainty (for) access, certainty for tenure to be able to develop these (mining) projects," said Cobb, who testified on behalf of the National Mining Association.
Alan Bernholtz, mayor of Crested Butte, Colo., said state and local governments need broader authority to protect their water supplies from mining development.
Sen. Larry Craig, R-Idaho, acknowledged that the 1872 Mining Law is biased in favor of land development.
Berhnoltz and other mining reform advocates want to change the bias, Craig said.
"(They) want to give a federal agency the right to deny (mining permits on federal land)," Craig said.
Contact Stephens Washington Bureau reporter Tony Batt at tbatt@stephensmedia.com or (202) 783-1760.