Still going up: Expect higher gas bills in Nevada this summer
Updated April 26, 2023 - 11:43 pm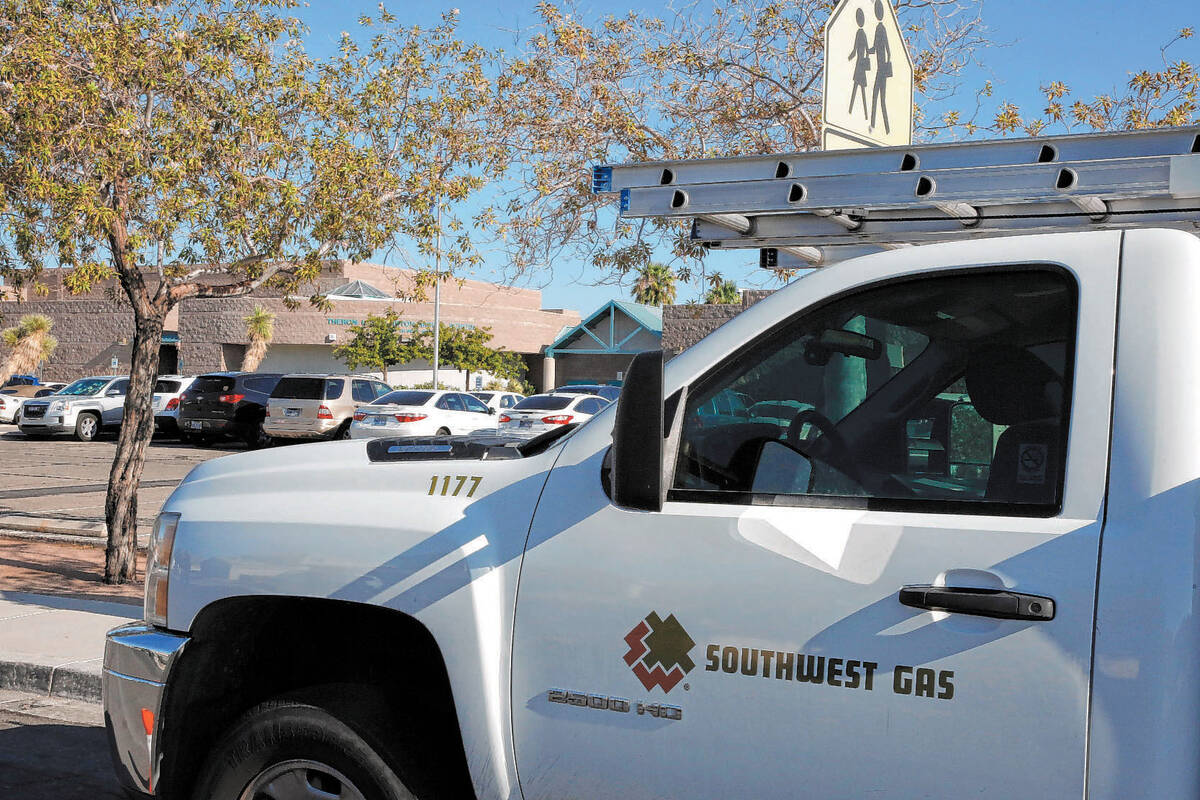 Southwest Gas customers in Southern Nevada can expect to see higher rates again, starting in July.
The Public Utilities Commission unanimously approved Tuesday the utility's request for a new annual rate, which would increase Southwest Gas' revenue by $11.8 million.
The new rates will take effect July 1, and the increases will be mostly felt by Southern Nevadans.
The annual rate increase is in addition to the quarterly rate adjustments that have raised ratepayers' bills for the last three consecutive quarters.
How the latest rate change is expected to impact Southern Nevadans:
■ Single-family residential ratepayers should see a 3.5 percent increase, or $2.01, to their monthly bill.
■ Multifamily residential ratepayers can expect an increase of 1.6 percent, or 56 cents, to their monthly bill.
■ The residential air conditioning rate will increase by 0.9 percent, or $4.71, on a monthly bill.
The impact for Northern Nevada ratepayers:
■ Single-family residential ratepayers will see their monthly bill decline 1.65 percent, or $1.58.
■ Multifamily residential ratepayers can expect a 1.78 percent drop, or $1.05, to their monthly bill.
■ However, the residential air conditioning rate will increase by 0.02 percent, or 2 cents.
Southwest Gas originally requested a higher annual rate, but it entered a stipulation agreement with the Bureau of Consumer Protection and PUC regulatory staff over its rate changes. The agreement was made after a February consumer listening session, where many residents voiced opposition to further rate increases.
The move means Southwest Gas will see revenue of $13.8 million in Southern Nevada, which is an estimated $7.5 million less than what it originally sought. In Northern Nevada, the utility will see revenue drop by $1.9 million, compared with an expected increase of $142,411.
Southwest Gas said it entered into the stipulation agreement in order to be "responsive" to customer concerns during the consumer listening session, according to Southwest Gas spokeswoman Amy Washburn.
"To be responsive to the consumers' concerns expressed at the consumer session, Southwest Gas agreed in this instance to use more recent (general revenue adjustment) account balances for both Northern Nevada and Southern Nevada, which resulted in decreases for both areas compared to what were included in (the) company's initial application," Washburn said in an emailed statement.
PUC Commissioner C.J. Manthe said she "appreciated" the effort by the BCP, PUC staff and Southwest Gas to lower the rate increase. Similar thoughts were expressed by the Nevada Conservation League, which vocally opposed the initial $21.4 million sought by Southwest Gas at the February consumer listening session.
The revenue earned from the rate changes will go toward Southwest Gas' programs for energy efficiency, renewable energy, revenue adjustments and conservation, according to Washburn.
Southwest Gas is expected to file another quarterly rate adjustment with the PUC next month that could increase or decrease rates starting July 1.
Contact Sean Hemmersmeier at shemmersmeier@reviewjournal.com. Follow @seanhemmers34 on Twitter.
RELATED
Tips to save on your utility bill ahead of summer
'I am angry': Southwest Gas customers protest rising bills