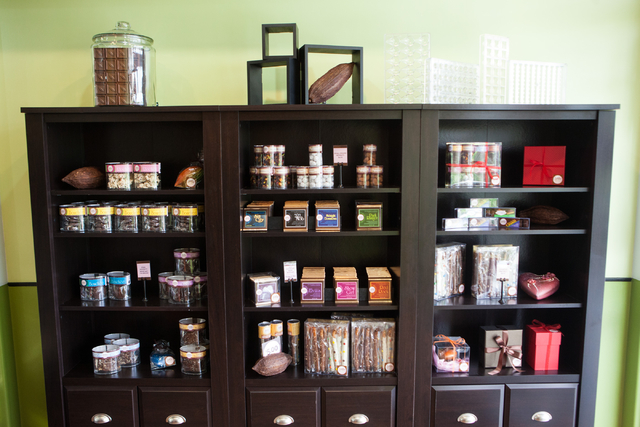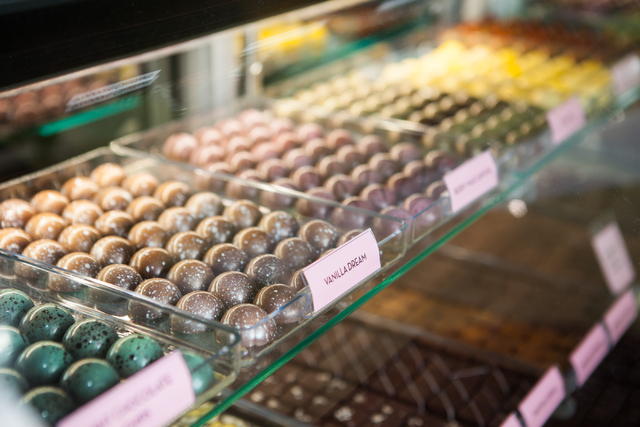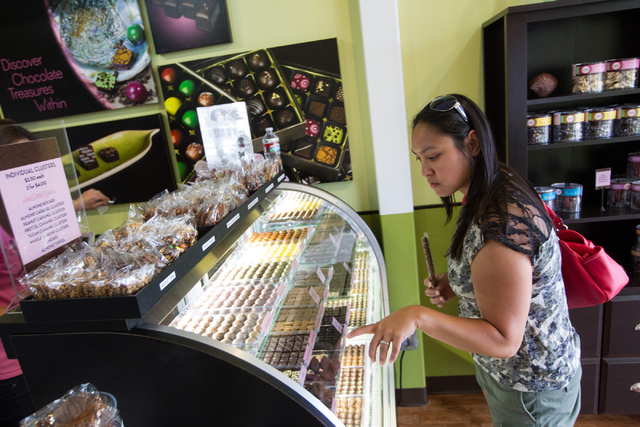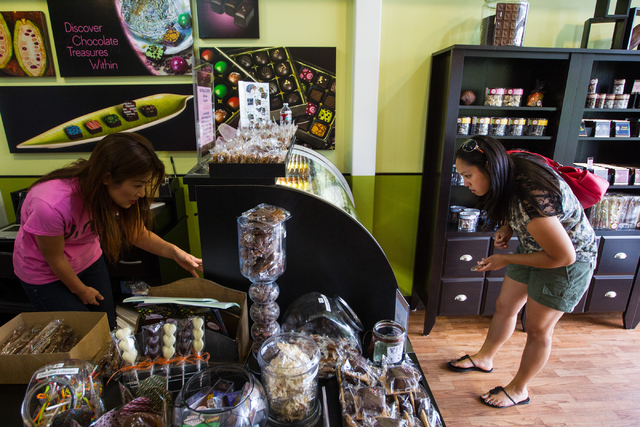 There's not much display space in a 260-square-foot store. Jin Caldwell could have used every square inch of floor and wall to show her homemade, all-natural chocolate products at JinJu Chocolates in downtown Las Vegas' Container Park.
But Caldwell loves the story of chocolate as much as she loves chocolate itself.
So, amid the shelves and counters exhibiting chocolates, there's a series of photos on a big chunk of wall that is part of Caldwell's "How Chocolate Is Made" display. It shows everything from cocoa trees, beans drying in the sun and beans ground into liquid chocolate.
The Seoul, South Korea, native, who recently turned 40, has emerged as one of Las Vegas' premier chocolatiers and opened her first retail store July 1.
Caldwell has made chocolate for big-name Strip properties such as former employers Wynn and Bellagio, worked for Ethel M Chocolates in Henderson. She has also taught chocolate making at the College of Southern Nevada.
But her career path didn't start with chocolate. Caldwell moved from South Korea to Denver at 19 to attend college for a potential medical career.
Instead of attending medical school, Caldwell enrolled at Le Cordon Bleu College of Culinary Arts in Scottsdale, Ariz. In 1996, she moved to Southern Nevada for a baker job at Green Valley Ranch Resort.
It was a humble start that has culminated in a thriving wholesale chocolate business that accounts for 90 percent of her revenue. Caldwell still sells her JinJu Chocolates to big-name Strip hotel such as The Venetian, The Cosmopolitan of Las Vegas and Treasure Island. Her products are also for sale at Whole Foods and Sambalatte coffee shops in Las Vegas.
Caldwell makes her chocolates at her production kitchen at 4040 E. Post Road. Her standards are so high that she allows only trusted elder staff members to make the chocolate products when she is not around.
"The toughest part is having the chocolate made to my standards," Caldwell said. "I have ladies there who have worked many years. I trust them like they're my family."
Caldwell, a southwestern Las Vegas resident and mother of a 13-year-old, arrives at her production kitchen at 5:30 a.m. and works the retail store in the afternoons. Caldwell's portfolio includes products, ranging from a 7-foot-tall chocolate tree house to small, premium air-brushed chocolates from her "Akoya" collection.
She launched her retail business with $45,000 to $50,000 and no debt.
"Once you know how to work with the chocolate, you don't need a lot of equipment," she said.
Eight days after opening her Container Park store, she was still doling out free chocolate-covered pretzel rods and free samples of her hazelnut, sea-salt toffee products.
Customer Nicole Latta of Las Vegas was thrilled to taste Caldwell's chocolates.
"It made me want to come here to Container Park," Latta said.
Caldwell suggested to Latta, "You can like us on Facebook."
So, Latta found her cellphone and said, "I can do that right now. We'll definitely be back."
Caldwell is so detail-oriented that she packed Latta's carrying bag with an ice pack to keep the chocolates from melting.
Question: How was the transition from working for big hotels to opening your own store?
Answer: I was working for the top hotels in the world, but I knew I was lacking real-world experience. When I was working for the hotels, I wasn't ready to start my own business and understand the numbers side of the business."
Question: When did you realize you wanted to open your own chocolate business?
Answer: My second year at Mars (the Ethel M Chocolates division in Henderson). I wanted to create a really good-quality chocolate. I knew from experience that I had a niche market in Las Vegas.
Question: How did you get involved with Container Park and Downtown Project?
Answer: I met Tony Hsieh at the Rock 'N' Roll Las Vegas Marathon. I was intrigued by Tony. I also talked with a woman at First Friday and met people from Downtown Project and it was suggested I would be a good fit. It was about a year ago.
Question: How did you finance your business?
Answer: I used all my savings. I don't have debt.
Question: Have your former students started businesses?
Answer: One student owns a pastry supply store in Vegas and another lady owns a boutique cake business.
Question: What advice would you give to people thinking about leaving their job with a big company to start their dream business?
Answer: Don't be afraid to follow your passion and believe in yourself. Focus on positive outcome and thoughts about owning a business. For me, if my business didn't work out, I still had talented chocolate hands to rely on. I believed in myself and skill set.
Question: What was the hardest thing about opening your retail store?
Answer: Since I still had to operate a busy wholesale side of the business and do consulting work, probably lack of sleep and not being able to spend enough time with family.
Question: Did you have fun making the chocolates for your wedding? (She got married June 7). What kind of chocolates did you make?
Answer: We served a variety of JinJu products at the wedding. They were European truffles, bonbons, chocolate-covered toffee almonds, pretzel caramel clusters for kids and French macarons. They were fancy and comfort chocolates all at the same time.
Question: How do you stay so slim when there are so many delicious chocolates all around you to sample?
Answer: Well, I run to eat all the chocolate I want. Also. I eat healthy and juice regularly.
Question: What is it like working with Downtown Project?
Answer: So easy. I think when people share the same goals and passion, it's easy. There were no roadblocks or challenges working with the Downtown Project team. They want nothing but the best for my business to be successful.
Question: Do you think you will ever retire from making chocolate?
Answer: I will always work with chocolate one way or another. If I don't own a chocolate business, I will probably teach or consult for a small- business owner.
Business writer Alan Snel can be contacted at asnel@reviewjournal.com or 702-387-5273. Follow @BicycleManSnel on Twitter.