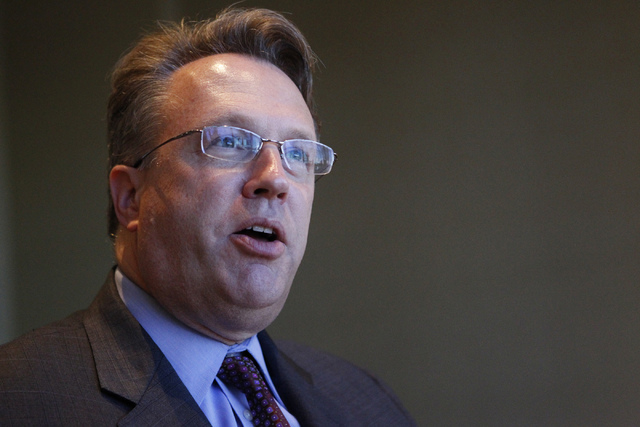 The United States' economy will be mired in historically slow growth unless the nation boosts long-term investments, warned John C. Williams, President and CEO of the Federal Reserve Bank of San Francisco.
The U.S. is facing two key headwinds that will limit the ability of the Federal Reserve's ability to boost the economy via monetary stimulus, Williams told the Economic Club of Las Vegas on Wednesday.
The labor force growth is declining as birth rates drop and baby boomers retire, while worker productivity is slowing, he said. Those two headwinds will likely keep the nation's growth capped below 2 percent unless the government and private sector step up, he said.
"Assuming that these trends continue, and I do, the growth rate of our economy's potential is likely to be around 1.5 percent for the foreseeable future, the slowest pace in our lifetimes," Williams said.
The U.S. labor force is expected to grow at just one-half of a percent over the next decade compared with 1.5 percent during the 1980s, he said.
The government and private capital need to boost investments in such areas as education, health, job training, infrastructure as well as research and development to overcome these headwinds and enable the economy to hit escape velocity, he said.
"Our long-term challenges are going to require the sorts of long-term investments that fiscal policymakers — and private investors — have within their own tool kits," Williams told the audience of about 150.
President Donald Trump made greater infrastructure investment a key component of his economic platform. However, his administration, enmeshed in a battle on health care reform, has yet to move forward on it.
Job growth, rate increases
Williams was optimistic about job growth, forecasting unemployment to fall from the current 4.4 percent to "a little above" 4 percent next year. Williams said he considers full-employment in the U.S. at about 4.75 percent.
Inflation has been unusually tame in recent months despite the tighter labor market because of sharp declines in drug prices, airline fees and wireless services, he said. Williams said the impact of those price declines on inflation will be temporary.
"As these transitory factors wane and with the economy doing well, I expect that we'll reach our 2 percent goal in the next year or two," Williams said.
That will give the Fed the ability to raise short-term interest rates further, which he said are still "low" even after three increases since December.
Williams said the continued, albeit weak, economic growth will also enable the Fed to begin reducing its $4.5 trillion balance sheet of treasury and mortgage-backed securities.
"My own view is that it will be appropriate to start this process this fall," he said.
Williams told the audience he would like to see the initially Fed cut treasury holdings by $6 billion a month and mortgage-backed securities by $4 billion per month.
Those caps could then be increased increased every three months by $6 billion and $4 billion respectively until they reach $30 billion per month for treasuries and $20 billion for mortgage-backed securities.
"From then on, we'll leave these caps in place, and our securities holdings will continue to decline in a gradual and predictable manner," he said.
Contact Todd Prince at tprince@reviewjournal.com or 702-383-0386. Follow @toddprincetv on Twitter.