Financing-plan trouble halts Vantage Lofts work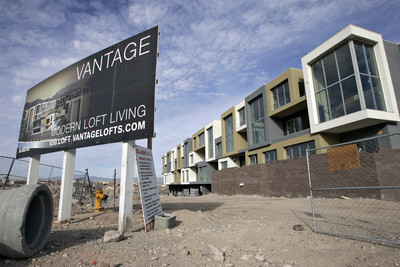 Construction has stopped on Vantage Lofts in Henderson and the sales center is closed while Slade Development works out a new financing plan, Chairman Stacy Slade said.
"We're restructuring the capital and during that time, I didn't want to be delinquent on payments to a bunch of subcontractors," Slade said.
He expects financing will be in place within the next couple of weeks and then he'll proceed with construction.
The first building with 40 units is near completion and people could be moving into their units within the next three to four months, he said. He's been communicating with buyers on the project's status.
"The market is down. That's no secret," Slade said. "Based on the climate and the market, sales are not what we anticipated. We thought there would be a correction. Vegas has always had nice steady growth. When we've had a downturn, it hasn't been that dramatic. We've always had ups and downs, but never a correction as dramatic as this."
Slade said his second-position lender, sometimes called mezzanine, hasn't cooperated in restructuring the loan and was "causing difficulty for us." He is asking for deferred interest payments.
Scripps Investments and Loans of La Jolla, Calif., is the primary lender on the $160 million project, which will have more than 300 units on 20 acres when completed.
Completion of the 110-unit first phase was originally scheduled for early 2007. Again, a change in the secondary lender, along with design and engineering issues, delayed the project, Slade said.
"I'm very positive that the project will get completed," he said. "It's still a great project, but the market's got to come back for us to finish out."
Vantage Lofts is on Gibson Road near the foothills of Black Mountain. Floor plans range from 1,000 square feet to 2,600 square feet. Sales prices are holding steady at about $400 a square foot with some incentives, Slade said.
HIGH-RISE DEAD: Pinnacle Las Vegas, a high-rise condo project planned for the former site of Falconi Honda on Tropicana Avenue, has been canceled.
The sales gallery was closed Feb. 22 and agents have been laid off, said Kyle Waugh of Rise Realty, the broker of record. Nevada Title has been instructed to expedite the release of buyers' deposits along with interest in accordance to their contract, he said.
"It's unfortunate because we were very successful in selling the units in a short period of time," Waugh said. "Pinnacle offered a great package. I talked to several buyers and they're happy that their deposits are being returned, but they're disappointed that it didn't get out of the ground."
Pinnacle was distinguished in its design by a "sky bridge" connecting two 36-story towers with 1,100 luxury condo units. YWS was the architect.
When the $650 million project was announced in 2005, developers were confident it wouldn't end up in the junk pile with other high-rises such as Krystal Sands, Aqua Blue and Icon because the 12-acre site was owned free and clear by Angelo Falconi. The land was valued at about $8 million an acre.
RISING VACANCY: Apartment vacancy in Las Vegas rose to 9 percent in January, up from 8.4 percent in December, CB Richard Ellis, a commercial real estate brokerage, reported. The breakdown by class shows 7.76 percent for Class A (28,082 units), 9.38 percent for Class B (42,000 units) and 9.67 percent for Class C (26,148 units).
TOP SELLER: High-rise condo broker Aaron Auxier of Luxury Realty Group said he set sales records at MGM Mirage's CityCenter with three units at The Harmon Residences that went for $1,500, $2,000 and $2,400 a square foot. It's the most expensive price-per-square-foot home or condo ever sold in Las Vegas, he said. The previous record was just over $1,300 a square foot for a luxury condo.
KORTE PROJECT: Korte Co. was named general contractor for $1.2 million in tenant improvement work at the 28,000-square-foot Stein Mart store at Shadow Mountain Marketplace, 6435 N. Decatur Blvd.
PALAZZO STORES: Crisci Builders finished interior buildout for Diane Von Furstenberg women's fashions and Elton's men's store inside the Palazzo. The two jobs were worth $1.6 million.
Contact reporter Hubble Smith at hsmith@reviewjournal.com or (702) 383-0491.
MILLION-DOLLAR HOME SALES
Luxury Homes of Las Vegas reported the following million-dollar home sales last week:
$4.2 million, 3 bedroom, 6.5 bath, 5,779 square feet, Strip views, balcony, walk-in closets, Turnberry Place.
$1.35 million, 4 bedroom, 5.5 bath, 5,236 square feet, heated lap pool and spa, Summerlin.
$1.5 million, 5 bedroom, 4.5 bath, 6,161 square feet, half-acre lot with city view, resort-style pool, gourmet kitchen, walk-out rear basement, Northwest.
$1.01 million, 3 bedroom, 3.5 bath, 3,220 square feet, pebble tech pool, spa, waterfall, slate patio, MacDonald Highlands.