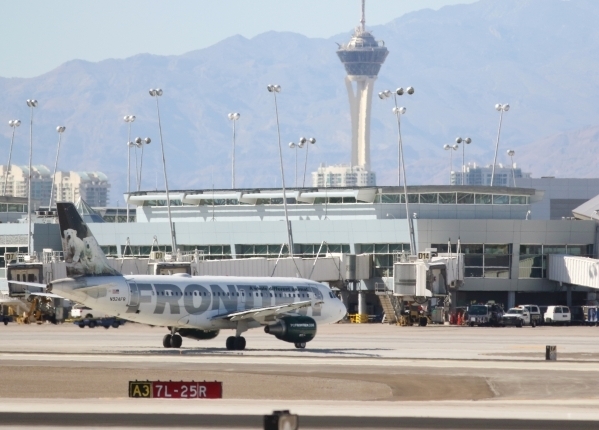 Denver-based Frontier Airlines is expanding its domestic schedule at McCarran International Airport, adding four new routes as part of a national expansion.
Frontier President Barry Biffle said Tuesday that the airline would offer nonstop flights between McCarran and Columbus, Ohio; Colorado Springs, Colorado; Pittsburgh; and San Antonio, starting in April, May and June.
The airline that features pictures of wildlife on its jets' tails will take delivery of 18 new Airbus A320 jets and retire nine planes to continue its growth.
Frontier announced the new service as part of a nationwide expansion that includes 14 new routes in several cities.
The Colorado Springs service will mark the first time it will be linked by the airline to Las Vegas. Flights will operate daily. The company didn't provide a start date.
Flights to and from Columbus also will operate daily with no start date set.
Pittsburgh flights will run on Mondays, Wednesdays, Fridays and Saturdays, while San Antonio flights will go Tuesdays, Thursdays and Sundays.
Frontier serves more than 40 cities in the United States, Mexico and Jamaica. The expansion will result in Frontier having an average 20 flights a day to 16 markets from Las Vegas, making it one of the fastest-growing domestic carriers serving McCarran in 2015 and 2016.
Frontier was lobbied to expand its Las Vegas market by air service development leaders with the Las Vegas Convention and Visitors Authority and McCarran.
Frontier will compete with Southwest Airlines on the San Antonio, Columbus and Pittsburgh routes and with Las Vegas-based Allegiant Air to San Antonio and Colorado Springs.
Frontier has been on an ownership and management merry-go-round for the past six years and is owned by Indigo Partners.
It operates as a deep-discount carrier that offers choices for customers with the best prices offered to members of its Discount Den club; discounted fares with a la carte ancillary fees; and higher-priced bundled fares called "The Works" that include refunds on tickets on canceled trips, seat selection, priority boarding, no change fees, one free checked bag and one free carry-on bag.
Frontier may be a merger topic in the months ahead. Robert Fornaro, who worked on the merger between Southwest Airlines and AirTran, earlier this month was named president and CEO of Spirit Airlines, replacing its controversial leader, Ben Baldanza.
Aviation analysts believe the move could be a prelude to a merger between Spirit and Frontier.
Spirit has a similar business model to Frontier and is strong in Florida and the Caribbean. Spirit has a crew base in Las Vegas, where it has been one of the fastest-growing airlines at McCarran in the past two years.
Contact reporter Richard N. Velotta at rvelotta@reviewjournal.com or 702-477-3893. Find @RickVelotta on Twitter.