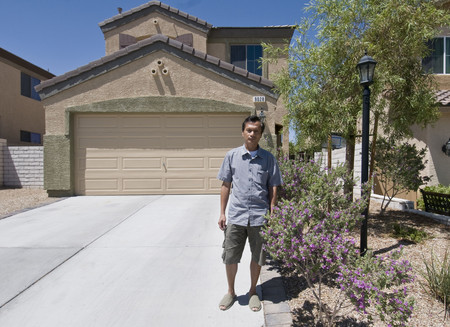 Jeff Gomez is wondering how to save his home, his credit and most importantly, his sanity.
The owner of an Alzheimer's and dementia care center has been served with a notice of trustee sale on his northwest Las Vegas home.
It comes after months of badgering Washington Mutual to work with him on a loan modification or some type of relief until business picks up again. After all, he hears frequent reports of the government's plan to help troubled homeowners avoid foreclosure.
Gomez visited the loan modification center recently opened in Las Vegas by JP Morgan Chase, which received $25 billion in federal money and acquired Washington Mutual.
"It's out of their department," Gomez was told. "It's in the REO (real estate-owned) division in Dallas."
He left several messages for someone at a number in Dallas, none of which was returned.
"I'm so stressed. I'm losing sleep at night because of this. I don't know where we're going to be," Gomez said.
In the meantime, the trustee sale date has come and gone, and Gomez has been living in his home for six months without making a mortgage payment.
Maybe that's the answer for millions of U.S. homeowners facing foreclosure.
Despite government efforts to help homeowners who are "upside down," owing more on their mortgage than their home is worth, little has been accomplished to stem the rising tide of foreclosures, particularly in Las Vegas.
With a foreclosure rate roughly seven times the national average, Las Vegas has gained notoriety as the epicenter of the subprime mortgage crisis. An estimated 70 percent of Las Vegas homeowners have negative equity and nearly 12 percent are delinquent on their mortgage payment.
"My opinion is yes, most people who are upside down and underwater should walk away from their home," Tom Love of Realty Executives said. "If you are negative hundreds of thousands of dollars, it's a hole that you will never dig yourself out of. You may be better served to walk away and start the healing process."
Many individuals rely on home equity as part of their retirement and will never have any financial freedom as long as they owe more than their home is worth, Love said.
One piece of advice: Consult with an attorney or certified public accountant about possible ramifications from defaulting on a home mortgage such as a deficiency judgment by the bank, tax liabilities and lower credit rating.
Mandy Peacock of AAA Home Rescuers said people need to make educated decisions based on the cost and benefit of their options.
"Not everyone should keep their home," she said, "yet there's a responsible way to leave the home that won't be destructive to their credit. A foreclosure is the worst thing to have on your record."
Peacock said she's personally in a situation in which her $250,000 condo is now worth about $50,000. By working with her lender on a short sale, or a sale for less than the mortgage owed, she won't be on the hook for the $200,000 difference.
"If you say, 'Screw off,' what's to stop them from going after you? They've got mortgage insurance, and they get to write it off, and they come after you, so it's like a triple play for the banks. Going up against the banks, I'll tell you, it's a very tough situation," Peacock said.
Lenders have few options to stop people from walking away from their mortgage, said Chris Biaggi, president of All Western Mortgage in Las Vegas. Even homeowners who can afford their payment realize there's no sense in throwing good money after bad, he said.
"The emotional aspect of knowing you're so far underwater is a real challenge for people," Biaggi said. "Will I ever get my head above water? Knowing it will take years to get above water, if ever, some people recognize it's better to cut their losses now and get on with life."
The bank's primary goal is to keep people in their home, but everything is based on ability to pay, Chase Bank spokesman Gary Kishner said.
"We've taken various tacks to try to reach as many people as we can and modify loans that can be modified," he said. "If someone's about to start a new job, maybe we'll do a temporary forbearance. If there's no light at the end of the tunnel, maybe their option is a short sale. Our goal is to take necessary steps to make this a one-time fix for the customer."
Stephanie Phillips got nowhere with Countrywide Mortgage. Currently at 98 percent loan-to-value on her home, she's one of few Las Vegans who qualify for Obama's plan, which helps people refinance if their loan-to-value ratio isn't more than 105 percent.
"So I'm not even upside down yet," Phillips said. "I have excellent credit, pay all my bills on time. I'm not on welfare or unemployment, and I'm a single mother of two, trying to make it in this economy. Because I'm current on my payments, I can't get any help. It's frustrating."
Phillips, owner and broker of Cambridge Realty, has seen her clients refinance at rates of 4.25 percent to 4.5 percent with little or no discount points and figured she could save a couple hundred dollars from her current rate of 5.87 percent.
She called Countrywide and was quoted 4.37 percent for 5 discount points, or fees paid to the lender at closing to lower interest rates. That's about $15,000 and would completely wipe out any principal payments she's made over the past three years, she said.
Wells Fargo quoted her 4.25 percent for 1.30 discount points.
"What in the world is Countrywide thinking? The purpose of this stimulus plan is to help people, and being able to do a streamline loan is helping, but not when you are forced to use your current lender that is charging outrageous fees and interest rates," Phillips said. "It's just not fair. The government is paying Countrywide and other banks $1,000 for each client they refinance or modify. Isn't that enough?"
Calls to Bank of America, which acquired Countrywide, were not returned.
The rollout of Obama's Homeowner Affordability and Stability Plan sparked a tremendous increase in borrower activity, said Ben Windust of Wells Fargo's home mortgage division in Des Moines, Iowa.
Even borrowers not delinquent on their mortgages are requesting loan modifications, he said.
Following government parameters for loan modifications, lenders look at the ratio of mortgage payment to income. If it's under 31 percent, borrowers don't qualify.
"What can be frustrating for any borrower is they may have overall debt load that's unsustainable, but most of it is credit card debt and they're going to be under the 31 percent," Windust said. "We look at what is your minimum payment to find out your cash flow."
Windust said it comes down to case-by-case situations. If someone truly cannot afford their payment and the property is losing value, perhaps a short sale or deed in lieu of foreclosure is a better option than walking away, he said.
"There's not a lot we can do, but we would discourage it," he said. "This is not an easy business to explain how things work. My main point is we always try to meet with them and talk to them about their options."
Ian Hirsch, director of operations for Fortress Credit Services in Las Vegas, said he spends countless hours on the phone every day negotiating with banks to save his clients from financial ruin.
"The financial institutions extract their pound of flesh by making us work for every dime of mortgage modification," Hirsch said. "The reality is the problem with the mortgage crisis is the mortgage itself. The reason we saw a decline in values is because of mortgages that allowed almost fake money, Monopoly money. We had offers at $30,000 over asking price as long as they don't have to put any money down. When you don't have any risk, you don't have any perceived fear of loss."
In the past, it was primarily subprime borrowers walking away from their mortgages. Now it's spreading to middle- and upper-income homeowners with good credit, said Whitney Tilson, principal of New York investment firm T2 Partners and author of "More Mortgage Meltdown."
He expects to see more walk-aways by people who put no money down on their homes.
Lenders made "crazy" loans because even if the borrower defaulted, they figured the home could simply be resold with little or no loss, Tilson said.
They never planned to hold the loan, but instead pass it along to Wall Street, which would bundle it, slice and dice it and sell it along with any subsequent losses to investors around the world, Tilson said.
If they did plan to hold the loan, they assumed home prices would rise perpetually so that borrowers could either refinance before loans reset or, if the homeowner defaulted, the severity of the losses would be minimal.
"Simply lend at higher loan-to-value ratios with ultra-low teaser rates to uncreditworthy borrowers, and don't bother to verify their income and assets," Tilson said. "There's only one problem. Don't expect to be repaid."
Anyone who thinks the bank will erase debt by reducing mortgage principal can forget about it, said Richard Byrd of Home 2 Home mortgage modification assistance.
"Principal reductions, although they do happen, are magical unicorns," he said. "Don't plan on it. How many of you sent money to the lender when your house went up in value? Don't expect them to return the favor."
Lenders are probably not going to reduce principal balances unless the borrower can prove blatant mortgage fraud, Peacock of AAA Home Rescuers said. However, she was able to bring one of her client's payments from $2,900 a month to about $1,000 a month over 30 years by modifying other terms of the loan.
The foreclosure problem is going to get worse, she said. Some analysts estimate there are more than 25,000 real estate-owned homes in Las Vegas waiting to be released by the banks.
"Loan modification is going to become bigger over the years. It's the economic future of Nevada," Peacock said.
Nevada lawmakers passed and Gov. Jim Gibbons signed into law Assembly Bill 149, which will require lenders to meet with a judge and attorney in mediation before they foreclose on a home. While it's not the final solution, it might stop the bleeding, Byrd said.
"For a mere $400, homeowners can have their voice heard. What's scary is that many homeowners are going to think they can waltz in and get relief. It's the old adage that anyone who would hire themselves as an attorney is a fool," he said.
"Lenders are going to use this as the final nail to guarantee foreclosure. Once you have mediated and if the homeowner does not present an overwhelming (case) for relief, the lenders are going to know they are free to foreclose with a clear conscience. And believe me, the plea that values have dropped and the house next door rents for less is not a reason for a lender to modify a payment."
Mediation might slow the foreclosure process, but don't assume that everyone is going to receive relief, Byrd said. Only those prepared to receive relief will get it.
Homeowners need to go into mediation with a history of modification attempts, payment examples based on income and expense models, amortization schedules, and they need to take along someone who knows about real estate, mortgages and the foreclosure process.
Gomez, the owner of the Alzheimer's and dementia center, is waiting to appear in court on his eviction notice. He wants to tell the judge that he's been making payments since 2004 on a $216,000 home that's now worth $98,000, and that his payments went from $1,000 to $1,500 a month when his mortgage rate reset to 9 percent.
"I want to go to court and at least voice my opinion of what's going on in the real world," he said. "I'm getting frustrated with this government. I'm at the point where I don't believe in the government any more, the Constitution, for the people, by the people."
With so many homeowners upside down and home prices plummeting, Las Vegas is in a unique situation with a problem that the federal bailout package isn't going to fix, said Robert Gnaizda, counsel for San Diego-based Mabuhay Alliance.
"At a certain point, when people are under water, you can't rescue them by conventional means because home values keep going down," Gnaizda said.
He met with representatives from Sen. Harry Reid's office in May to propose a $200 million pilot program for Las Vegas in which homeowners would become tenants, renting their homes back from the bank. Twenty percent of their rent would be applied to a down payment should they exercise an option to buy the house back within five years at 90 percent of its market value.
Ford Foundation has put $50 million into its own project to buy back foreclosures and will leverage the funds with other foundations to get it up to $400 million, Gnaizda said.
A new tactic has emerged that could help stall foreclosures. Chris Hoyer, an attorney who advises consumers about foreclosure on Consumer Warning Network, is suggesting that homeowners make the banks produce the original promissory note.
"What this means is that if you are in foreclosure trouble and the bank or lending company threatens to take your home, you can buy some time and possibly renegotiate a new mortgage without tacked-on fees if you ask the bank to produce the note," he said. "Evidently, in a large number of cases, banks are having a tough time producing the promissory note since mortgages are packaged up, sold, bundled again and resold and the original promissory note gets lost in the process."
Contact reporter Hubble Smith at hsmith @reviewjournal.com or 702-383-0491.
With a foreclosure rate roughly seven times the national average, Las Vegas has gained notoriety as the epicenter of the subprime mortgage crisis. An estimated 70 percent of Las Vegas homeowners have negative equity and nearly 12 percent are delinquent on their mortgage payment.
Con artists thrive amid foreclosure mess
Negotiating with a bank on a loan modification requires expertise and knowledge typically beyond the average homeowner's purview, but it's important to select a reputable firm at a time when loan modification attorneys and companies are coming out of the woodwork.
Ian Hirsch of Fortress Credit Services in Las Vegas said he's had to "clean up the mess" for a lot of clients who came from other companies.
He suggests people check with the Nevada Division of Financial Institutions to make sure the company is properly licensed and look for any complaints with the Better Business Bureau.
Fortress, a fully licensed credit repair and mortgage modification company, helps homeowners who are "upside down," facing foreclosure or bankruptcy, need their interest rate adjusted drastically or simply wish to lower their monthly mortgage, Hirsch said.
The company has established strong relationships with banks and mortgage companies to help facilitate that process, he said.
"We act as a third-party representative for consumers with an adversarial role against the banks," Hirsch said. "We work with the bank to modify loans for the consumer, but we're not there with the bank's best interests at heart."
A loan modification is a permanent change in the terms of a mortgage that allows a delinquent loan to be reinstated and results in a payment the borrower can afford.
Mandy Peacock of AAA Home Rescuers warned legislators in Carson City about the rise in foreclosure and loan modification scams and lobbied to strengthen industry regulations.
"It's important to have statutes in place to help people," she said. "There's attorneys out there who say they're going to sue the banks because 90 percent of loans have this or that mishap and, you know what, nothing ever happens, and their excuse is it's such a new thing."
She recommends that consumers research the firm's integrity. A good company will provide an initial consultation with no obligation, she said.
As new rules and laws aim to help troubled Americans avoid foreclosure, a growing number of con artists are taking advantage of unsuspecting homeowners, said Travis Hamel Olsen, president of National Short Sale Center.
Dozens of fake Web sites mimic the fonts and layouts of government Web sites that are designed to help struggling homeowners modify their mortgages, he said.
Unsuspecting homeowners have fallen prey to unscrupulous companies that charge up to $7,000 before disappearing. The FBI is currently investigating more than 2,100 mortgage fraud cases.
"The fraud usually comes through in the fine print," Olsen said, "but foreclosure rescue teams and highly suspect scammers are basically taking homes through a variety of means, resulting in foreclosure and eviction."
Hirsch said his company does not charge upfront fees for consumers who are in default.
"We do not get paid until the work is done," he said. "Now if they're current on the payments and want to rework a loan, we do charge 1 percent of the loan amount upfront."
HUBBLE SMITH/LAS VEGAS REVIEW-JOURNAL