October 29, 2008 - 9:00 pm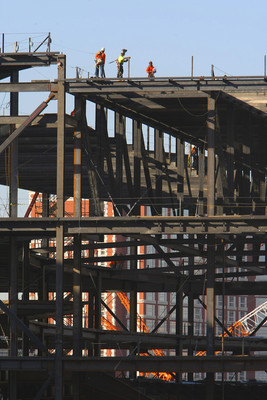 Boyd Gaming Corp. will take most of 2009 to evaluate alternatives for the halted $4.8 billion Echelon, although the company's CEO on Tuesday ruled out selling the project.
Chief Executive Officer Keith Smith said the company's options range from reducing the scope of the Strip development to bringing in new joint venture partners. He said a sale of the 87-acre site was not in the plans.
"It's not a blank sheet of paper anymore, but we need to look at alternatives," Smith said.
During Las Vegas based-Boyd Gaming's third-quarter earnings conference call with analysts, Smith said construction of Echelon, a 5,000-room multiple hotel development, would not resume in 2009. The company stopped the project Aug. 1, saying it hoped to resume construction in nine to 12 months.
"Our long-term strategic direction for the company is to have a significant presence on the Strip," Smith said in an interview following the conference call. "That is still our current view."
One joint venture partner, Morgans Hotel Group Co., is all but out of Echelon, even though its agreement was amended. The agreement with another partner, mall developer General Growth Properties Inc., was dissolved earlier this month. General Growth is in serious financial trouble and put several of its Las Vegas retail sites up for sale on Monday.
Smith believes the company made the correct decision to stop Echelon, which now has three steel-framed hotel towers sitting at nine stories each. The project was not so far along that the company couldn't reconfigure the site. He said Boyd will spend about $150 million over the next few quarters to finish some of the site's steel fabrication.
Results for the third quarter ended Sept. 30 were hit by souring economic conditions nationally and in Las Vegas, increased competition for its Indiana casino and hurricane-related closures in the Gulf Coast.
Boyd Gaming said its net income in the quarter was $8.7 million, or 10 cents a share, down from $31.9 million, or 36 cents a share, a year earlier.
Analysts polled by Thomson Reuters had expected Boyd Gaming to earn 19 cents a share.
Company revenues fell 13 percent, to $426.5 million from $490.1 million.
Reduced customer spending in Las Vegas and at Boyd Gaming's riverboat casinos hurt results in most of the company's operating regions. In the Gulf Coast, the Treasure Chest casino in New Orleans and the Delta Downs racetrack in western Louisiana were each shut for nearly two weeks because of hurricanes.
"People are still visiting our casinos, although they are more cautious with their discretionary spending," Smith said. "These are tough economic times, but our balance sheet remains strong, and we continue to produce significant cash flow. We are well-positioned to weather the current economic environment."
In Las Vegas, Boyd Gaming is adding third-party restaurant options at its Coast Casinos that will reduce expenses and offer customers an alternative dining option that might bring them into the casinos.
The company opened T.G.I. Friday's this month at the Gold Coast and Sam's Town, replacing the company's owned and operated coffee shops. A T.G.I. Friday's is being added to the Suncoast. At The Orleans, the company is adding quick dining options, such as Fuddruckers.
"It's an economic model in our favor," Boyd Gaming Chief Operating Officer Paul Chakmak said. "They are profit centers for us in a material way."
Deutsche Bank gaming analyst Andrew Zarnett said the company needed to do something to boost its Las Vegas locals business following a 25.5 percent decline in adjusted cash flows during the quarter.
"This is quite illustrative of the erosion taking place amongst local Las Vegas operations," Zarnett said in a note to investors. "We expect this data point to continue to grind down as we go deeper into this recession. The current slump in the locals market is likely to persist through 2009 as unemployment, job layoffs, stoppage in construction projects, decline in discretionary consumer spending and more home foreclosures continue to add pressure on the locals economy."
Shares of Boyd Gaming, which have fallen more than 90 percent from a 52-week high of $42.85 on Nov. 5, closed at $4.38 Tuesday on the New York Stock Exchange, up 55 cents, or 14.36 percent.
Contact reporter Howard Stutz at hstutz@reviewjournal.com or 702-477-3871.