Home care workers get $16 minimum wage increase in new Nevada budget
Updated June 12, 2023 - 11:56 am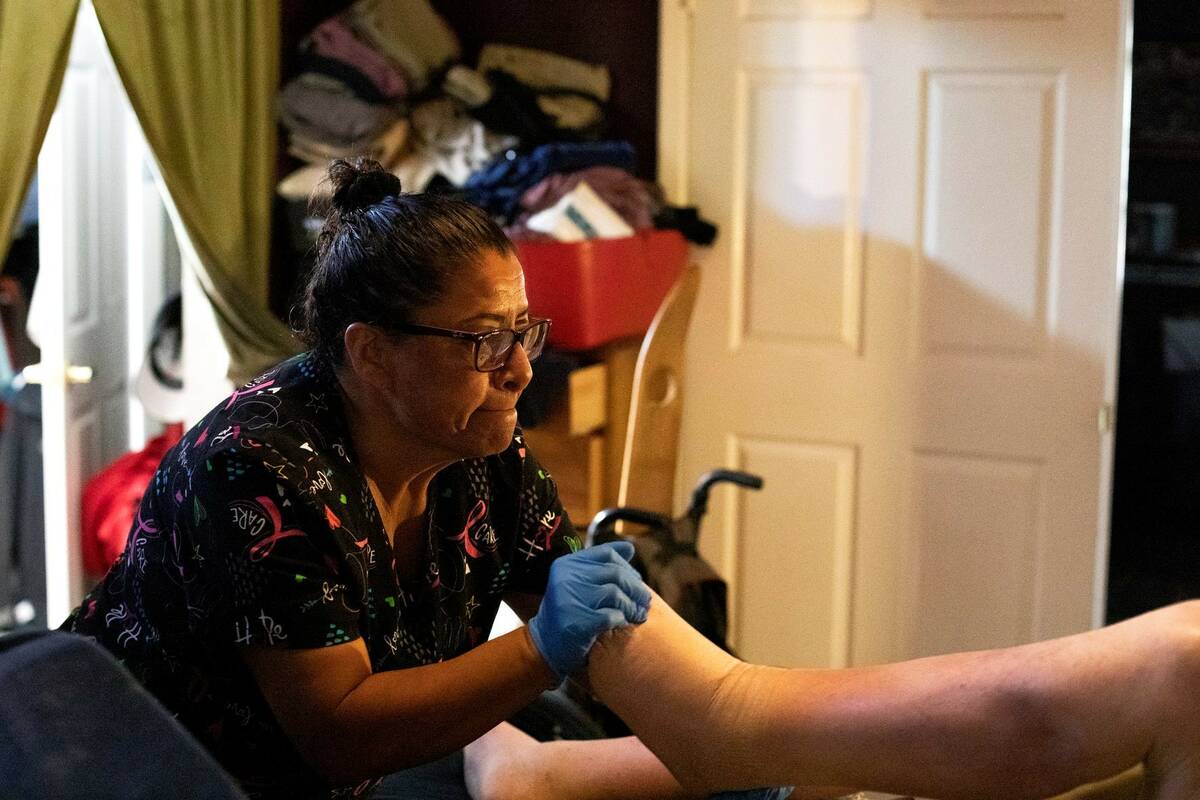 Irma Nunez has been driving her 2002 Honda Civic around the Las Vegas Valley to visit her six home care patients almost daily, beginning her day at 4:30 a.m. and driving throughout a 14-hour day despite the car's regular problems.
Next year, she and the other roughly 13,000 home care workers in Nevada will get a raise — one that she wants to use to save for a better car.
"Shine or rain, Irma has to be there," said Nunez, who has been a home care worker in Las Vegas for roughly 13 years. "That's how much I like my patients. People tell me, 'Why? You don't have to.' No, I don't have to, but who's gonna do it?"
Home care workers — the personal aides who help seniors and people with disabilities in their homes with daily living tasks like laundry, bathing and shopping so they can maintain independence — will receive at least $16 hourly, thanks to a provision and funding increase included in the state budget.
The pay increases are significant in an industry where demand for their services is growing, while median wages have stagnated over a decade. In May 2022, the median pay for personal care aides in Nevada was roughly $12.50 an hour, according to the most recently available occupational employment and wage statistics from the Bureau of Labor Statistics.
The budget increases the reimbursement rate, or funding that home care employers receive through Medicaid and other governmental programs, from roughly $17 an hour to $25 an hour. It also requires that at least $16 of the $25 hourly rate is paid as hourly wage to the direct care workers, according to the budget signed by Gov. Joe Lombardo on Monday.
SEIU Local 1107, which represents "hundreds" of Nevada home care workers with others in various stages of organizing, said the minimum wage comes at a critical time as Nevada's older population grows faster than the rest of the country. A 2020 report from the nonpartisan research firm Guinn Center found that the state will need to add 5,300 personal care aides to its workforce by 2026 to keep up with the demand.
State Sen. Rochelle Nguyen, chair of the finance subcommittee on human services, worked with home care workers on the issue and applauded their organizing effort.
"Home care workers have some of the most important jobs in the world — providing compassionate care for so many Nevadans — but their essential work is also some of the most underpaid," Nguyen said in a news release. "Through organizing with their union, home care workers have pushed for higher pay, and I've been honored to advocate alongside these dedicated workers to win this major step toward a better future for themselves, their families, their clients and their communities. This is a shining example of how to create concrete, positive change from the ground up."
Union officials said the home care workers are also trying to create a unified negotiation process with employment agencies to set consistent job, benefit and care standards in the industry.
McKenna Ross is a corps member with Report for America, a national service program that places journalists into local newsrooms. Contact her at mross@reviewjournal.com. Follow @mckenna_ross_ on Twitter.