Builders' home sales plunge in Summerlin
Updated January 10, 2023 - 9:49 am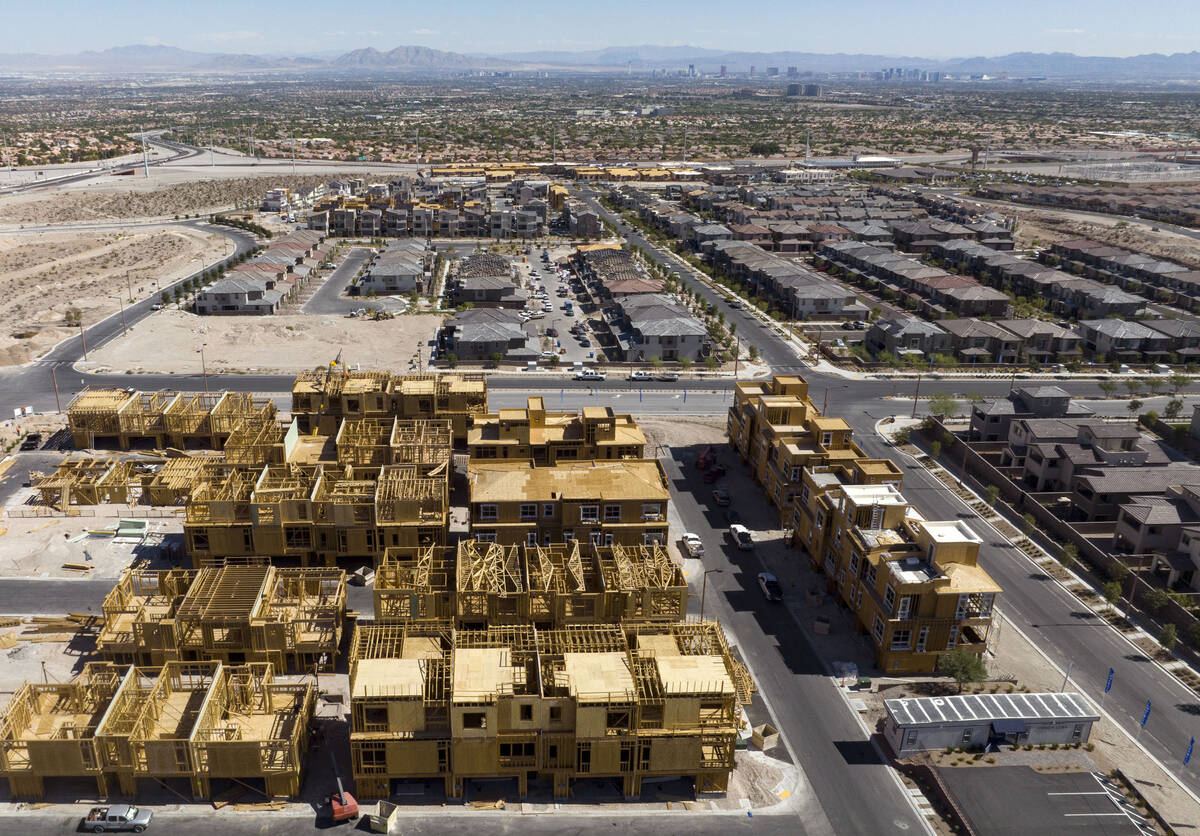 Homebuilders' sales dropped sharply in Summerlin last year, but the community was still among the top-selling spots amid a nationwide housing slowdown.
Builders sold 782 homes in Las Vegas' largest master-planned community last year, down 52 percent from 2021, according to separate reports last week from two consulting firms.
One firm, John Burns Real Estate Consulting, ranked the sales tally as the seventh-highest among the top 50 U.S. master-planned communities. The other firm, RCLCO, ranked Summerlin ninth.
Summerlin, which spans 22,500 acres along the valley's western rim, boasts 100,000-plus residents and some of the highest home and land prices in Southern Nevada. Its developer, The Howard Hughes Corp., sells land to homebuilders, and the community was far from alone in seeing a slowdown.
Home sales fell nationwide last year, including throughout the Las Vegas Valley, as buyers pulled back over a sharp jump in mortgage rates.
Kevin Orrock, Las Vegas regional president for Hughes Corp., said in a statement Monday that notwithstanding the market, "we anticipated a reduction" in home sales, as inventory was selling out in the southern area of Summerlin.
He added the company expects to see "increased momentum" this year, as seven new neighborhoods are opening in the western area of Summerlin.
Buyers 'forced to cancel'
Overall, sentiment among U.S. master-planned community developers is "more pessimistic" than it was at the end of 2021, according to RCLCO.
"Declines in mortgage interest rates are needed before a significant rebound in sales activity is likely," it said in a report.
Nationally, the homebuying "frenzy" of 2021 "began to dissipate" when mortgage rates breached 5 percent last spring, according to John Burns Real Estate.
Rates kept rising, "steadily reducing the pool of potential buyers who could qualify for the monthly payments," the firm wrote.
The jump in borrowing costs also hurt buyers who were under contract to buy a house from a builder, it indicated, adding that many people who could no longer qualify for their purchase "were forced to cancel."
After the cheap-money-fueled buying binge of 2021, Las Vegas' housing market hit the brakes hard last year, with big drops in sales, widespread price cuts and huge increases in available inventory.
Amid the slowdown, homebuilders have offered more incentives to buyers and higher commissions to agents who bring them in, real estate sources have said.
As of last week, the average rate on a 30-year home loan was 6.48 percent, up from 3.22 percent a year earlier, mortgage buyer Freddie Mac reported.
Mortgage application activity sank to a quarter-century low last week, as high rates "continue to weaken the housing market," Freddie Mac Chief Economist Sam Khater said in a news release.
Sales down in Las Vegas Valley
Locally, builders landed 571 sales in Henderson's Cadence community last year, down 34 percent from 2021; 517 in Henderson's Inspirada community, down 32 percent; and 413 in Skye Canyon in the upper northwest valley, down 37 percent, RCLCO reported.
Southern Nevada communities have regularly been among the top-selling spots in the nation for builders. Despite the sharp drop in sales last year, these communities still cracked the top 50.
RCLCO ranked Cadence 19th, Inspirada 22nd and Skye Canyon 35th.
John Burns Real Estate largely reported the same sales totals and rankings for Southern Nevada communities, though unlike RCLCO, it featured North Las Vegas' Valley Vista in its top 50. Builders sold 348 homes in that community, down 66 percent from 2021, according to John Burns Real Estate, which ranked the sales tally 48th in the nation.
On the resale side, Las Vegas' tumbling home prices have shed all of last year's gains.
The median sales price of previously owned single-family homes was $425,000 last month, the same amount buyers paid in December 2021, according to trade association Las Vegas Realtors.
Prices have now fallen by $57,000 from a record high of $482,000 last May.
A total of 1,534 houses traded hands last month, down 51.7 percent from December 2021, and 6,211 houses were on the market without offers by month's end, up a staggering 175.9 percent year over year, according to the association.
Last week, Las Vegas Realtors President Lee Barrett said in a news release that with prices "leveling off" and more homes available for sale, the valley was seeing "a more balanced market that makes things easier for buyers."
"It's also a supply issue," he said. "We have more listings and fewer buyers."
Contact Eli Segall at esegall@reviewjournal.com or 702-383-0342. Follow @eli_segall on Twitter.