Las Vegas seeing 'bidding war' for apartment complexes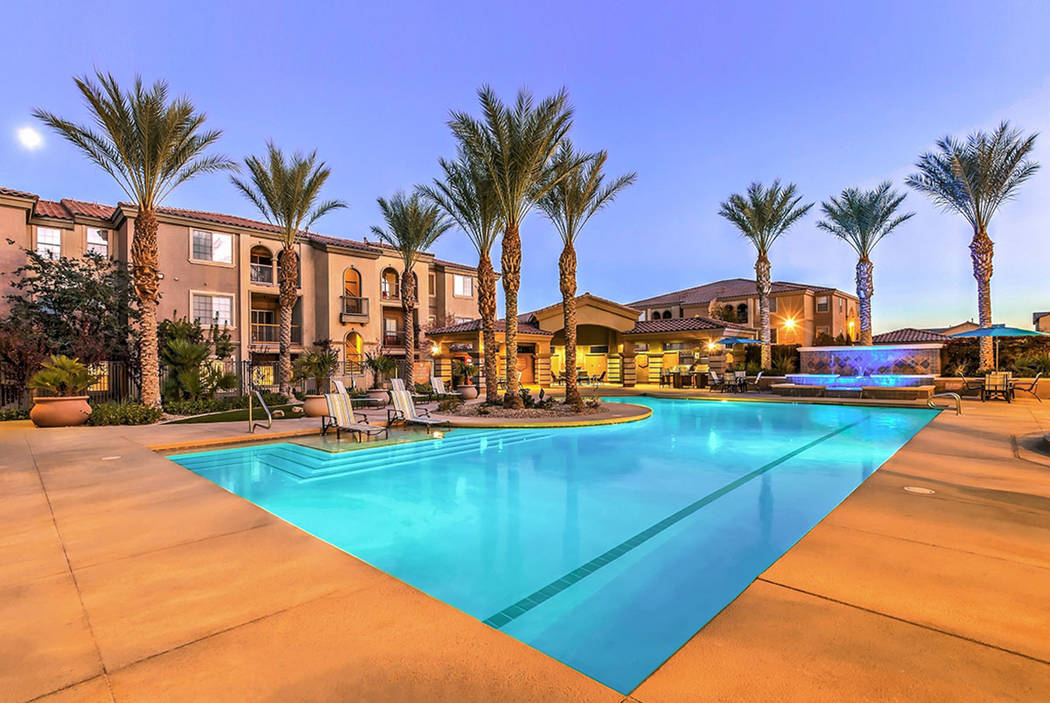 With renters filling apartments, buyers can't get enough.
In a recent 11-day span, investors bought five Las Vegas Valley apartment complexes for $260 million combined. The sales were all made to different landlords, but their rapid-fire sequence underscores the valley's heated rental market.
"It's an absolute bidding war out there," said Jim Gillen, director of property management for Long Beach, California-based RK Properties, one of the recent buyers.
Las Vegas' apartment vacancy rate is among the smallest in the country, and rents are climbing faster than the national average. Lured in part by Southern Nevada's relatively lower sales prices and expanding population, investors are betting they can fetch strong profit margins and boost rents while still keeping buildings full.
Buyers picked up 105 local apartment complexes last year for about $2.7 billion combined, compared to 31 for $346 million in 2011, when the economy was a mess, according to figures from brokerage firm Jones Lang LaSalle.
The recent burst of sales, between May 18-29, involved properties scattered around town.
Northwest valley complex Xander 3900 sold for $69.5 million; Aviata, near Sunset Park, sold for $67 million; Montecito Pointe, in the northwest, traded for $59.25 million; Henderson's Adobe Ranch sold for $42.7 million; and Sandpebble Village, near Desert Inn Road a mile or so west of Interstate 15, traded for $21.1 million, according to Clark County records.
'Strong rent growth'
Las Vegas, ground zero for America's real estate boom and bust, was one of the hardest-hit areas of the country during the recession. Today, as one of the last places to recover, it's "still seeing strong rent growth" and has more diverse job creation than in the past, said Noah Hochman, senior managing director of capital markets for TruAmerica Multifamily.
TruAmerica and Oaktree Capital Management, both based in Los Angeles, teamed up to buy Aviata. Hochman said average rents there are about $1,000 a month and that his group plans to raise them by $150.
He also said the group plans to make $8,000 worth of upgrades to each unit, as well as improvements to common areas such as the gym, leasing office and business center.
JLL apartment broker John Cunningham, who represented Montecito Pointe's seller in the deal with RK Properties, also chalked up the strong investment levels to Las Vegas' potential rent growth and its diversifying, albeit still tourism-dependent economy.
And because apartments sell for lower prices here than in other large markets, investors hope to land better returns, Cunningham said.
"It's on as sound a footing as it's been in a long time," he said of the rental market.
Portfolio sale
The Blackstone Group, a New York financial giant that's been buying Las Vegas real estate for several years, acquired Xander 3900, property records show. Blackstone representatives did not respond to a request for comment.
Investment firm Kennedy Wilson announced that it sold the complex as part of a $422 million, six-property portfolio sale. It would not confirm Xander's exact sales price or that Blackstone bought it, but it said "a single entity acquired the entire portfolio."
San Diego-based Sunroad Enterprises acquired Adobe Ranch, and Southern California's Wilshire Unlimited bought Sandpebble Village, property records show.
Sunroad did not respond to requests for comment. Wilshire's owners were unavailable to comment, according to an assistant.
Contact Eli Segall at esegall@reviewjournal.com or 702-383-0342. Follow @eli_segall on Twitter.
By-the-numbers: Las Vegas and U.S. apartments
Average monthly rent, Q1 2018
Las Vegas: $989, up 5.4 percent year-over-year
U.S.: $1,318, up 3.9 percent
Vacancy rate, Q1 2018
Las Vegas: 3.2 percent
U.S.: 4.7 percent
Source: Reis Inc.
Apartment construction also is heating up in Las Vegas. Here are the number of new units opening each year.
— 2018: 6,321 expected
— 2017: 4,146
— 2016: 3,528
Source: Spencer Ballif, CBRE Group